Sir Philip hails "simply amazing" Games
International Paralympic Committee President closes London 2012 by paying tribute to athletes.
09 Sep 2012
Imagen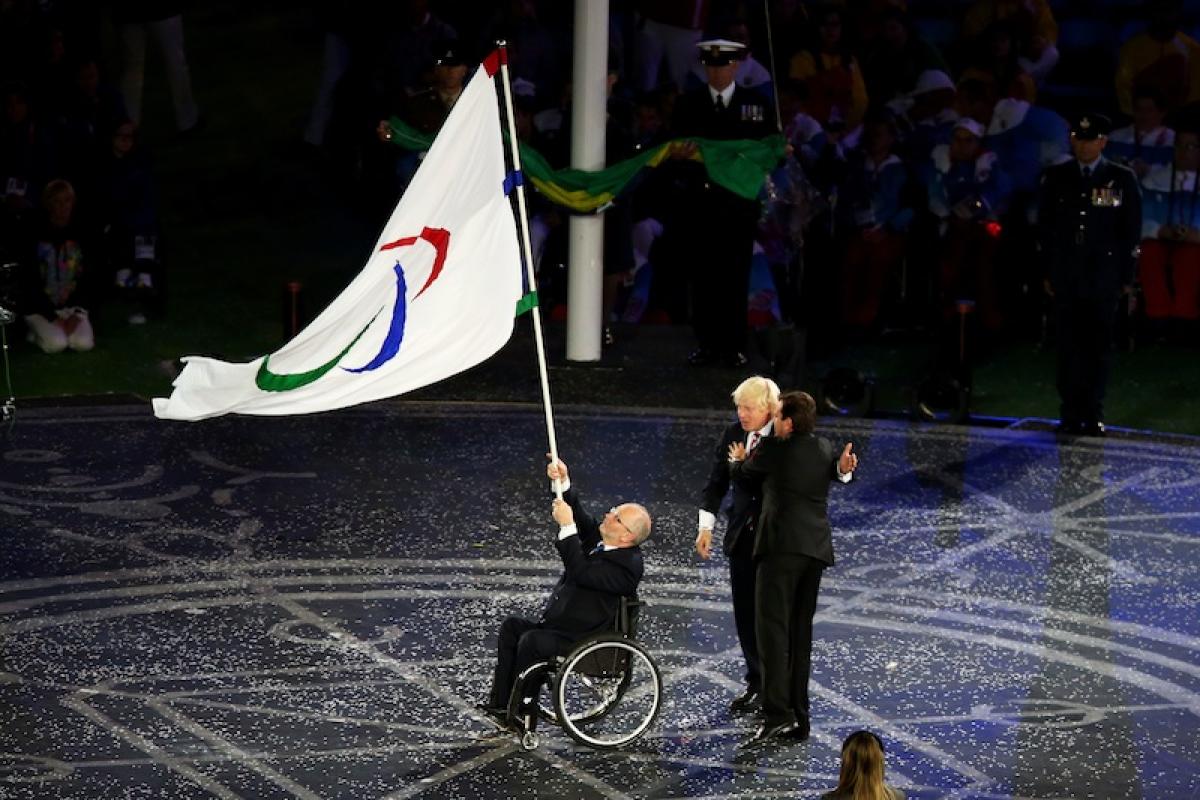 ⒸGetty
"You gave to the world feats of speed, endurance, dexterity and skill many did not think possible."
International Paralympic Committee (IPC) chairman Sir Philip Craven labeled the London 2012 Games "quite simply amazing" in a moving address to the crowd at the closing ceremony.
Sir Philip paid tribute to the 4,280 athletes, hailing their "speed, endurance and dexterity" during the 11 days of competition.
He also thanked the London Games Organising Committee (LOCOG) for their work in putting on what he described as "the greatest Paralympic Games ever".
Sir Philip told the capacity Olympic Stadium crowd: "These have been quite simply amazing Paralympic Games.
"Four years ago the Beijing Paralympic Games Closing Ceremony's theme was 'A Letter to the Future'.
"That letter was received with open arms by Seb Coe's London Games Organising Committee, who had over 100 staff in the Chinese capital committed to delivering successful Paralympics in London.
"By building a giant theme park for sport in East London, designed to attract the world's best athletes, LOCOG has helped inspire a generation."
Sir Philip then turned his attentions to the athletes, who again gathered in the Olympic Stadium as the curtain came down on the Games.
"Paralympians - you gave to the world feats of speed, endurance, dexterity and skill many did not think possible," he said.
"You led the world's media to wax lyrical over your performances and left millions of Paralympic sport fans who created a "wall of noise" in the venues hungry and desperate for more.
"The Paralympic Games have truly come home and found their pathway to the future here in London.
"The Paralympic Spirit which saw its first sparks of life in Stoke Mandeville some 64 years ago has followed a super-charged and surreal existence over the last 12 days.
"This has made the London 2012 Paralympic Games unique and without doubt, in my mind and those of the athletes – the greatest Paralympic Games ever.
"I call on you all gathered here and watching around the world to take this unique sporting spirit to all four corners of planet earth where you will make new friends, have fun and inspire them to light the flame in their hearts.
"This is an event absolutely no-one wants to end.
"These Games have changed us all forever.
"Before I close I want to link Stephen Hawking's words about changing perceptions across multiple dimensions from the ethereal Opening Ceremony, to the words of a five-year-old called George Glen. A few days ago George was reading a book entitled 'Treasure' with his mum, Emma, my daughter Gaëlle's best friend.
"The first page showed a man with an eye patch, a hook for a hand, a parrot on his shoulder and a wooden leg. Emma asked George who the man was, expecting him to say 'a pirate'. But he said 'well he only has one leg, so he must be an athlete'.
"Kids just get it, and now thanks to the amazing performances we've seen here, we all do.
"I call upon Paralympic athletes from all over the world to meet in Rio de Janeiro in four years' time where once again you will inspire and excite the world with your sporting excellence.
"Thank you London, thank you United Kingdom."