Six new members of IPC Athletes' Council elected at the Tokyo 2020 Paralympic Games
Turnout a record 55.5 per cent, up 1.5 per cent on Rio 2016
04 Sep 2021
Imagen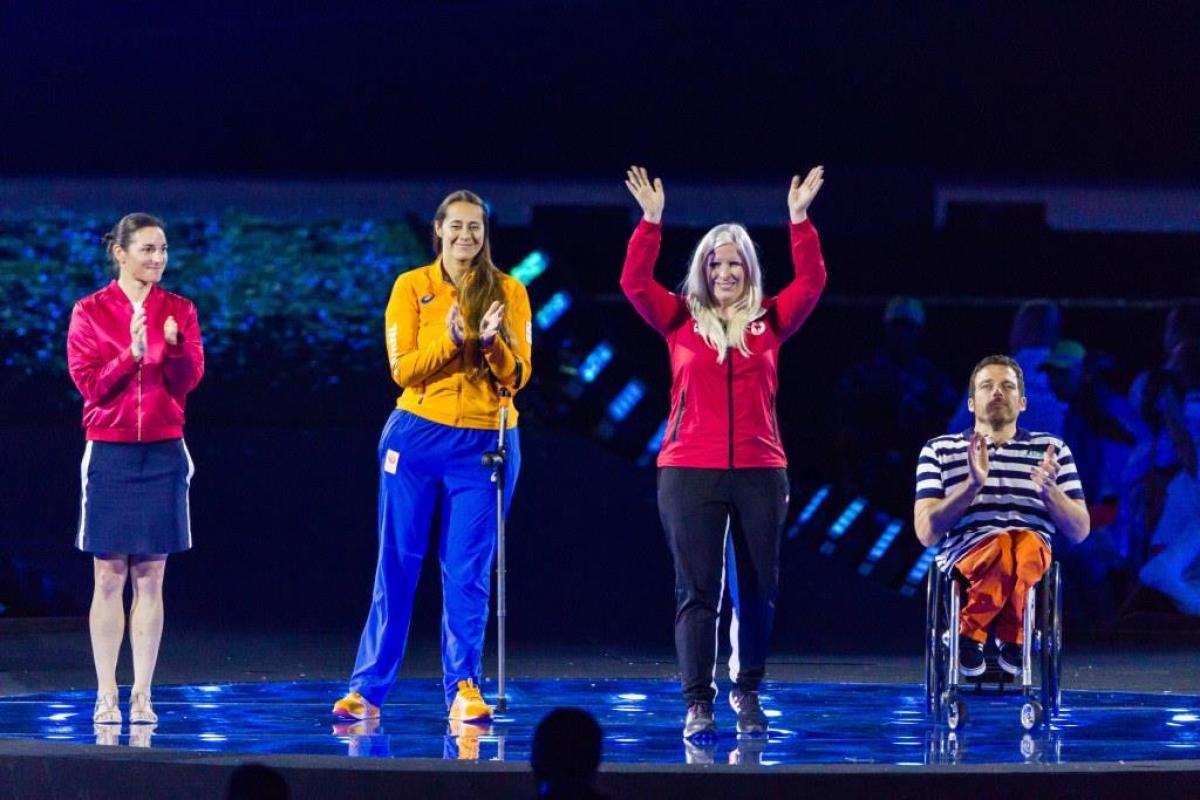 ⒸCicero Rodrigues for the IPC
By IPC
The International Paralympic Committee (IPC) has announced the six newly elected members of the IPC Athletes' Council who will serve for the next three years until the Paris 2024 Paralympic Games. There are four women and two men.
The six council members are:

•    Martina Caironi (Italy, Para Athletics) 
•    Daniel Dias (Brazil, Para Swimming) 
•    Omara Durand Elias (Cuba, Para Athletics) 
•    Takayuki Suzuki (Japan, Para Swimming) 
•    Jitske Visser (Netherlands, Wheelchair Basketball) 
•    Zahra Nemati (Iran, Para Archery) 
The IPC Athletes' Council is a group of elected athlete representatives who act as the voice of the Para athlete community to the IPC. It is made up of nine athletes in total, which includes the six summer athletes and three winter athletes. The chairperson of the IPC Athletes' Council is also one of the members of the IPC Governing Board.   
The IPC Athletes' Council elections took place from 19 August to 3 September during the Tokyo 2020 Paralympic Games in the Proud Paralympian area in the Main Dining Hall. There were also additional voting booths for Para Cycling athletes at the lzu La Foret hotel from 22 to 25 August and at Fuji International Speedway from 27 to 30 August. 
There were a record-equalling 22 athletes up for election to fill the six summer representative positions. Athletes from every continent were candidates. In total 2,447 athletes voted, representing a 55.5 per cent overall turnout, 1.5 per cent more than Rio 2016. 
Zahra Nemati, Iranian archer who won her third consecutive gold medal at a Paralympic Games in Tokyo, said "Athletes with disabilities are capable individuals who laugh in the face of world challenges. I want to be a loud voice of these strong individuals in IPC and all around the world."
Takayuki Suzuki, the swimmer who delivered Japan's first gold medal of Tokyo 2020, added: "I am very honoured to be elected as a member of the IPC Athletes' Council. This is a huge opportunity to deliver athletes' voices in Asia to the IPC and I am excited to work with other members to amplify the Paralympic Movement."
Brazil's Danial Dias, the most successful Paralympic swimmer of all-time with 27 medals, said: "I am extremely happy to be elected. I would like to thank each person that voted for me and trusted me for this role. Together we can contribute for sports' development. We will fight so each day is a better day for the athletes. I hope we can discuss classification because it is my biggest concern now. It impacts directly at athlete's lives and careers."
Jitske Visser, the Dutch wheelchair basketball player currently competing in her fourth Paralympics, commented: "Being elected by my fellow Paralympians is a huge honour for me. I am excited and proud to be the voice of the athletes and to make sure athletes are included in future decision-making.
"Huge accomplishments have already been made by the Athletes' Council in the last few years and I am looking forward to building on the foundations and achievements made by fellow elected athletes."
Speaking on the election, outgoing Athletes' Council chairperson Chelsey Gotell said: "It has been a pleasure to serve on the Athletes' Council. On behalf of outgoing members and three co-opted members, we're thrilled to pass the baton onto athletes who so clearly care about being a voice for Paralympic athletes within the IPC and the greater Paralympic Movement. It is Council full of experience and commitment to Paralympic sport.
"I'm also delighted to see that there was a record turnout from athletes in this Athletes' Council election. These Games and indeed this past year have been very different for athletes, but all credit to them as they have delivered high-performance sport at it's very best. We know the future of the Movement is in good hands."
The IPC Electoral Commission was chaired by Mark Copeland, chairperson of the IPC Legal and Ethics Committee. 
The Athletes' Council acts as the liaison between athletes and decision-makers and influences how Paralympic sport and the Movement grow and develop. In addition to the nine elected members, the IPC Athletes' Council can co-opt up to three additional members on two-year terms, to ensure there is balance between gender, regions, sports and disability groups. It also has one formally appointed member from the IOC Athletes' Commission.
All candidates are active Paralympic athletes. This means he or she must have competed in the current edition of the Paralympic Games at which the election is taking place or have competed in either of the previous two editions of the Paralympic Games (London 2012 and Rio 2016). There were a record 22 candidates for the IPC Athletes' Council elections in Rio 2016. 
The three winter sport council members will be elected at the Beijing 2022 Paralympic Winter Games.
The 22 candidates were:

•    Martina Caironi (Italy, Para Athletics) 
•    Louzanne Coetzee (South Africa, Para Athletics)
•    Carol Cooke (Australia, Para Cycling)
•    Daniel Dias (Brazil, Para Swimming) 
•    Omara Durand Elias (Cuba, Para Athletics) 
•    Lucy Ejike (Nigeria, Para Powerlifting)
•    Alena Kanova (Slovakia, Para Table Tennis) 
•    Irma Khetsuriani (Georgia, Wheelchair Fencing) 
•    Vladyslava Kravchenko (Malta, Para Swimming) 
•    Stephen Miller (Great Britain, Para Athletics) 
•    Joanna Mendak (Poland, Para Swimming) 
•    Lurii Nozdrunov (RPC, Para Table Tennis) 
•    Sherif Osman Khalifa (Egypt, Para Powerlifting) 
•    Susana Rodriguez Gacio (Spain, Para Triathlon) 
•    Michelle Schiffler (Germany, Sitting Volleyball) 
•    Takayuki Suzuki (Japan, Para Swimming) 
•    Tom Vanhove (Belgium, Goalball)  
•    Katalin Eszter Varga (Hungary, Para Canoe) 
•    Jitske Visser (Netherlands, Wheelchair Basketball) 
•    Tony Walby (Canada, Para Judo) 
•    Yanzhang Wang (China, Para Athletics) 
•    Zahra Nemati (Iran, Para Archery)