Slow start does not stop Morganti from wins in Mannheim, Germany
The Italian rider records a personal best in the Grade Ia category at the para-equestrian dressage event
07 May 2015
Imagen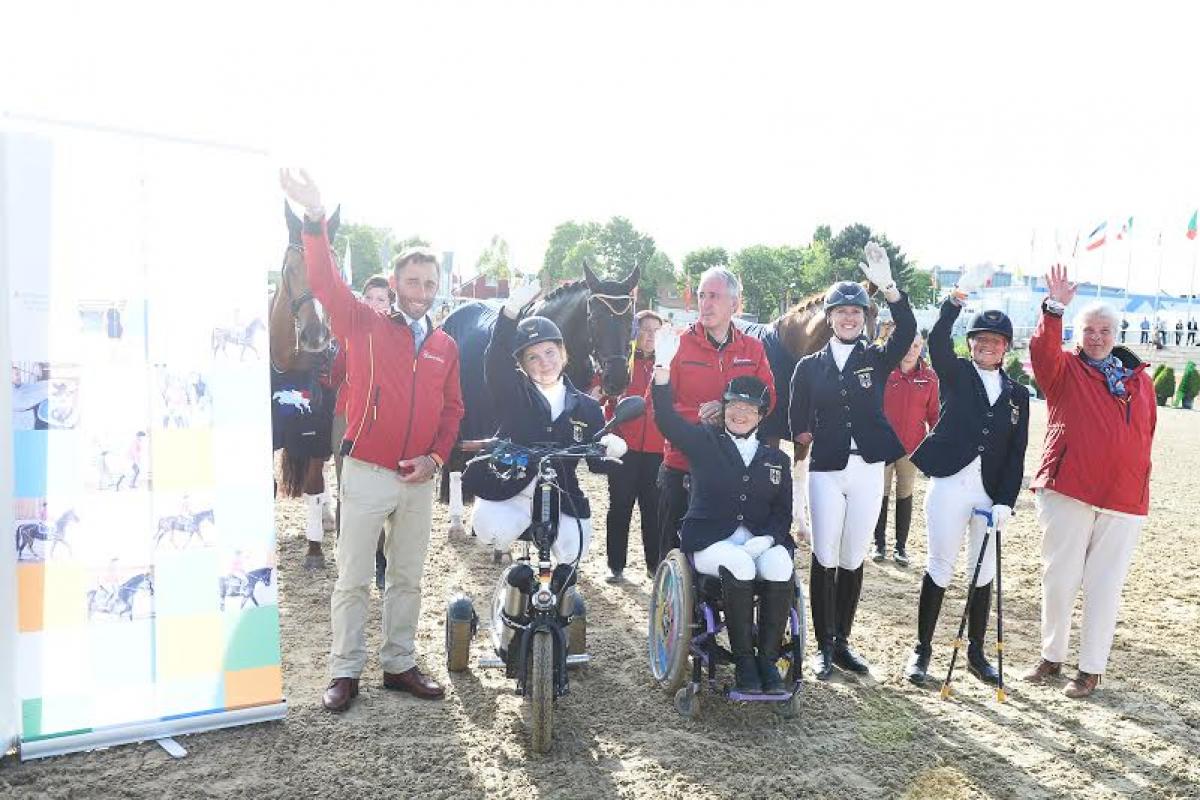 ⒸKarl-Heinz Frieler
By Rob Howell | For the IPC
Despite a disappointing first day at the May Market Horse Show in Mannheim, Germany, Sara Morganti found a way to bounce – and in a big way.
Italy's top para-equestrian dressage rider scored a personal best 79.203% in the individual test and a massive 80.500% in the freestyle, winning both Grade Ia events. She was the only rider throughout the three-star competition, which was held 2-5 May, to break the 80% mark.
"When I started the competition, my team test was not fantastic; I did not feel I was in great shape and I could not concentrate," said Morganti, who rode Royal Delight. "My horse was fantastic, but I was not happy with myself. So on the second day, I really concentrated and we had much better results, including a personal best in an individual test."
Her freestyle was not a personal best. But the Alltech FEI World Equestrian Games gold and silver medallist had constantly spoken about wanting to improve in that area.
"I performed the same freestyle test I did at the London 2012 Paralympic Games, and our score was better than then, so I am really happy," Morganti said. "I hope it means all the work I am doing is bringing improvement. I worked hard during the winter on myself more than my horse. I rode lots of other horses and spent a lot of time swimming as well, all for the exercise."
Germany's Elke Phillipp was second in the individual, riding Regaliz to score 75.580%, ahead of Norway's Jens Lasse Dokkan on Cypres (71.739%). In the freestyle, Phillipp was second again (75.917%), with the USA's Margaret McIntosh finishing third (74.750%) on Rio Rio.
The increasingly competitive Grade Ib category saw Austria's Pepo Puch and the Netherlands' Nicole Den Dulk battle for the podium in two individual competitions.
Puch, riding Fine Feeling S, took the freestyle title (75.167%), and Den Dulk, on Wallace, finished with the silver (72.583%). Jaana Kivimaki of Finland was third (68.500%).
The results were flipped in the individual test, with Den Dulk coming out on top (72.241%) and Puch following up (70.115%). Finland's Katja Karjalainen on Woikoski High Flow came in third (69.138%).
Double world gold medallist Rixt Van Der Horst of the Netherlands continued her dominant form with victories in both Grade II tests, scoring 72.762% in the individual test and 75.333% in the freestyle, riding Uniek.
Fellow Dutch rider Demi Vermeulen took second in the individual (71.143%), ahead of Germany's Steffen Zeiberg (69.667%).
Sweden's Carolin Rutberg (74.667%) was second in the freestyle competition, followed by Vermeulen (72.583%).
Germany's home favourite Hannelore Brenner was victorious in the Grade III individual competition. Winner of the freestyle competition at the London 2012 Paralympics, Brenner finished ahead of main rival Sanne Voets of the Netherlands. Brenner, riding Women of the World, scored 73.699% to Voets' 70.041 on Vedet PB. The Netherlands' Ilona Goes was third with 69.146% on Zalisto.
But the results were flipped in the freestyle competition, as Voets took the win, scoring 78.500% to Brenner's 72.417%. Norway's Anne Cecilie Ore was third on Findan (71.000%).
In the Grade IV competition, Belgium's Michele George once again dominated. Riding Rainman, she won the individual test (73.413%) and freestyle (76.667%).
Germany won the event's team competition with 431.155%. The Netherlands came in second (429.559%), followed by Italy (420.480%).