Success story in Trinidad and Tobago
The Equal Halves project being run by the Trinidad and Tobago Paralympic Committee, and funded by the Agitos Foundation, has identified athletes, trained coaches and impacted thousands of people through in the last six months.
18 Jun 2014
Imagen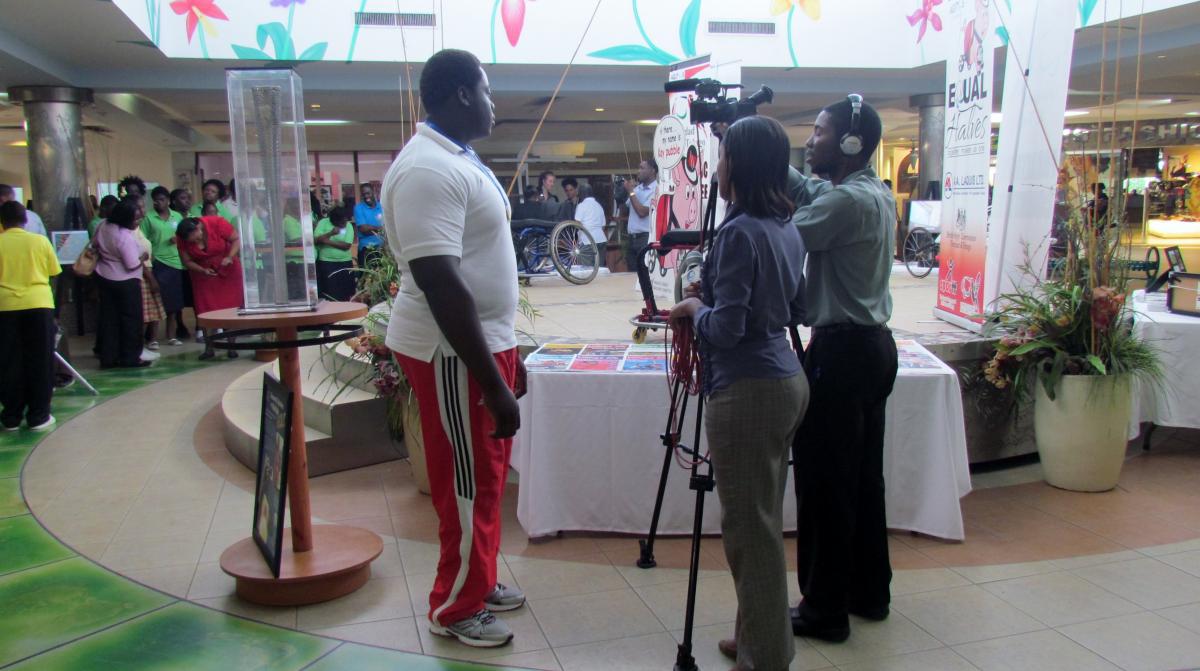 ⒸAgitos Foundation
By Melanie Lidman
"People approached the exhibition with open minds, and we were able to dispel several myths about persons with impairments not being able to play competitive sports"
Trinidad and Tobago identified 29 athletes, trained 24 coaches, and impacted thousands of people in the past six months through the Equal Halves programme, an initiative funded by the Agitos Foundation - the development arm of the International Paralympic Committee.
"[We're] making playground to podium not just a thought, but a reality," said Atiba Antoine, Secretary General of the Trinidad and Tobago National Paralympic Committee (TTPC).
In 2013, the Agitos Foundation awarded 630,000 euros to 34 projects through the Grant Support Programme. Trinidad and Tobago received funding for their Equal Halves initiative, which focused on raising awareness, identifying potential athletes, and training coaches.
TTPC educated the public about parasports through a number of TV and radio interviews ahead of a sports exhibition. The exhibition, held on 21 January, 2014, took place at the Gulf City Mall in Lowlands Tobago. More than 1,000 people attended the exhibition, including 144 students from 12 schools, and Assemblyman Jomo Pitt, Assistant Secretary in the Division of Education, Youth and Sport in the Tobago House of Assembly.
"People approached the exhibition with open minds, and we were able to dispel several myths about persons with impairments not being able to play competitive sports," said Antoine. "It is only through education that we can change people's minds, and then in turn change their lives."
Following the exhibition, the Tobago Ministry of Sport offered the TTPC a permanent office, along with office staff, at the Dwight Yorke Stadium in Bacolet, Tobago.
TTPC hopes to use the Equal Halves programme to catapult the number of athletes competing in para-sport. "Currently we have two well known athletes - Shanntol Ince in swimming and Carlos Greene in shot put and discus," said Antione. "I would like to see eight more athletes come to the fore."
As a result of the Equal Halves programme, TTPC also identified a number of athletes who could become potential stars or play at an advanced recreational level, including 10 athletes in athletics, 14 athletes in swimming, five athletes in judo, and eight athletes in table tennis.
TTPC also held a three-day Caribbean Coaching Certification Workshop to help 24 coaches gain certification specifically for coaching para-athletes. Antoine said most of the coaches were already certified in their sports but had little or no experience working with para-athletes and their specific needs.
Tennis coach Francine Look Hong has volunteered with TTPC over the past year and a half and also serves as the vice president who handles public relations. She has worked at two sports camps for TTPC and also assisted in the development of the Equal Halves project.
She hopes that the Equal Halves project in the future will also focus on athlete workshops.
"If I could, [I would like to] arrange set sessions in which the athletes must train, attend workshops and have the opportunity to interact with each other," she said. "At competitions, our group will naturally root for each other with enthusiasm and compete knowing they have done everything possible to be properly prepared, and that they have the support of familiar faces in their team members."
Antoine said that the TTPC plans to focus on talent identification in the coming year while maintaining their commitment to education. "You have to keep sending the message all the time using various media if you want people to not only hear but listen to you," he said.
In 2014, the Agitos Foundation launched the second Grant Support Programme and will announce the successful applicants shortly.