Taekwondo profiles: Men's up to 75 kg K44/K43
Iran's Mahdi Pourrahnama is the top name in the men's middleweight division
07 Dec 2018
Imagen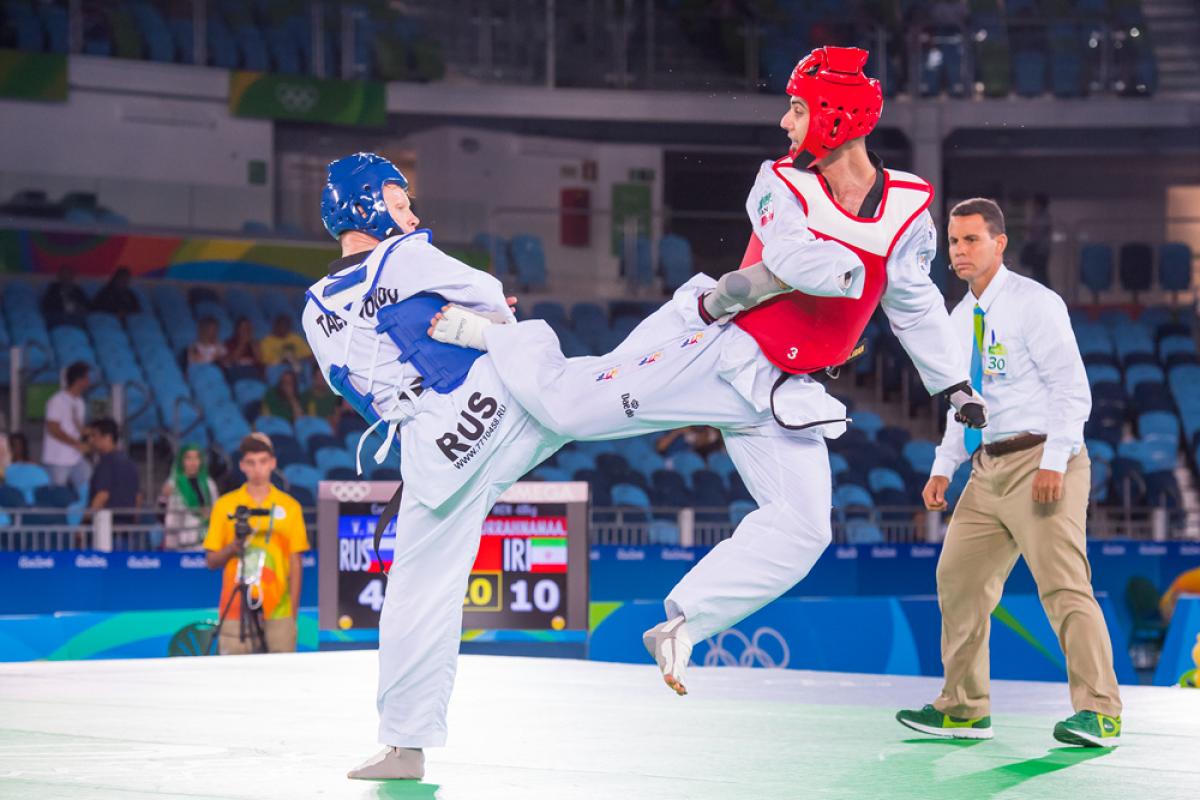 ⒸWorld Taekwondo Federation
By Lee Reaney | For the IPC
Taekwondo will debut at the Paralympic Games at Tokyo 2020. Athletes will contend in six medal events and Paralympic.org is profiling each ahead of those Games.
The division's most athletic fighters are chasing Iran's Mahdi Pourrahnama, the favourite in the men's up to 75 kg K44/K43.
He is one of 12 fighters looking to earn qualification spots for their countries for Tokyo in this division: six via world rankings (four from K44, two from K43), five through continental qualification tournaments (Africa, Americas, Asia, Europe and Oceania), and one from the host country or special invitation.
World Rankings Route
All eyes will be on the 'Iranian Hurricane' Pourrahnama. Just 22 years old, he already has six World Championship medals, lost only once in the last six years and has a formidable 102-point lead over his nearest rival in the world rankings.
Russia* looks assured of securing one of the other positions assigned to top-ranked K44 fighters. Vladimir Feofanov and Magomedzagir Isaldibirov are currently ranked No. 2 and No. 3, respectively, separated by just 37 points. Feofanov got the best of his compatriot at the European Championships this year. But Isaldibirov handed Pourrahnama his one loss since 2012 at that competition.
Turkey's Fatih Celik is ranked No. 4, and his 115 ranking points is enough to put him ahead of the pack hoping to claim the final spot allocated to K44 fighters.
Ukraine's Anton Shvets (No. 1) and Kazakhstan's Nurlan Dombayev (No. 2) are the early favourites to make it out of the K43 division. Dombayev bested the frontrunner at the last Worlds, while Shvets took the 2017 IWAS World Games title.
Continental Qualification Route
All remaining fighters who have not qualified through the world rankings will have one last chance at the continental qualification tournaments in early 2020. Only countries that have secured less than four fighters through the world rankings route will be able to send fighters to these tournaments where, for the first time, K43 fighters will face their K44 foes.
Morocco's Mohammed Aatif (No. 11) claimed African Championship silver in 2017, while Niger's Isamael Oumarou Gouzae (No. 15) bested three of the division's top-11 ranked fighters to claim silver in 2018.
The Asian qualifier looks to be wide open with no Asian fighter ranked in the top 15 in K44 or top 5 in K43. Mongolia's Enkhtuyshinzaya Olyunsuren (No. 28) leads the way in the K44.
If Mexico's Garcia Lopez or the USA's Felix Sabates do not qualify through the world rankings, they will be the ones to beat in the Americas. Sabates' teammate Michael Kacer (No. 10) also has desires in qualifying out of the Americas.
While there is no clear frontrunner in Europe, Serbia's Nicola Spajic (No. 9) does seem to be in the driver's seat with a nearly 25-point lead over Great Britain's Joseph Lane (No. 14).
The clear favourite to represent Oceania is Australia's three-time Oceania champion Steven Currie. The veteran fighter is ranked No. 23 and is Oceania's best hope for a Para taekwondo medal in 2020.
Host Country Route
Two middleweight Japanese fighters hope to secure the host position in the men's U75 division.
Mitsuya Tanaka (No. 5 in K43) emerged as Japan's newest star by claiming four medals in 2018, including gold at the Pan Americans and Kim Un Yong Cup. Teammate Shunsuke Kudo also claimed a Kim Un Yong Cup title to move to No. 19 in the K44 rankings.
Should Japan choose three fighters from other divisions, the remaining qualification spot will be awarded by special invitation.
*Editor's note: The International Paralympic Committee suspended the Russian Paralympic Committee on 7 August 2016 https://www.paralympic.org/russian-paralympic-committee-suspension for its inability to fulfil its IPC membership responsibilities and obligations, in particular its obligation to comply with the IPC Anti-Doping Code and the World Anti-Doping Code (to which it is also a signatory). As a result of the suspension, Russian athletes cannot enter IPC sanctioned events or competitions, including the Paralympic Games.