Team GB dominate at para-dressage European champs
Great Britain dominate over two days alongside Austria and Germany.
26 Aug 2013
Imagen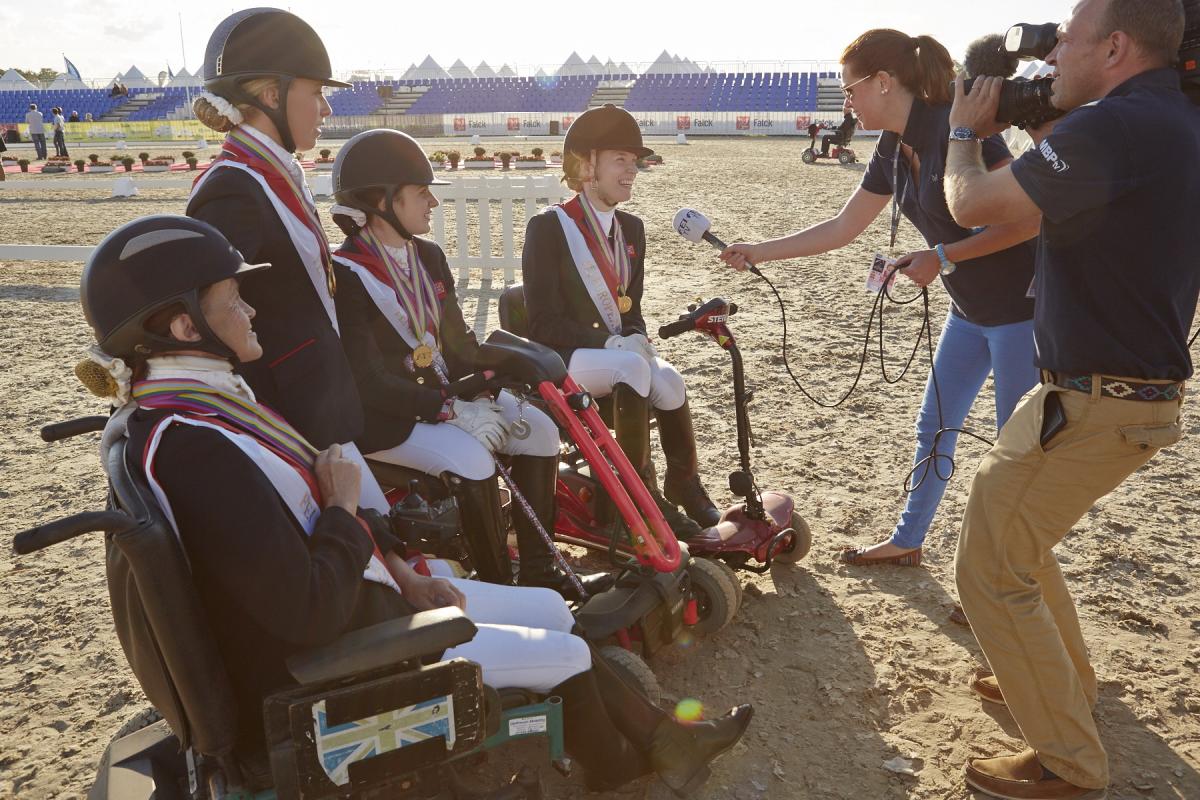 ⒸLiz Gregg/FEI
By Rob Howell | For the IPC
"It's a step in the right direction of the future because we're setting up now for Rio. Definitely it's the first step and that makes us more proud."
The past two days of intense competition at the JYSK FEI European Para-Dressage Championships in Herning, Denmark, were dominated by winning performances from the Great British riders, Austria's Pepo Puch, and Germany's Hannelore Brenner.
On Friday (23 August) Puch successfully defended his 2011 European title, riding Fine Feeling S to score an impressive 76.138%. Great Britain's Beijing 2008 silver medallist in Hong Kong, Ricky Balshaw, took silver medal on LJT Enggaards Solitaire with 73.586%, while there was medal joy too for Denmark's Stinna Tange Kaastrup in bronze on new, Steffi Graf, with 71.862%.
In the Grade IV competition, reigning world and European champion, and double London 2012 silver medallist (along with team gold), Sophie Wells, retained her European title with 75.643% on Valerius. In second place was London 2012 double bronze medallist Frank Hosmar of The Netherlands riding Alphaville to 71.810%. Danish European Championships' debutante Line Kongensgaard and Laponio scored 70.024% to make it a double medal day for the host nation.
Pepo's pleased
Speaking after his win, Puch said: "Wow! It's amazing to defend my title. The other one (from Moorsele 2011) was on Good Boys Feeling and now it's Fine Feeling S, my second horse, and I'm really pleased."
Puch, who is earning increasingly high scores, added: "I was really happy, especially as it was quite noisy, but the horse was really settled and stayed concentrated. He was super, really super. I've worked over the summer and made progress especially in my body. My body is more smooth and I can breathe better in my riding."
After her Grade IV triumph, Wells said: "I'm very happy. I've waited a year to try and get back on top to be honest. London didn't go my way and I've been hungry for this so I'm very happy. The way my horse went today I couldn't have asked any more of him so whatever the result I was going to be pleased, but obviously I'm ecstatic about it."
For Denmark's Chef D'Equipe, Lis Lihme, Friday's successes were a special gift, coming as they did on her birthday. "It's my best birthday ever," she said. "Two medals. I couldn't have had any better. Stinna with a new horse and the first championship for Line. I'm just so happy."
On Saturday (24 August), the individual competitions concluded with Grades Ia, II and III. The results from those were then combined with the week's earlier team test results to determine the overall team champions.
Following impressive British performances in both the team and individual competitions, the reigning world, Paralympic and European champions defended their title successfully with an unbeatable score of 453.585. World, Paralympic and 2011 European runners-up Germany were again in second place with 429.066, and a jubilant host team Denmark took bronze with 422.031, just 0.328 ahead of fourth-placed Italy.
The individual Grade III title was successfully defended by Germany's Hannelore Brenner, scoring 72.610% with Women of the World. Silver went to The Netherland's Sanne Voets on Vedet PB with 71.927%, while France picked up its first medal of the competition with José Letartre taking the bronze on Warina, with a mark of 69.683%.
In the Grade Ia, Great Britain's Sophie Christiansen maintained her unbeatable form on Janeiro 6 with a commanding score of 76.609% to take gold from team mate Anne Dunham on LJT Lucas Normark, whose score of 75.174% earned the silver. Italy's Sara Morganti was clearly thrilled with her bronze-winning score of 74.478% on Royal Delight, which was received with typical Italian exuberance by her cheering fans at the medal ceremony.
Great Britain's London 2012 double gold medallist Natasha Baker successfully defended her 2011 European title in the Grade II competition with a mark of 72.114% on Cabral. She was closely followed by Germany's Angelika Trabert on Ariva Avanti with 71.571% for silver, while Germany also took the bronze with Britta Näpel riding Aquilina 3 to score 71.286%.
After winning the Grade III competition, Brenner said: "It's wonderful. My mare was very nervous because of all the people. I don't know if she has ever seen such a big crowd, so I knew I had to get her with me and she was with me. It was very tense everywhere - like riding on a volcano."
Christiansen marked her victory in the Grade Ia competition with a self-explanatory tweet of "EUROPEAN CHAMPION!!!!" to her 4,000 plus followers. In calmer mode after the medal ceremony she said: "It was just so difficult after last year (her triple gold at London 2012). Everyone expected me to come out and deliver the goods again and I put a lot of pressure on myself because I know how good my horse is and I just want to show him off. But today I actually relaxed into it and enjoyed it and the pressure seemed to vanish so I'm really glad I could do it for Great Britain again."
Baker was also delighted by her win and, like Christiansen, tweeted: "Woohoo, EUROPEAN CHAMPION!!!" Proudly sporting her latest gold medal, she commented: "It doesn't really seem real to be honest after such an eventful last few days and I'm just really proud that he managed to deal with it.
British Chef d'Equipe David Hunter said that nothing, despite Great Britain's dominance in the event, is ever taken for granted. "We never assume anything," he said. "We have been successful for quite a long time but nothing ever stays forever and that is what sport and competition is about. There is never any room for assumptions and never any room for complacency."
Britta Bando, Chef d'Equipe of team silver medallists Germany was delighted with her colleagues' performance too. "I'm very happy about it," she said. "I have one new rider in my team, Elke Philipp in Ia, with a very young horse so it's a really good result for her and the team and I'm very proud."
And the celebrations continued for Danish Chef d'Equipe, Lis Lihme. "I am so happy for the girls that they did it," she said. "A new rider and a new horse on the team and still they did it. I am so proud of my girls."
But Saturday firmly belonged to Great Britain. After the team medal ceremony they celebrated wrapped in their country's flag. Particularly happy was Anne Dunham, who collected a team gold and silver in the Grade 1a. Still featuring on the podium after a career that started at the 1996 Paralympic Games in Atlanta, she said: "It's just as exciting and just as thrilling as the first time. It feels fantastic to be able to do it and just be here."
Wells summed up the team's performance and said: "It's a step in the right direction of the future because we're setting up now for Rio. Definitely it's the first step and that makes us more proud."
Key performances and interviews with medal winners will be available as video-on-demand from the JYSK FEI European Para-Dressage Championships on FEI TV as well as live results.