Kaastrup rides new horse Steffi Graf into equestrian Euros
Denmark's Stinna Kaastrup will seek redemption at the ECCO FEI European Championships in her home country after missing out on London 2012.
14 Aug 2013
Imagen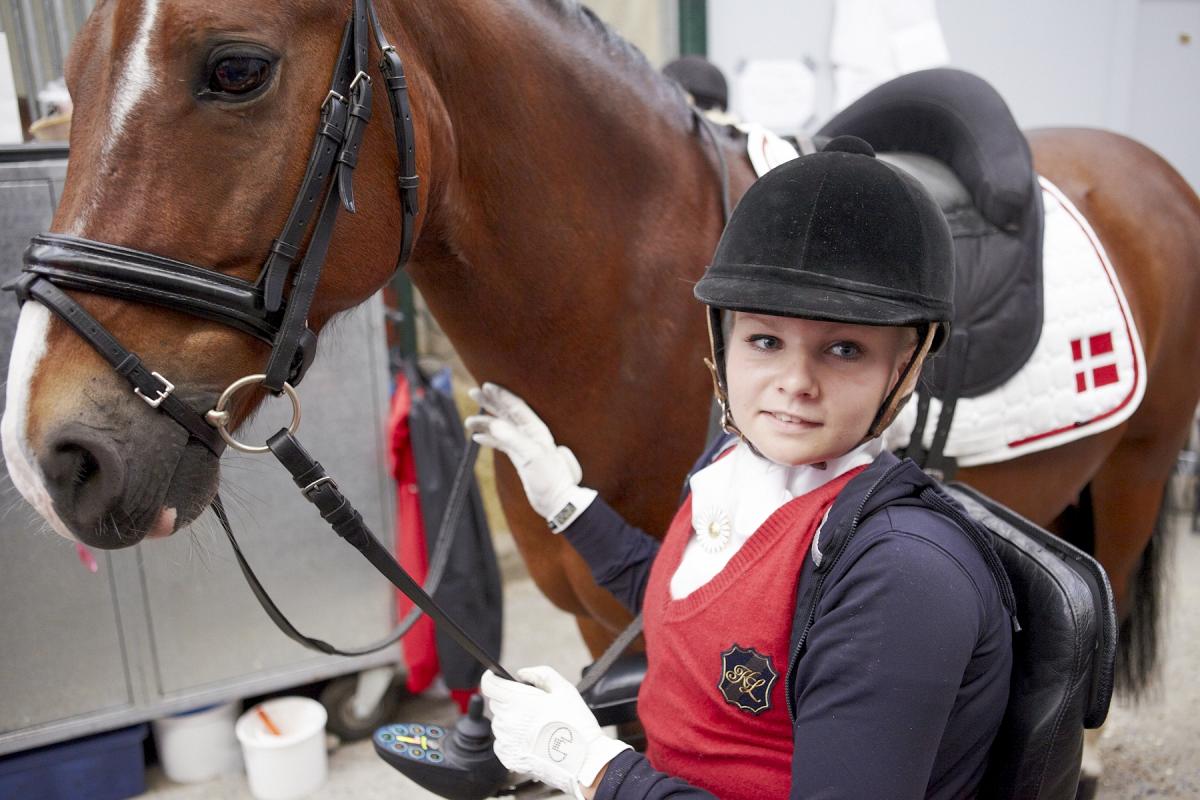 ⒸLiz Gregg
By Rob Howell | For the IPC
"At first the loss of my beloved horse was so hard that I didn't even care about London."
As Denmark prepares to host the ECCO FEI European Championships – the country's biggest sporting event in 2013 – it's a busy time for the Danish para-dressage team's top rider, Stinna Kaastrup.
She faces the pressure of preparing for, and competing in, top flight competition on home soil which will run from 20-25 August.
Emerging from disappointment
Kaastrup's appearance in Herning will follow on from what was, by anyone's standards, a pretty disappointing 2012.
Widely tipped for success at the London 2012 Paralympic Games, Kaastrup's horse Labbenhus Snov died suddenly in the run-up to the Games.
This year, however, Kaastrup is developing her relationship with, and training on, her new horse, Steffi Graf.
It's a relationship that seems to be progressing well, earning them third place in the Grade 1b freestyle and individual competitions at the British Festival of Dressage in Hartpury with 71.35% and 65.207%, respectively. Crucially, both scores were enough to guarantee her a place on the Danish team.
Speaking at this summer's Hartpury Festival of Dressage, Kaastrup said: "I'm really happy. I qualified for the Europeans which was my goal for coming here. My horse is brand new so I still have to get to know her better. It will come and by the Europeans she will be really good so I'm really pleased.
"Hartpury was my second competition on her after our nationals and this was much better. Now though there's nothing between this and the Europeans, just training and training."
Kaastrup admits that missing out on London was hard on a number of levels.
"At first the loss of my beloved horse was so hard that I didn't even care about London," she said.
"But as the Games got closer it got harder not being there. At the same time it was also not going well with the first horse I bought after my horse's death. So it was indeed a very difficult time. But I kept looking forward and focused on the big Europeans that would be held in Denmark and that helped."
Taking a new horse by the reins
With so much depending a synched relationship between rider and horse, Kaastrup is particularly pleased at the growing bond between herself and Steffi Graf.
She bought the horse four months ago and said the two clicked almost immediately.
"She is the most amazing horse I have ever met," Kaastrup said. "From the first time I sat on her back she just accepted me and understood my signals. She gave me the joy of riding back because every training session with her is a thrill."
The para-dressage European Championships will be combined with the able-bodied jumping and dressage events this time around in Herning, making for one giant show.
And, like all other riders, it's the beginning of Kaastrup's road to Rio 2016 – a chance for redemption.
"That's definitely what I'm aiming for but Herning is the first small step towards that," she said.
"I have many competitions before both the World Equestrian Games and the Paralympics, and in riding and working with horses anything can happen. I think almost everybody on the team has learned that lesson. So nothing is a 100 per cent certain until you are riding down the centreline at these great events."