Thousands gather for Paralympic Day in centre of Paris
Sport demonstrations, star attendees, mass crowds and a dramatic long jump showcase had the French capital abuzz two years ahead of the Paris 2024 Paralympic Games
10 Oct 2022
Imagen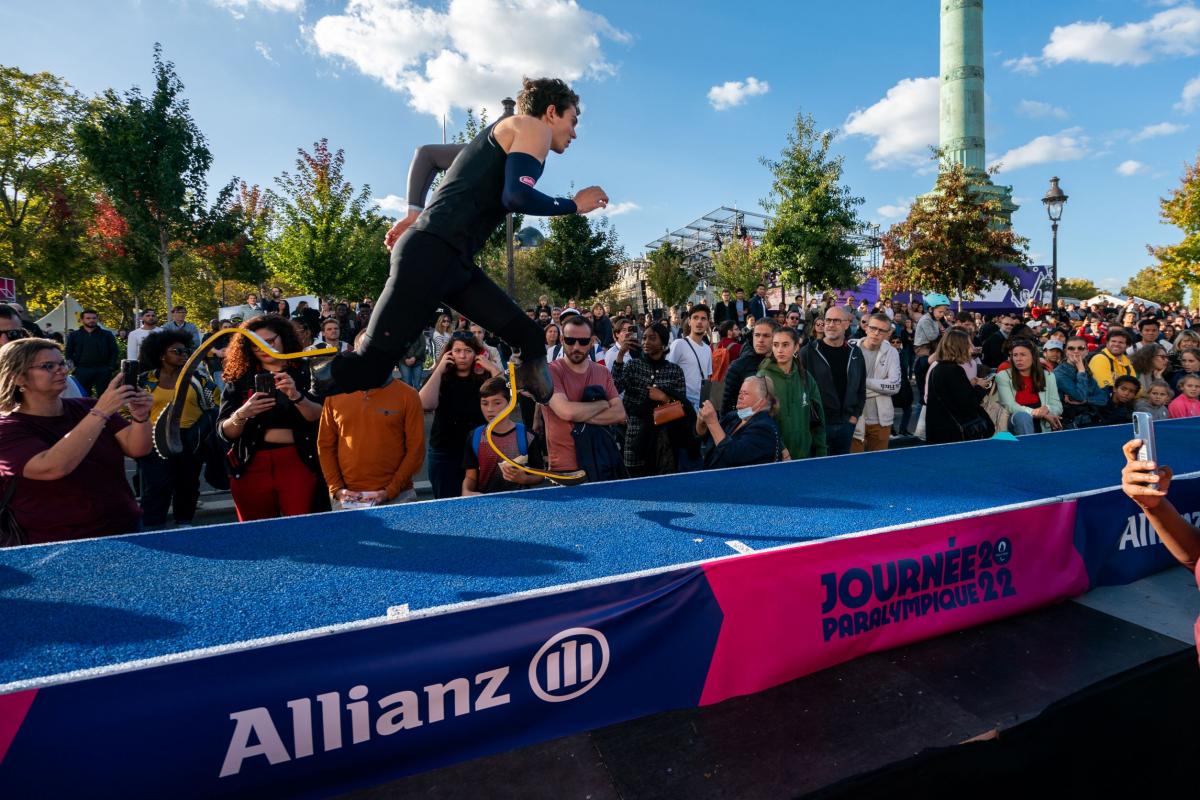 ⒸParis 2024
By Richard Fox and Lena Smirnova | For the IPC
As many as 40,000 people gathered at the Place de la Bastille in central Paris on Saturday, 8 October as the French capital hosted a historic Paralympic Day two years ahead of the 2024 Paralympic Games.
It was the first time that Paralympic Day was held in Paris. When the celebrations started at noon, visitors had a chance to watch and try out 15 Para sports, meet 160 French and international athletes, and also cheer on a long jump showcase featuring three world record holders.
In addition to the sports festival, there were entertainment performances such as comedy sketches and a breakdance show.
Michael Jeremiasz, a retired wheelchair tennis player and a Paris 2024 Ambassador, was the presenter on the day, taking visitors from one sport demonstration to the next. Caught in a rare free moment between his presenter duties, the Paralympic champion gushed about the scale of the event.
"It's just unbelievable, the first Paralympic Day ever, two years before Paris 2024, thousands and thousands of people, 15 Paralympic sports, 160 Paralympians, French and foreigners coming for this huge celebration, I'm very, very happy today," Jeremiasz said, adding that the Paralympic Day gave a taste of what spectators can expect at the Games in two years' time.
"That's what it's going to look like, some amazing places – the (Place de la) Concorde, the Eiffel Tower, Chateau de Versailles, all those iconic places – thousands and thousands of supporters around the world to celebrate those amazing Paralympians and to understand that there's a life after being disabled, a happy life."
Sport at the fingertips
The iconic Place de la Bastille was transformed into an open-air playground for the day with three sports fields set up to host sports demonstrations. 
The Paralympic Games sports featured in the demonstrations included Para athletics, Para badminton, boccia, blind football, Para judo, Para rowing, sitting volleyball, Para table tennis, Para triathlon, wheelchair basketball, wheelchair fencing, and wheelchair tennis.
There were also demonstrations of several Para sports that are not on the official Paralympic Games programme: wheelchair BMX, wheelchair handball, Para climbing and showdown.
Running along an elevated blue track with cheering spectators inches away on both sides, Germany's "Blade Jumper" Markus Rehm jumped a best of 8.04m as part of an exciting showcase of long jump talent ahead of the 2023 World Para Athletics Championships, also to be hosted in Paris.
"The crowd was just amazing. They were so close and they really enjoyed it. They were clapping, they were cheering us up. For us athletes it's even nicer if people enjoy watching you. They feel with you, they kind of jump with you, so it was really nice," the four-time Paralympic champion said. 
Greece's Stelios Malakopoulos, the world record holder in the men's long jump T62, also participated in the showcase, jumping one metre less than Rehm, while France's Arnaud Assoumani, a six-time Paralympic medallist and world record holder in the men's T46/T47 class, reached a distance of 7.58m.
Like Rehm, Malakopoulos was smitten with the support of the crowds and said he hopes the memories of this Paralympic Day will inspire more people to come watch the Games in 2024.
"It's very nice to see people love your sport and to see people clap for your tries and be near to you," said Malakopoulos, the only double amputee long jumper in the showcase. "Every athlete has a very specific and a very different story and it's a nice way to learn these stories by coming to the stadiums and seeing them try to do their best performances."
Buzzing for Paris 2024
The enthusiastic response to Paralympic Day at Place de la Bastille was a welcome sign for the French athletes who have spent the past few years trying to grow the awareness and appreciation of Para sports across their country.
"I feel very happy, very excited because it's really a big day for us to show what an athlete can do and to show that we are athletes before being disabled persons," said French wheelchair basketball player Sofyane Mehiaoui.
Mehiaoui has competed at the world and European championships, and is hoping to make his Paralympic debut at the home Games. He was particularly excited about the changes that large-scale events like Paralympic Day and the Paralympic Games could bring in the minds of French children regarding people with disabilities.
"This kind of event is really important for children because it shows children that we are athletes and disabled persons. That will change their mentality," he said. "They are the future so if we can change the mentality now, that will change things tomorrow, so it's important."
For long jumper Assoumani, who is aiming to compete at his sixth Paralympic Games in Paris, that change in people's perceptions could not come soon enough. 
"It's a beautiful day because we need that for showing what the Paralympic Movement is really about, what it means to be different, to have a disability, to have an impairment and still be able to do sport and to do everything," the Paris 2024 Ambassador said. "It's a really positive day for everyone, for people with a disability, but also for people who are able-bodied who just came here with their kids, with their friends, to visit and to discover something they didn't know.
"The Paralympic Games and big events like that can change and really accelerate the perception, the awareness and then also to show that everyone needs to be part of that Movement. It's not just for people with disabilities. It's for all society, so we need the politicians, we need the media, we need the companies. Now we are in that moment in France where everything is speeding up like crazy, but we are building something. Today was the first Paralympic Day, but we want to have more in France in the next years, and this Paralympic Day needs to (be held) in other countries around the world too."