Training with alpine sit-skier Corey Peters
New Zealand's Sochi giant slalom silver medallist Corey Peters gave an insight into his gruelling training schedule ahead of the 2015 IPC Alpine Skiing World Championships.
26 Feb 2015
Imagen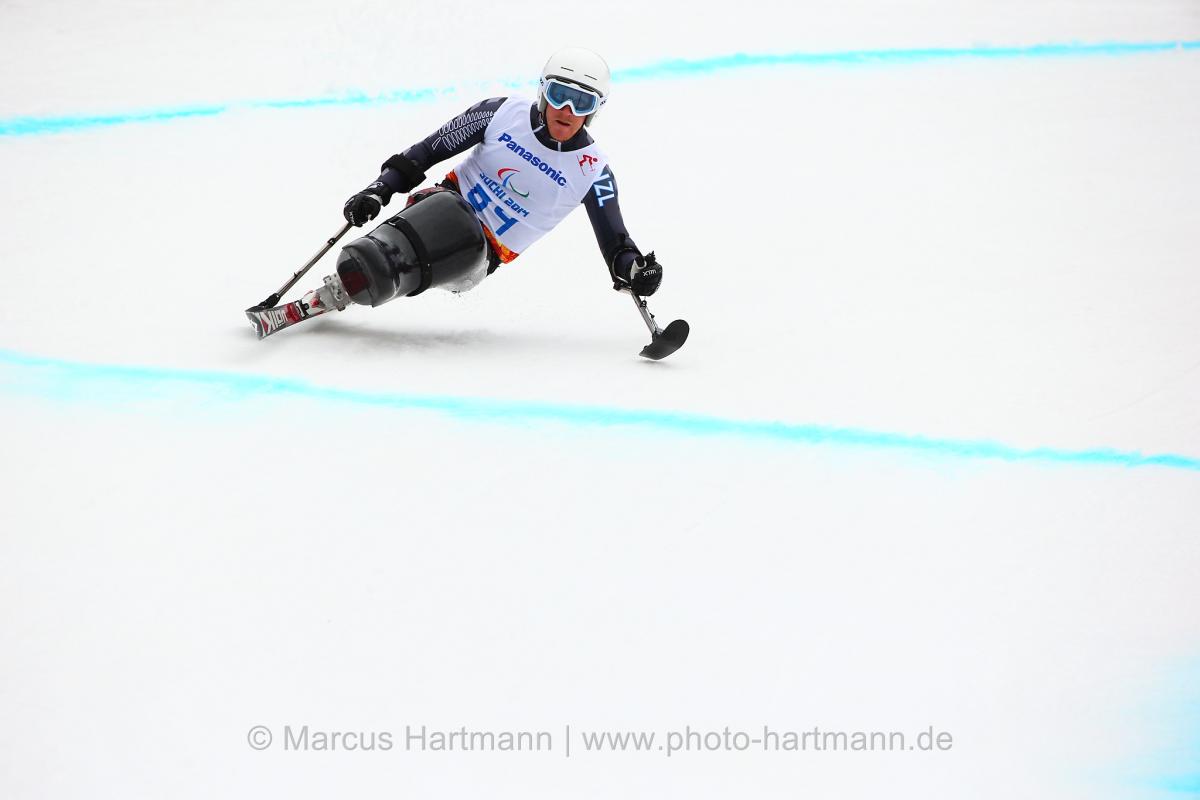 Ⓒwww.photo-hartmann.de
By Ciara Metcalfe | For the IPC
New Zealand's Corey Peters has been flying high in recent months after winning silver in giant slalom at Sochi 2014, his first major international medal.
Winning podiums at both IPC Alpine Skiing World and NorAm Cups in 2014-15, Peters is committed to an intense training schedule which takes in various countries, and which he hopes will lead him to the podium at the 2015 IPC Alpine Skiing World Championships.
Paralympic.org: Have your training levels increased since Sochi 2014?
"Training hasn't changed at all. We spend three months on snow during the New Zealand season and a further four months on snow in the Northern Hemisphere season, so every year is pretty full on. If anything it's been more a case of training smarter and trying to get the most out of each training session without over training and becoming fatigued."
How do you keep yourself motivated during your time off?
"I've recently got into a bit kayaking to mix it up and have a break from the skiing. Also spending seven months of the year away from my home town is pretty tough so I try to spend as much time as I can catch up with friends and family to keep that life balance."
What do you think you can do to stay ahead of the game?
"I think as long as I keep working hard in training, refining my technique and race tactics, and continuing the back to back winters between New Zealand and the Northern Hemisphere I think things are looking good."
What is your most hi-tech piece of training equipment you own?
"My sit ski, without it I couldn't train."
Tell us about your nutrition regime - what do you eat a lot of?
"I try to eat a balanced diet with fruits, vegetables, rice, pasta etc. to ensure I have enough energy throughout the day. It has been a big learning curve and I've had a lot of help from a dietician."
Do you follow the same training plan most days?
"Pretty much the only thing that changes is what discipline we are training each day. I usually train up to three-four hours in the morning on snow five times a week and follow that up with a gym session in the afternoon three-five times a week, depending on fatigue levels and how the body is feeling. Gym training is a lot more intense in the pre-season and then I back off a little during the competition season."
What part of your body suffers the most?
"There's not really one body part in particular that suffers more. I think skiing in the sit ski and trying to make those good angles with the body around gates requires a massive amount of muscle recruitment throughout the whole upper body."
What is the toughest thing about your training?
"The toughest thing would be trying to lay down the perfect run. With so many variables it's almost impossible to ski the perfect line without making a mistake. That's what makes our sport so tough."
Panorama 2015 runs from 28 February-10 March and will feature around 130 athletes from 30 countries.
Action begins in Panorama after the Opening Ceremony on Saturday (28 February) with downhill on 4 March. A full competition schedule is available at the event website.
Live results and a livestream will be available at www.Panorama2015.com, whilst viewers in the US can watch at www.teamusa.org/US-Paralympics.