Tudhope's coach tips youngster for future success
Australian snowboarder Ben Tudhope was the youngest competitor at the Sochi 2014 Paralympic Games and now his coach believes he has something which sets him apart from the rest of the field.
14 Aug 2014
Imagen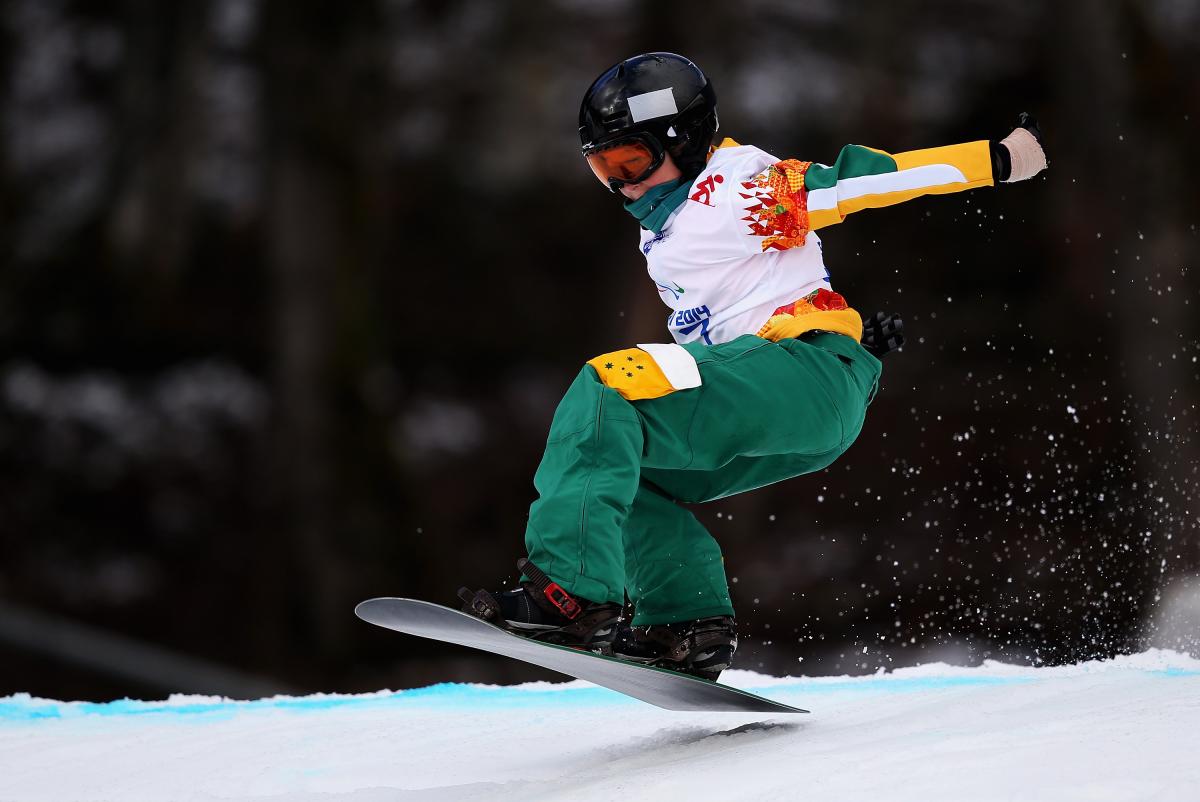 ⒸGetty Images
By Diane Hendrickson | for the IPC
His coach now calls him his "remote-controlled car."
Pete Higgins, the coach of young Australian para-snowboard sensation Ben Tudhope who made his Paralympic debut at Sochi 2014, has revealed that he sees something very special in the teenager that could see him compete for medals at the PyeongChang 2018 Winter Paralympic Games.
"When it rolls around, he'll be right up there with [American medallists Evan Strong, Mike Shea and Keith Gabel]," Higgins said. "He's really going to set the bar for the sport. One of the challenges for the sport will be to keep up with Ben.
"He's very soft and supple over challenging terrain. Where most people try to apply more power, he uses less, and it really works to his advantage. It's the perfect technique for boardercross racing."
Ahead of Sochi 2014 at the first IPC Alpine Skiing World Cup of the 2013/14 season in Landgraaf, the Netherlands, Higgins tested 14-year-old Tudhope.
"I told him to go around the first two turns and somewhere before turn three, he had to do three claps of his hands. And he did it straightaway. In a World Cup race," Higgins said.
"From there on, I knew he had the mental capacity and mindset to really focus on any directions given by the coaches and to use that to do what he needed to get done on the track."
That mindset propelled Tudhope, Sochi 2014's youngest competitor and Australia's youngest-ever Paralympian, to a 10th place finish in snowboard cross in its Paralympic debut. His coach now calls him his "remote-controlled car."
Old soul
"He's a very old soul," Higgins said. "He's a professional racer… You'd be amazed at his grasp of the sport and his enthusiasm and his ability to get into the right mindset for the race each and every time. With most athletes, you have a talk with them about what line they need to choose or that they need to do something, but as soon as they pull out of the gate, their mind is gone. They simply focus on the race at hand.
"Ben can pull out of the gate and make really good decisions in the race…but he still keeps what advice he needs in the back of his mind."
The young Tudhope, who took up snowboarding at age eight after his sister Annabel, did not imagine his first Paralympics would come quite so soon. He described his experience in Russia as "amazing."
"Everything was just so good, from the atmosphere to the ride to the Village to the Opening Ceremony to the Closing Ceremony," he said.
The Closing Ceremony particularly stands out to Tudhope, who was honoured with carrying the Australian flag, a task he said was both exciting and scary at the same time.
"In the Russian alphabet, Au is the first letter, so I actually got to go out first," he said. "It was also a bit scary at the start because I felt like it was a race in my head. It was like you're at the start gate, but once you're out, it's fun."
The future
After four months of travel culminating with the Paralympics, Tudhope is back balancing a schedule of school and training that still allows him a couple hours a day of free time to watch TV. Every weekend his family drives six hours from their home just outside Sydney to the mountains, "which are not real mountains; the real ones are much better," according to the youngster.
He has remained grounded and focused on his training, despite the fact that his school put up a display for him in the hallway and the city of Manly added a plaque for him to its walkway of local Paralympians and Olympians. He will also sit in the dugout and watch a match with the players of the Manly Seagulls rugby squad.
In the future, Tudhope aims to repay his coaches' faith with Paralympic gold, while "[inspiring] other young children with cerebral palsy or another disability to pursue snowboarding."
For more information on para-snowboard, visit the IPC Alpine Skiing website.