Ukraine end biathlon with golden trio, Wheelchair Curling, Para Ice Hockey finals set
Family affair for Aigners on slopes
Masters-ful conclusion to Para Biathlon whilst Ukraine take trio of golds
Six medals for China on final day of Para Snowboard
11 Mar 2022
Imagen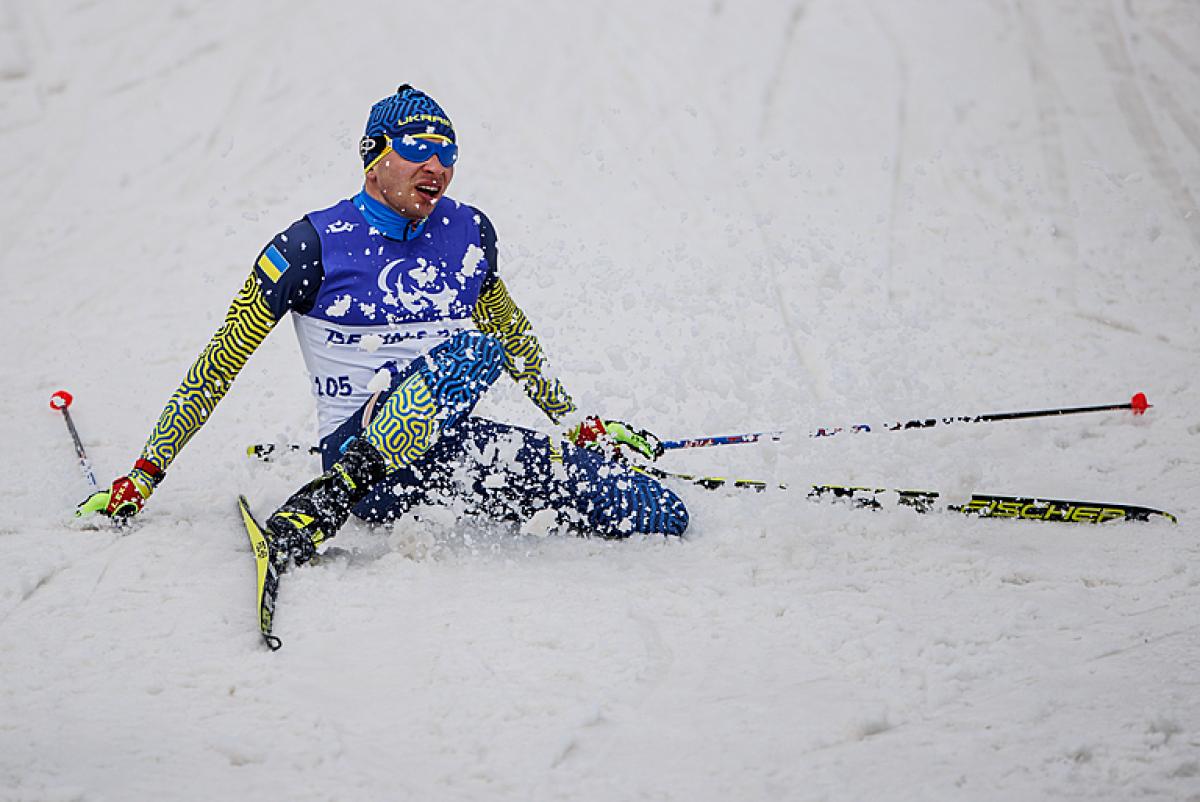 ⒸOIS Photos/Chloe Knott
By World Curling | OIS | IPC | Lucy Dominy
Medals for members of the same family, a trio of golds for Ukraine and two more for hosts China and the confirmation of exciting finals were the headlines from day seven of the Beijing 2022 Paralympic Winter Games on Friday (11 March).
Family affair in Para Alpine Skiing
Action in the women's giant slalom was headlined by a unique set of siblings in the form of Austrian trio Veronika, Elisabeth and Barbara Aigner.
Veronika, guided by her sister Elisabeth, took gold in the vision impaired, while her other sister Barbara, guided by Klara Sykora, secured bronze.
After the race Veronika said: "I feel very good and we are so happy that I and my sisters are on the podium. It's crazy.
"I'm very happy. One week ago I didn't know if I would stand on the podium and today we have gold and we are so happy."
Elisabeth added: "I cried at the flower ceremony because I'm so happy to win with my sisters. All of us cried at the ceremony.
"The family is very sporty and we are very happy to (win medals) in this race."
Barbara said: "It's very special for me because it's not normal that the whole family is here and I can ski against and with them, so I am very proud of everybody."
Veronika and Elisabeth Aigner are the new Paralympic champions in the women's giant slalom vision impaired. Ⓒ Getty Images
Their brother Johannes Aigner has also been succeeding on Chinese soil as he already secured two golds, one silver and one bronze in the men's vision impaired competition.
China's Zhu Daqing took silver, splitting the Aigner sisters.
Japan's Momoka Muraoka maintained her course to leave Beijing 2022 as one of the most decorated athletes, adding a third gold to her haul in the women's sitting.
Muraoka's incredible second run was more than seven seconds faster than her nearest competitor, China's silver medallist Liu Sitong. Liu's teammate Zhang Wenjing completed the podium.
"At the other Games [PyeongChang 2018], I got the gold in the giant slalom and my first run [here] didn't go really well so I was really sad about that," Muraoka said. "But on the second run, I did a really great job. I did it the way I always race and went far ahead, so during the flower ceremony when they called my name, it made me cry and it was very emotional. I felt like I really did it. That was a really happy moment."
In the women's standing China's Zhang Mengqiu added to her super-G gold and downhill silver with the win.
Zhang led on both runs, whilst Canada's Mollie Jepsen did enough on her first to take silver. Germany's Andrea Rothfuss – the PyeongChang 2018 silver medallist and 2017 world champion – was third.
"Before the Paralympic Games, I thought maybe I could fight for a gold medal in giant slalom or slalom," Zhang said. "Because although I am not bad in speed events, I am not stable enough.
"It is really a surprise that I won a gold in speed events and another today."
Ukraine reach perfect finish in Para Biathlon
Ukrainian biathletes ended their competition with another strong showing in the Individual races, grabbing half of the six golds on offer to top the sport's medals table.
The country leaves Beijing 2022 with eight gold, nine silver and five bronze – their best ever performance at a Paralympic Winter Games.
Liudmyla Liashenko got the gold rush underway in the women's standing to win her first individual Paralympic title. 
Liashenko dominated the race throughout, leading China's Zhao Zhiqing and Canada's Brittany Hudak home.
"It was a really long wait for me to get this gold medal. I've been to a lot of trainings and won a lot of gold medals in World Cups and World Championships over the past seasons. I was sure that my gold was waiting for me at these Paralympic Games and I am really happy and proud to be a Paralympic champion."
Oksana Shyshkova completed her Beijing 2022 campaign with a second gold in the women's vision impaired with guide Andriy Marchenko.
Shyshkova kept Germans Linn Kazmaier, guided by Florian Baumann and Leonie Maria Walter and guide Pirmin Strecker at bay. This was Kazmaier's second silver of the Games while Walter finished with a gold, silver and bronze.
"Every time we go to the start we understand that we [want to] protect the honour of our country. That is maybe what is motivating us to focus and do all the best that we can during the race. Maybe that is the secret," said Shyshkova following her triumph.
The Ukrainian men also got in on the golden action on Friday. 
Oleksandr Kazik and guide Serhii Kucheriavyi claimed the men's vision impaired title ahead of teammate Vitalii Lukianenko and guide Borys Babar. The bronze was taken by Shuang Yu of China, guided by Wang Guanyu.
"It is a really desired medal for us. We were preparing and training hard for a long time with my guide," Kazik said. "It was a tough race and difficult weather conditions today with the hard snow. 
"The skis also didn't work well as planned, but we tried to support each other. Me, together with my guide. We did a great job to come here and compete and represent our country and we couldn't lose this race. Perhaps because of this support we got this result," said an emotional Kazik.
Not content with winning his first Paralympic title earlier on in the competition, Frenchman Benjamin Daviet successfully grabbed himself another in the men's standing.
Daviet, who had already won gold in the cross-country sprint, shot clean to lead Canada's Mark Arendz and Ukraine's Grygorii Vovchynskyi onto the podium.
"It's the perfect race today, on the skis and in the shooting," Daviet said. "I am very satisfied to hit 20 of 20 (shots). It was an easy race today. I am very proud and happy because I've put so much work on this over the past four years." 
"The beginning of the Games was really difficult for me. Today there's a new Benjamin and I'm very happy and proud. Now I want to maybe have other gold medals, in the cross-country.
"I feel very relaxed now. I am flying like a bird. I feel very confident and it is very easy for me now."
Benjamin Daviet has one gold each from Para Biathlon and Para Cross-Country. Ⓒ OIS Photos/Chloe Knott
Arendz celebrated his own record from Beijing 2022 with a full collection of gold, silver and bronze, as did Vovchynskyi.
The USA's Oksana Masters can also call herself a double Beijing 2022 biathlon champion after racing to victory in the women's sitting.
Compatriot Kendall Gretsch, who had claimed top honours in the same event at the World Championships in Lillehammer, Norway, was in control until the 10km mark but lost out to Masters 2.5km from the finish. China's Yilin Shan was third.
"I knew it was going to be tough and I just wanted USA to be one-two and I can't wait to celebrate this," said a thrilled Masters.
In the men's equivalent, China's Liu Mengtao rounded off Friday's list of athletes who doubled their gold medal collection.
Ukraine's Taras Rad added another silver whilst China's Zixu Liu, who had won gold in the sprint, completed the podium.
After that dominant show Liu revealed that he was confident of taking the title. "Well, nothing special. I knew I'd win. It's good to see the national flag and hear the national anthem. It's too early to be happy right now because I still have a cross-country race coming tomorrow," said the 20-year-old.
China top Para Snowboard medals table with two more golds
China snowboarders took two golds – and six medals overall – in Friday's banked slalom.
Wu Zhongwei and Sun Qi won the men's banked slalom SB-LL1 and SB-LL2 respectively.
Sun led a strong field home, including Finnish world champion Matti Suur Hamari who settled for silver. Ollie Hill won Great Britain's first Paralympic snowboard medal with bronze.
"The medal is like a key starting the next chapter of my life," Sun said. "It encourages me to go forward, unafraid of difficulties. Because I did it this time, I believe I can do it next time."
In the men's SB-LL1, Wu dominated in both runs to take the win. The Netherlands' Chris Vos regrouped after just missing the podium in the snowboard-cross for silver. Canada's Tyler Turner – the new cross Paralympic champion – landed in the top three once again with bronze.
At the end of Para Snowboard, China top the medals table with three golds, three silver and four bronze overall.
Having missed out on gold in the snowboard-cross as the world champion, France's Maxime Montaggioni did not want to do the same in the men's banked slalom SB-UL.
After the first of the two runs were completed, Montaggioni was 0.01 seconds behind then-leader Ji Lijia of China. But the Frenchman finished his second run in 1:09.41 - 0.46 seconds faster than his first - to edge out Ji by 0.45 seconds and consign him to silver.
"At the gate, I had nothing to lose," Montaggioni said. "It was 0.01 and I couldn't think that I will lose (by so little). I had to do everything I could to leave the competition with no regrets. So I was free and strong, and it paid off."
Ji said: "That's like a finger's distance. It's OK," he continued, laughing. 
The USA's Brenna Huckaby also produced second-run heroics to win gold in the women's banked slalom SB-LL2.
After her first run she had the second-fastest time - and was the only non-Chinese athlete in the top five - but completed her second run quickest to beat respective silver and bronze medallists Geng Yanhong and Li Tiantian, both from China.
Geng and Li's achievement makes them the joint-first female Paralympic medallists for their country.
Geng Yanhong made history once again for China on Friday. Ⓒ OIS Photos/Thomas Lovelock
Asked what was going through her mind before her second run, Huckaby said, laughing: "Oh, s**t." 
"The thing is, they're fast [the Chinese athletes]. I also know I can be fast, and so I was like, 'If I can just ride my snowboard like I know how to do, I can be in the running'.
"I still can't believe I won because those girls are freaking fast."
Canada and USA to meet again for Para Ice Hockey gold
A Canada team who feel they are 'hitting their stride' at just the right moment will attempt to stop USA winning a fourth successive Paralympic gold on Sunday, after Para ice hockey's powerhouse rivals proved they remain a cut above the rest. 
Having watched an increasingly confident Canada produce their best hockey of the tournament so far to demolish South Korea 11-0 in the opening semi-final, the USA responded in style.
The biggest crowd of the tournament so far was treated to a real show, albeit not the one they were hoping for, with the 2021 and 2019 world champions dismantling the previously undefeated China 11-0. 
Setting a pace even the competition's surprise package could not live with,
Declan Farmer
and Brody Roybal combined three times in the first period to set USA on their way, the latter scoring a hat-trick. Ⓒ Getty Images.
So far the USA have scored 25 goals and conceded just one - a run that includes an opening 5-0 group-game victory over Canada. 
But such statistics do not appear to worry the Canadians. 
"Our bodies are finally starting to recover from all the training, all the brutal work that we've been putting in," Canada's Billy Bridges said. "I can see the guys really starting to hit their stride.
"At the beginning of the tournament we were still a bit fatigued and nearing the end of our taper and we are really starting to come to our stride now." 
Liam Hickey was among the six goalscorers in the semi-final and the 23-year-old says the team have what it takes to send the likes of Bridges and five-time Paralympian Greg Westlake "off with the gold medal". 
Canada will face the USA in a repeat of the final from PyeongChang 2018. Ⓒ Getty Images
Italy came out on top in the fifth-place play-off, beating Czech Republic 4-3.
China, Sweden through to Wheelchair Curling final, Canada take bronze
Defending champions China will take on Sweden for their second consecutive gold medal after both teams won their semi-finals on Friday.
China overcame Canada at this stage once again, showing their ability to beat the three-time Paralympic champions as they did at PyeongChang 2018 was no fluke. They beat the Canadians 9-5.
Sweden emerged the victors in the clash of the relative minnows against Slovakia, as both sides were enjoying their best ever run.
Sweden's last best finish was bronze at Vancouver 2010, whilst Slovakia have never finished higher than ninth.
Sweden scored a point in each of the final three ends to beat Slovakia 6-4.
Viljo Pettersson-Dahl has skipped Sweden to their best Paralympics in over a decade. Ⓒ Getty Images
Canada and Slovakia then met for bronze later in the day.
Canada was leading the game and having last-stone advantage, going into the eighth end.
In that end, Slovakia had two stones in the four-foot when Jon Thurston threw his first. He removed both opponent stones and kept his shooter with a perfect double take-out.
At this point, Canada had three stones in the house. Slovakia's Zatko made a draw to the four-foot with his last, to sit shot stone.
Thurston took that out with his last, and as he kept his shooter, Canada scored four points, won the game by 8-3 and claimed Paralympic bronze medals.
Canada continue their 100 per cent podium record. Ⓒ Getty Images
After their victory, Canadian skip Mark Ideson said, "I'm just trying to digest it all. You know, it was such an exciting game, and emotional day, up and down. Of course, down first after the semi-final, it was a tough loss. Just regroup and get back and come out with a win was very special. The team played really well, we're well supported by a great staff. So, I'm really happy right now."