Wheelchair Rugby: 12 Facts for London 2012
Here's a list of 12 interesting things you should know about Wheelchair Rugby at the London 2012 Paralympic Games.
01 May 2012
Imagen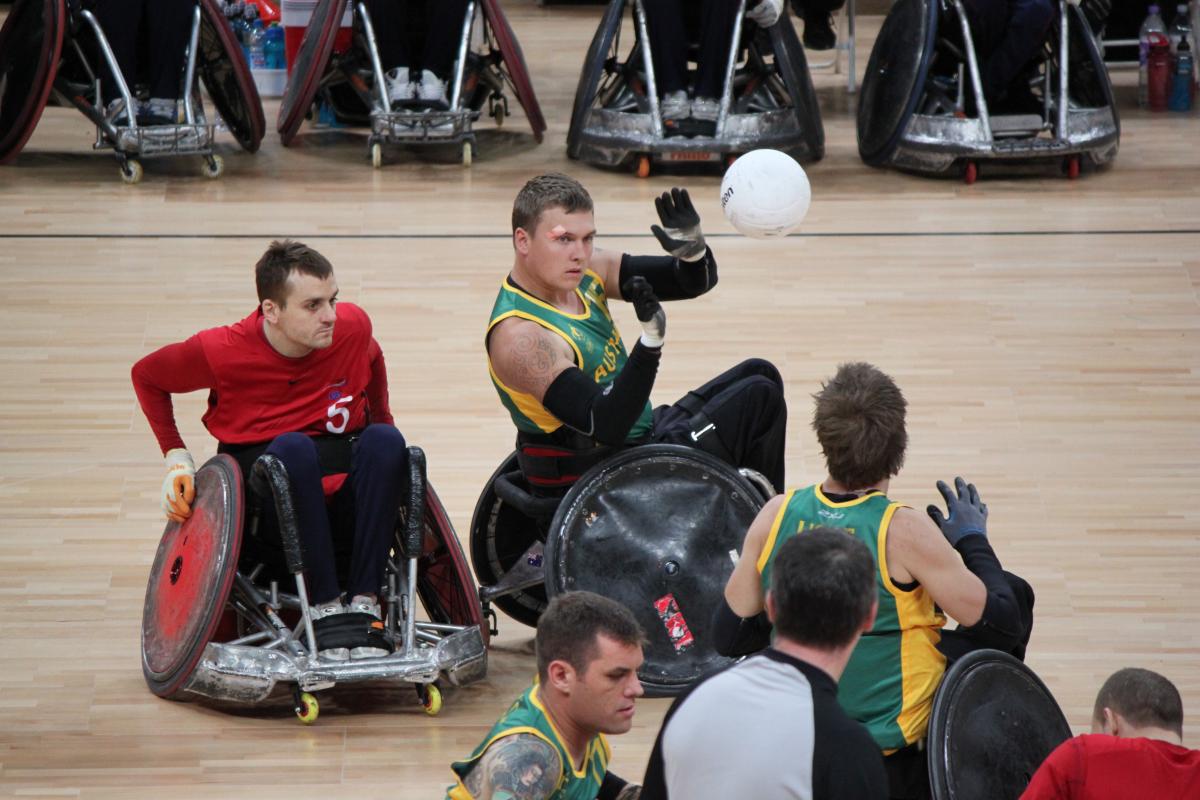 ⒸIPC
By IPC
Wheelchair Rugby will be one of the most hard-hitting team sports at the London 2012 Paralympic Games, and it is certain to garner loads of media coverage.
Here are 12 things you should know about the sport for London 2012:
1.Who, what, when?
The London 2012 Wheelchair Rugby competition will feature eight teams: Australia, Belgium, Canada, France, Great Britain, Japan, Sweden, and the USA. Ninety-six athletes will compete in the event. The preliminary round will take place from 5-7 September and then the playoff rounds will follow from 8-9 September.
2. Where?
The Paralympic Games competition will be held at the Basketball Arena in the Olympic Park, which is one of the largest temporary venues ever built for any Games.
3.History
The sport was invented in 1977 by a group of Canadian quadriplegic athletes who were looking for an alternative to Wheelchair Basketball that would allow players with reduced arm and hand function to participate on equal terms.
4. Eligibility
To be eligible to play, athletes must have a disability that affects at least three of their limbs.
5. Oscar-worthy
Wheelchair Rugby was featured in the Oscar-nominated 2005 documentary, "Murderball," which centres on the rivalry between USA and Canada leading up to the 2004 Paralympic Games.
6. Red, white and blue
USA's Wheelchair Rugby team has finished first at every World Championships and Paralympic Games since 2006.
7. Making the programme
Before Wheelchair Rugby's first Paralympic Games appearance at the Sydney 2000 Games, it was featured as a demonstration sport at the Atlanta 1996 Games.
8. Hard hitting
Contact between wheelchairs in the sport is permitted, and in fact, it is actually an integral part of the sport, as players use their chairs to block and hold opponents.
9. Mixed gender
Wheelchair Rugby is a sport for both male and female athletes, and Kylie Grimes competed for Great Britain in April's test event for the sport in London.
10. Equipment
The sport is played indoors on a regulation-sized basketball court using a white ball identical in size and shape to a volleyball.
11. Replaceable equipment
An elite Wheelchair Rugby player has to replace his wheelchair approximately every 18 months due to the damage it suffers from playing the sport.
12. World's best
Ask any Wheelchair Rugby player who is the world's best at the game and they will reply with just two words: Ryley Batt.
Related Images
Related Videos
Related Documents