WWhCC2017: Six teams tied for second after day four
With Canada, Germany, Norway, Scotland, South Korea and China all tied, the remaining sessions will be crucial.
07 Mar 2017
Imagen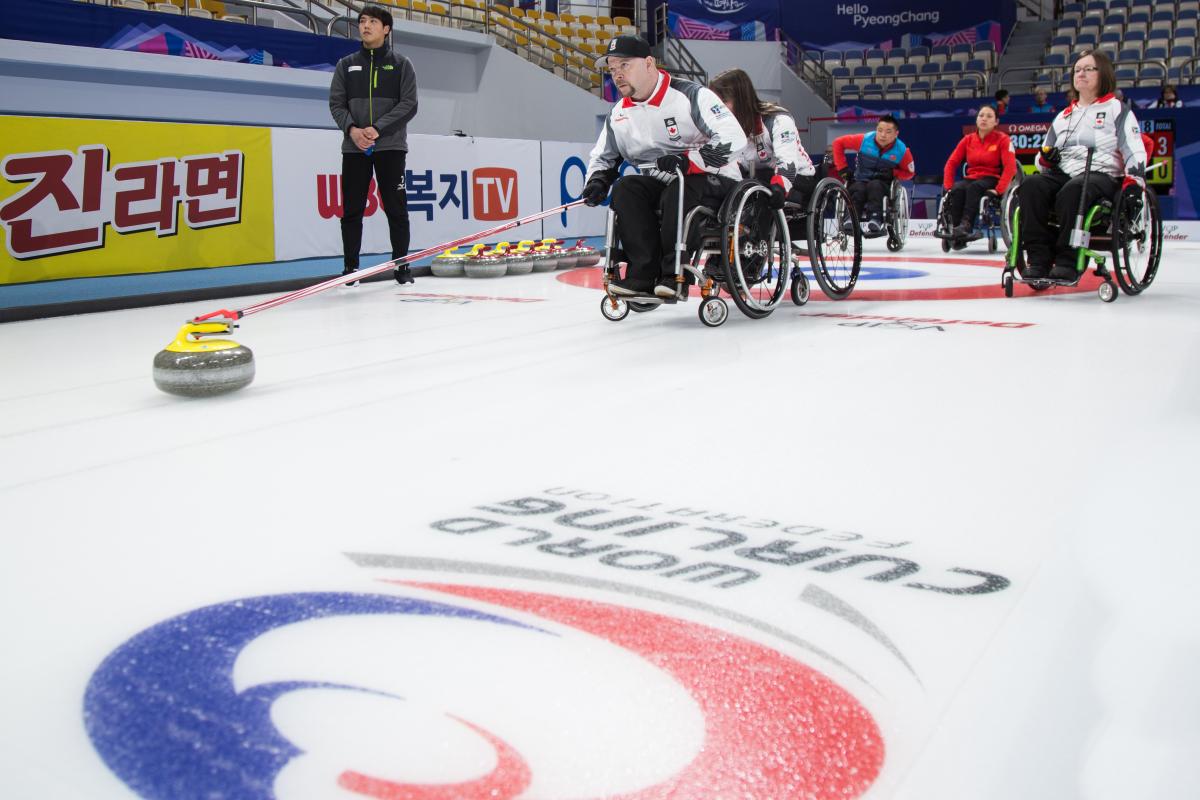 ⒸWCF / Celine Stucki
By World Curling and IPC
The eighth session of round-robin play brought six teams level in second place on Tuesday (7 March) of the World Wheelchair Curling Championship 2017 in Gangneung, South Korea. Day four of the Championship, which also acts as the PyeongChang 2018 Test Event, also saw three others tied for eighth place at the bottom of the rankings.
Switzerland picked up their second win of the week when they defeated Norway 8-2. Switzerland opened with two points in the first end and followed that with a steal of two points in the third end. Norwegian skip Rune Lorentsen was heavy with his last stone. Norway scored a single point in the fourth end to leave the score at 4-1 in Switzerland's favour at the break and never looked back.
Swiss player Claudia Huettenmoser said: "Yesterday we had one bad and one very, very bad game. It was our lowest point, and we said 'OK, we start over.' We had a little change in the team, and it started very well like that. Now, we will see and we will give our best for the next three games. Our first losses were only with one stone, but, it's a loss. Now, I think we smell the winning, and we like it."
After their struggles this week, the USA made several line-up changes, with Kirk Black taking over the fourth stones and the skip duty for this game. The alterations paid off as they went on to defeat Scotland 5-4 to claim their second win of the week.
USA took the early advantage with a single point score in the first end followed by a steal of one point in the second end. US vice-skip Stephen Emt played a precise draw to the button with his last stone. The stone sat almost frozen to a Scottish stone, that Scotland were unable to remove, for the remainder of the end to claim the point.
With the scores tied at 4-4 after seven ends, US third Justin Marshall played a freeze to a Scottish stone at the back of the 8-foot with his second stone that proved to be crucial. With her last stone, Scotland skip Aileen Neilson, was slightly heavy with her draw, leaving Marshall's stone sitting shot and giving the USA the 5-4 victory.
Emt said: "Scotland is playing very well right now, one of the best teams in the world and we came out here and concentrated on hitting the broom and throwing right weights."
Germany picked up their second win of the day when they defeated Finland 7-5 in a closely fought game. With the score level at 5-5 going into the final end, Finnish skip Markku Karjalainen missed a take-out attempt, leaving Germany sitting two shot stone and the win.
In the session's final game of the day, South Korea held off a fightback from Canada to claim an 8-4 victory. South Korea surged ahead to a 6-0 lead at the break. Canada fought back to within two points, but in the final end, skip Jim Armstrong's attempted take-out with his final stone cleared a Canadian stone from the house, giving South Korea a score of two points and the win.
Earlier in the day, South Korea could not overcome defending two-time world champions Russia*, falling 8-3, which leaves the Russians as the only undefeated team in the Championships so far.
With six teams (Canada, China, Germany, South Korea, Norway and Scotland) in second place with three wins and three losses, the three remaining sessions will foresee play-off contenders.
Results session eight: Switzerland 8-2 Norway; Finland 5-7 Germany; South Korea 8-4 Canada; Scotland 4-5 USA
Results session seven: Russia 8-3 South Korea; Germany 7-2 USA; China 6-2 Canada
Standings after session eight (W-L):
Russia 6-0
Canada 3-3
China 3-3
Germany 3-3
South Korea 3-3
Norway 3-3
Scotland 3-3
Finland 2-4
Switzerland 2-4
USA 2-4
Complete results can be found on the World Curling Federation's website.
Also follow the action from the WWhCC 2017 on Twitter, Instagram (@worldcurling) and Facebook (/WorldCurlingFederation) and use the hashtags: #WWhCC2017 #curling #Roadto2018
*Editor's note: The International Paralympic Committee suspended the Russian Paralympic Committee on 7 August for its inability to fulfil its IPC membership responsibilities and obligations, in particular its obligation to comply with the IPC Anti-Doping Code and the World Anti-Doping Code (to which it is also a signatory). As a result of the suspension, Russian athletes cannot enter IPC sanctioned events or competitions, including the Paralympic Games. For further information please click here.