WWhCC2017: South Korea open with win
The host nation delighted their home crowd with a victory over the USA on the first day of the curling World Championships.
05 Mar 2017
Imagen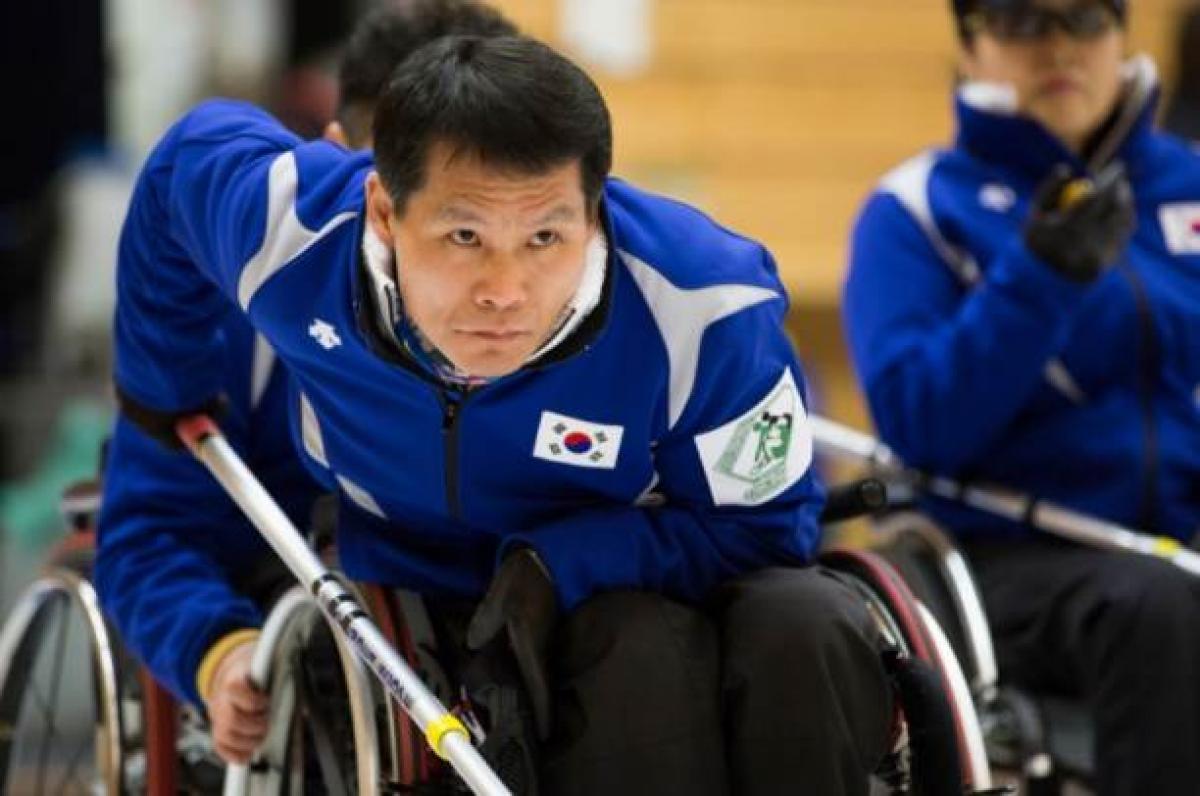 ⒸWCF
By World Curling Federation and IPC
"There is no pressure, but sometimes it's hard. When we hear the cheering we feel really happy."
Host nation South Korea defeated the USA 8-4 on the opening day of the World Wheelchair Curling Championship 2017 (WWhCC2017), which also acts as the PyeongChang 2018 Test Event, on Saturday (4 March).
The opening competitions, which saw celebrations for third national Paralympic Day in South Korea, included two sessions.
In front of an engaged home crowd, South Korean skip Soon Seok Seo scraped his way back into the game after giving up three points to the USA in the first end. Down by one point in the seventh end, South Korea earned their deuce after US skip Stephan Emt flashed an open hit, making the score 5-4. South Korea showed no sign of nerves after making a take out through a small port to count three points, and eventually stealing the win.
Seo said: "There is no pressure, but sometimes it's hard. When we hear the cheering we feel really happy. Usually when we play games we cannot understand what the crowd says, but now we can understand and we can hear cheering from Koreans."
After defeating Switzerland 6-5 earlier in the first session, Russia* added another with a 7-3 victory over Norway.
The Russians swapped single points against Norway for six ends straight until taking control in the seventh end with a deuce. Needing two points to tie, the Norwegians attempted a difficult double take-out in the eight end, but gave the reigning world champions a steal of two and the victory.
Finland also came off an earlier victory over China 5-2, but their win over Switzerland in the second sessions was closer.
Finland jumped on top with an open take-out for the win. Tied 5-5 in the final end, Finland needed the last stone to secure their own fate and win the game 6-5.
Finland's skip Markku Karjalainen said: "I'm feeling excited. Both were tight games and we put the pressure on until the end. I'm satisfied because we are playing as a team. We always have bad shots and good shots, but we are working as a team and that's making us stronger."
Scotland won their first game of the World Championship after being relegated from the competition two years ago. The Scots held on through a close match versus China with a steal in the eighth end to shake hands 5-3.
Competition continues Sunday (5 March) with sessions three and four.
Results session two: South Korea 8-4 USA; Norway 3-7 Russia; Scotland 5-3 China; Finland 6-5 Switzerland.
Results session one: Russia 6-5 Switzerland; China 2-5 Finland; Norway 15-2 Germany; Canada 5-4 Scotland (extra end).
Standings after session two (W-L):
Finland 2-0
Russia 2-0
Canada 1-0
South Korea 1-0
Norway 1-1
Scotland 1-1
Germany 0-1
USA 0-1
China 0-2
Switzerland 0-2
Complete results can be found on the World Curling Federation's website.
Also follow the action from the WWhCC 2017 on Twitter, Instagram (@worldcurling) and Facebook (/WorldCurlingFederation) and use the hashtags: #WWhCC2017 #curling #Roadto2018
*Editor's note: The International Paralympic Committee suspended the Russian Paralympic Committee on 7 August for its inability to fulfil its IPC membership responsibilities and obligations, in particular its obligation to comply with the IPC Anti-Doping Code and the World Anti-Doping Code (to which it is also a signatory). As a result of the suspension, Russian athletes cannot enter IPC sanctioned events or competitions, including the Paralympic Games. For further information please click here.