Imagen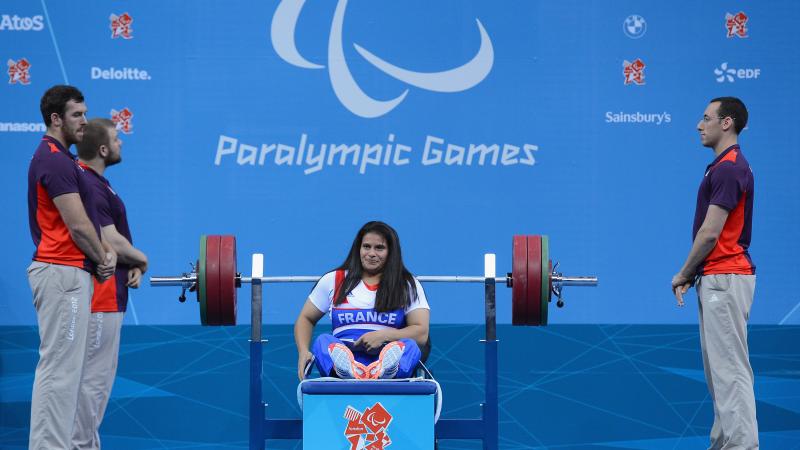 Souhad Ghazouani
Athletics | Powerlifting
Souhad Ghazouani has been a dominant force in the powerlifting international scene for over a decade. The French showed it at her home European Open Championships in Berck-sur-Mer, where she topped the podium in the women´s up to 73kg with a 135kg lift.
She missed out on the podium of an international competition for the first time at the 2014 World Championships. She had a hernia which prevented her from competing for several months between 2013 and 2014. As a result, she could not reach her best form ahead of Dubai 2014.
Fully recovered from her injury, Ghazouani had her revenge three years later in Mexico City, where she reclaimed her world title from 2010 with a stunning 145kg lift in the women's up to 73kg. One year before, she had taken silver at her fifth Paralympic Games in Rio.
Ghazouani, who has also competed in wheelchair racing on a national level and is coached by her husband Mehdi Ourizat, began lifting weights at the early age of six.
"I love the fact that powerlifting is an individual sport and I have to depend on myself to achieve results. It allows me to expend all my energy which helps to calm me, and I also like to be stronger than men."
She burst onto the international scene by sealing bronze at the 2003 World Championships. Ghazouani took one step further at the following edition in 2006, claiming silver.
The French powerlifter has also enjoyed success at Paralympic Games. She won silver in her debut at Athens 2004 and bronze at Beijing 2008 before going on to secure her only Paralympic title so far at London 2012.
Ghazouani also holds the world record of 150kg in the women's up to 73kg she set at the 2013 European Championships, where she won the first of her three continental titles.
Results
IPC Powerlifting World Championships Kuala Lumpur 2002 (Kuala Lumpur, Malaysia)

| Event | Medal | Unit | Date | Rank |
| --- | --- | --- | --- | --- |
| Women's -60 kg | | Final Round | | 3 |
IPC Powerlifting World Championships Busan 2006 (Busan, South Korea)

| Event | Medal | Unit | Date | Rank |
| --- | --- | --- | --- | --- |
| Women's -52 kg | | Final Round | | 2 |
2010 IPC Powerlifting World Championships (Kuala Lumpur, Malaysia)

| Event | Medal | Unit | Date | Rank |
| --- | --- | --- | --- | --- |
| Women's Up to 60.00kg | | WR Attempt | 2010-07-28 | 1 |
| Women's Up to 60.00kg | | Final | 2010-07-28 | 9999 |
2014 IPC Powerlifting World Championships (Dubai, United Arab Emirates)

| Event | Medal | Unit | Date | Rank |
| --- | --- | --- | --- | --- |
| Women's Up to 73.00 kg MD | | Final | 2014-04-09 | 6 |
Mexico City 2017 World Para Powerlifting Championships (Mexico City, Mexico)

| Event | Medal | Unit | Date | Rank |
| --- | --- | --- | --- | --- |
| Women's Up to 73.00kg | | Final | 2017-12-06 | 1 |
Nur-Sultan 2019 World Para Powerlifting Championships (Nur-Sultan, Kazakhstan)

| Event | Medal | Unit | Date | Rank |
| --- | --- | --- | --- | --- |
| Women's Up to 73.00kg | | Final | 2019-07-17 | 9999 |
Tbilisi 2021 World Para Powerlifting Senior World Championships (Tbilisi, Georgia)

| Event | Medal | Unit | Date | Rank |
| --- | --- | --- | --- | --- |
| Women's Up to 73.00kg | | Final | 2021-12-02 | 6 |
| Mixed Team Event | | Final | 2021-12-06 | 4 |