Imagen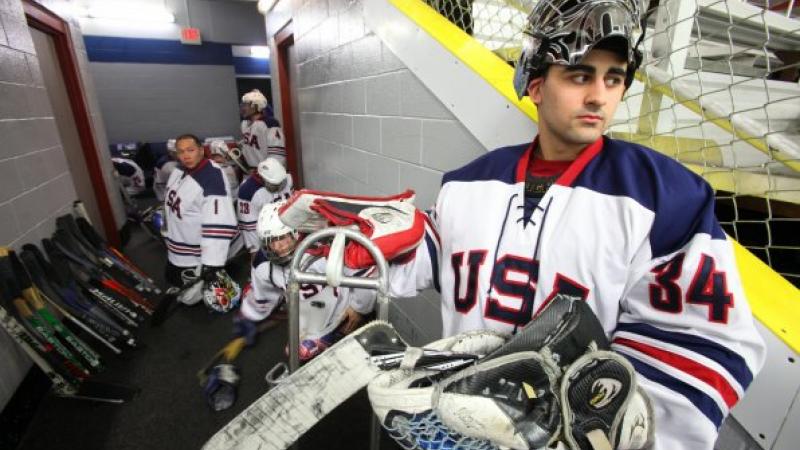 Steve Cash
Para Ice Hockey
When you take a look at the amount of accolades that Steve Cash has accumulated over his nine seasons of playing for the USA's ice slegde hockey team, you would not be surprised that his nickname is "money."
Cash became an amputee in 1992 at the age of three when he was diagnosed with bone cancer and underwent amputation surgery.
At the age of 15, Cash joined the team as a backup for the Torino 2006 Games, where the USA won bronze. By 2007, Cash was carrying the load in net and has not looked back since.
The 2015 season was one of Cash's best, as part of the gold medal winning team at his home World Championships in Buffalo, USA. He also posted his best goals against average (GAA) for the second time in his career at 0.45. That goes along with his .896 save percentage and five shutouts.
However, things have not always been so good for the USA and Cash. They came up short at the 2013 IPC Ice Sledge Hockey World Championships A-Pool in Goyang, South Korea, falling to Canada in the gold medal game, 1-0.
He was also not so fortunate in 2017 when the USA lost their world title to Canada. Cash saved 44 goals at the tournament but Canada netted four in the final to take a 4-1 victory.
Cash's original rise came at the Vancouver 2010 Paralympics, where he was the definition of "money."
Cash set a record in the tournament that no Para ice hockey goalie has ever done before. In five games, he faced 33 shots and stopped them all and was a big reason why the USA beat Japan to capture the gold medal.
For his performance at the 2010 Paralympics, Cash received the award for Best Male Athlete with a Disability at the 2010 ESPY Awards hosted by ESPN.
At Sochi 2014, Cash posted a 4-0-0-1 (W-OTW-OTL-L) record, 0.41 GAA and a .955 save percentage with three shutouts, including one in the gold-medal game.
Cash is a member of the Disabled Athlete Sports Association's St. Louis Blues sledge hockey team.