Imagen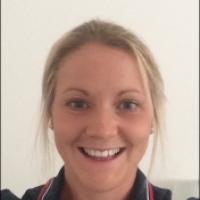 Biography
Impairment information
Origin of Impairment
Acquired
Further personal information
Higher education
Equine Science - Royal Agricultural University [RAU]: Cirencester, ENG
Sport specific information
When and where did you begin this sport?
She was involved in equestrian from a young age, and began eventing at age 13. She first rode after her accident in July 2014. She took up Para swimming in 2017.
Why this sport?
Prior to her accident she competed at two-star level in eventing. She was inspired to continue competing in equestrian sport after watching the 2012 Paralympic Games in London. "When I was lying in my hospital bed, it was the London 2012 Paralympics. This certainly made me realise anything's possible. Nothing was ever going to stop me from one day getting back on a horse again. My accident has changed my perspective on life. I treasure every moment that bit more. I've had some of the best days of my life since the accident." She then took up swimming as a form of cross-training. "It was more like physio and fitness for riding, that's how it's started. But then I'm a very competitive person and I wanted more. I find that swimming not only helps my fitness, but also my spasticity and I love it."
Club / Team
Swindon Dolphins ASC: England
Name of coach
Pammy Hutton [dressage, club]; Dean Fouracre [swimming, club]; Rob Aubry [swimming, national], GBR
International debut
Year
2016 [Para equestrian dressage]
Competing for
Great Britain
General interest
Nicknames
Suz (Instagram profile, 17 May 2020)
Hobbies
Writing, going to the gym, sporting activities. (Facebook page, 16 Jun 2019)
Memorable sporting achievement
Being selected to compete in swimming at the 2020 Paralympic Games in Tokyo. (Propulsion Swimming YouTube channel, 18 Nov 2021)
Hero / Idol
British Para swimmer Ellie Simmonds. (Propulsion Swimming YouTube channel, 18 Nov 2021)
Injuries
In August 2021 she needed hospital treatment after experiencing repeated asthma attacks while competing in swimming at the 2020 Paralympic Games in Tokyo. The asthma attacks led to her withdrawing from two of her events at the Games. (bbc.com, 27 Jan 2022, 29 Aug 2021; gloucestershirelive.co.uk, 29 Aug 2021)

In late 2020 she underwent ear surgery after contracting an infection. In April 2021 she required a second operation for another ear infection after competing at trials for the 2020 Paralympic Games. (planetradio.co.uk, 26 Jan 2022; Propulsion Swimming YouTube channel, 18 Nov 2021; Facebook page, 10 Apr 2021)

She broke her pelvis at age 13. (wiltsglosstandard.co.uk, 04 Aug 2017)
Sporting philosophy / motto
"Being active has always been me as a person. I've been really lucky because after my accident I never thought I'd get that part of my life back. To be training just as much as before [in swimming and equestrian] and if not more means the world to me." (horseandhound.co.uk, 24 Jan 2019)
Awards and honours
She was presented with the 2021 Inspiration of the Year Award by Swim England South West. (thisiswiltshire.co.uk, 11 Nov 2021)

She was named the 2019 Swimmer of the Year by Swindon ASC in England. (Facebook page, 02 Feb 2020)

In 2019 she was made an Honorary Fellow of the Royal Agricultural University [RAU] in Cirencester, England. (rau.ac.uk, 28 Oct 2019)

In 2019 she won the Swim England South West Personal Achievement Award. (swindonasc.co.uk, 01 Feb 2020)

In 2018 she was named Old Millfieldian of the Year by Millfield School in Glastonbury, England. (Instagram profile, 27 Aug 2018)
Other sports
She has competed internationally in both Para swimming and Para equestrian dressage. She also competed in able-bodied eventing at an elite level before her accident. (bbc.co.uk, 30 Apr 2019; Facebook page, 17 Jun 2019; Instagram profile, 17 Jun 2019)
Ambitions
To compete in Para swimming at the 2022 World Championships in Madeira, Portugal, and the 2024 Paralympic Games in Paris. (Propulsion Swimming YouTube channel, 18 Nov 2021; uk.news.yahoo.com, 12 Apr 2022)
Impairment
Her impairment is the result of injuries she sustained while breaking in a young horse in 2012. The horse reared and landed on top of her, crushing her back, shoulder, and pelvis, as well as causing nerve damage that left her partially paralysed from the legs down. She also sustained a head injury that affects her vision and coordination. She underwent eight operations following the accident, and it was two years before she could ride a horse again. (Facebook page, 12 Feb 2021; equestrianteamgbr.co.uk, 15 Aug 2017)
Other information
MULTI TALENTED
She has competed in Para equestrian dressage and Para swimming at international level. She sees riding as her ultimate goal, but believes swimming strengthens her abilities as a rider. "Riding is always going to be the first priority but I'm aiming to fit swimming competitions around it. With riding there are lots of highs and lows, as with any sport, and swimming helps me switch off. I train with Swindon Dolphins at either 05:00 or 20:30 and it's a really good group of people to be around. I've always been extremely active and it was difficult for me after my accident not having that other side of my life. When I was eventing I used to do cross-country running but swimming gives me the same feeling and freedom, much like riding does. It's something I'm really passionate about and it's helped me in the saddle, I'm a lot stronger in the saddle with my core and stamina so it's only enhancing my performance." (horseandhound.co.uk, 24 Jan 2019)

SWIMMING IN TOKYO
She had ambitions to compete at the 2020 Paralympic Games in Tokyo in both equestrian dressage and swimming, but due to the scheduling of the events she decided to focus on swimming, with the goal of returning to riding following the Games. She finished fourth in the S5 100m and 200m freestyle events, but then had to go home early after experiencing repeated asthma attacks in Tokyo. "This is extremely tough as it's not how I wanted my Paralympics to end but after two trips to hospital and three asthma attacks that have left me unconscious three times, it's just not safe for me to continue. To add to all this I've got a nasty double ear infection but somehow my incredible body fought so hard to come fourth in two Paralympic finals. Naively at the time, yes I knew I was ill, but I didn't know I was that ill." (bbc.com, 27 Jan 2022; Propulsion Swimming YouTube channel, 18 Nov 2021; gloucestershirelive.co.uk, 29 Aug 2021; horseandhound.co.uk, 03 Jul 2021, 23 Feb 2020; eurodressage.co, 01 Mar 2020; telegraph.co.uk, 25 Feb 2020; swindonadvertiser.co.uk, 19 Jul 2019)

HEARING IMPAIRMENT
She was born with a hearing impairment and has undergone a number of operations to try and improve her hearing, including eardrum reconstruction. She particularly struggled during the COVID-19 pandemic due to people wearing masks. In November 2021 she underwent surgery to fit a cochlear implant into her right ear. She expects to have a left cochlear implant in 2022. "Defining myself as 'deaf' has always been something I've struggled with for some reason but with my hearing deteriorating rapidly, I've been using social media to link with other people in a similar position. [Being able to hear again] sounds very weird; even though I've heard words before, my brain hasn't processed words for a long time. It was the most emotional moment where I just didn't know what to do. Do I cry, do I smile? It's actually worked. It means the absolute world to me. My surgeon's been phenomenal but yes, it hasn't been an easy ride. This has changed my life beyond belief." (bbc.com, 27 Jan 2022; Instagram profile, 03 Dec 2021; Facebook page, 12 Feb 2021)

OTHER ACTIVITIES
She has served as a charity ambassador for Wiltshire Air Ambulance in England. (theswindonian.co.uk, 08 Apr 2022)