Imagen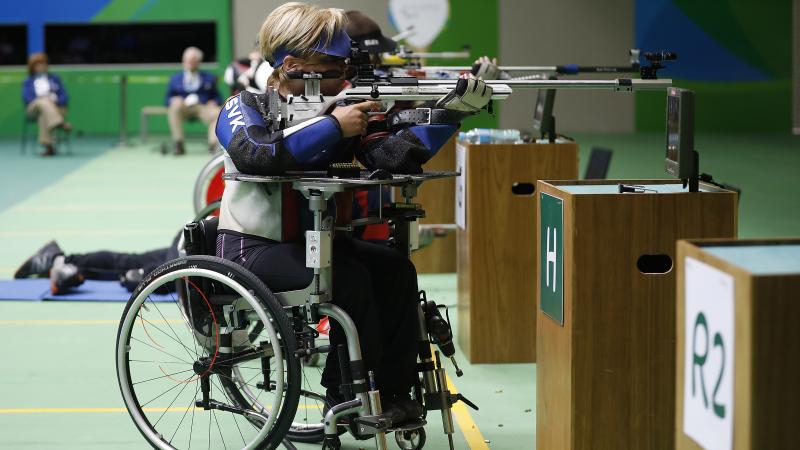 Veronika Vadovicova
Shooting
Veronika Vadovicova is one of the sport's greats. Over five Paralympic Games and four World Championships, Vadovicova has been consistent at the top with numerous medals.
She made her international debut in 1999, and the 2018 World Championships in Cheongju, South Korea, only confirmed that she is still in form.
In Cheongju, Vadovicova added a pair of gold medals to her collection, including a world record in the R3 (mixed 10m air rifle prone SH1). The Slovakian had to settle for silver in the R2 (women's 10m air rifle standing SH1). But do not count her out of gold at the Tokyo 2020, which would be her fifth Paralympics.
The Trnava native has fought long and hard to get to the position she is in today. After winning gold in her Paralympic debut at Beijing 2008 in the R2, she has been plugging away at World Cups. In 2015, she won seven World Cup events and set a new R3 world record in Poland.
Her closest competitors are China's R2 Paralympic champion Cuiping Zhang, as well as Germany's R3 European champion Natascha Hiltrop and Great Britain's Matt Skelhon.
At Rio 2016, Vadovicova beat all three to claim two golds and one silver, only missing out on the podium in R6 (mixed 50m rifle prone SH1). Her titles also came with a finals Paralympic record in R3 and a qualification and finals Paralympic record in R3.
Biography
Impairment information
Origin of Impairment
Congenital
Further personal information
Family
Partner Milan Golena, son Milan
Higher education
Physical Education - Palacky University Olomouc: Czech Republic
Sport specific information
When and where did you begin this sport?
She began shooting at age 15 at the SSK Vistuk club in Slovakia.
Why this sport?
She was introduced to the sport by a boarding school teacher, Pavel Bilik. "However, it started in an unexpected way. In the first year of high school we were ski training. Since we could not be outside due to the weather, we spent time inside. There was an infrared rifle, so we shot out of boredom. Suddenly we found out that I was doing quite well, so the teacher suggested that I sign up for shooting at school. I first started shooting training in the summer during the holidays at the Vistuk sport shooting club with coach Jozef Siroky. In my second year of practising the sport, the coach wanted me to train during the school year, and this gradually led to me starting participating in competitions with able-bodied shooters."
Name of coach
Milan Golena [partner], SVK
International debut
Location
Sydney, NSW, AUS
General interest
Injuries
Shoulder injuries disrupted her training ahead of the 2018 World Championships in Cheongju, Republic of Korea, but she was able to win two gold medals and one silver medal at the tournament. (paralympic.org, 10 May 2018)
Sporting philosophy / motto
"The times when I devoted myself to this activity as a leisure time are long gone. If one wants to make progress, they must constantly educate themselves, and fully dedicate themselves to what they are doing. Success can be achieved only this way." (paralympic.org, 13 May 2020)
Awards and honours
She was named the 2018 Sportswoman of the Year by the Slovak Association of Physically Disabled Athletes [SZTPS]. (spv.sk, 09 Jun 2019; teraz.sk, 09 Jun 2019)

In February 2017 she was named Athlete of the Month by the International Paralympic Committee [IPC]. (paralympic.org, 09 Mar 2017)

She was named the 2016 Sportswoman of the Year in Trnava, Slovakia. (spv.sk, 14 Dec 2016)
Ambitions
To win a medal at the 2020 Paralympic Games in Tokyo. (paralympic.org, 13 May 2020)
Impairment
She was born with spina bifida. (Athlete, 04 Sep 2016)
Other information
LIFE-CHANGING GOLD IN BEIJING
Winning gold at the 2008 Paralympic Games in Beijing raised her profile so much that she says it changed her life. "This medal actually changed everything. Suddenly I was in every Chinese newspaper, everyone wanted to take pictures with me, talk to me, in China they even ran a documentary about me. For me, as a staunch introvert, this huge interest in me was something I had never known before. But I was happy and I actually enjoyed it. When I got home to Slovakia, suddenly people began to perceive me quite differently. I was a Paralympic winner and I didn't even have time to breathe. I went to various events, TV interviews, discussions, schools, corporate events and the like. My life suddenly turned around. The impaired girl became a recognised personality. I was no longer just the little girl in the wheelchair. Society and the media began to perceive me as a respected person." (sport.aktuality.sk, 18 Jun 2020)

OTHER ACTIVITIES
She is a member of the athletes' committee of the Slovak Paralympic Committee. Her four-year fixed term is scheduled to run until 2022. (spv.sk, 25 Feb 2018)
Results
2010 IPC Shooting World Championships (Zagreb, Croatia)

| Event | Medal | Unit | Date | Rank |
| --- | --- | --- | --- | --- |
| Women's 10m Air Rifle standing SH1 | | Qualification | 2010-07-17 | 8 |
| Mixed 10m Air Rifle prone SH1 | | Qualification | 2010-07-19 | 2 |
| Women's 50m Sport Rifle 3x20 SH1 | | Qualification | 2010-07-20 | 3 |
| Mixed 50m Rifle prone SH1 | | Elimination | 2010-07-23 | 16 |
| Mixed 50m Rifle prone SH1 | | Qualification | 2010-07-23 | 26 |
2014 IPC Shooting World Championships (Suhl, Germany)

| Event | Medal | Unit | Date | Rank |
| --- | --- | --- | --- | --- |
| Women's 10m Air Rifle standing SH1 | | Qualification | 2014-07-19 | 1 |
| Women's 10m Air Rifle standing SH1 | | Final | 2014-07-19 | 1 |
| Mixed 10m Air Rifle prone SH1 | | Final | 2014-07-21 | 7 |
| Mixed 10m Air Rifle prone SH1 | | Qualification | 2014-07-21 | 2 |
| Mixed 50m Rifle prone SH1 | | Qualification | 2014-07-22 | 25 |
| Mixed 50m Rifle prone SH1 | | Elimination | 2014-07-22 | 20 |
| Women's 50m Sport Rifle 3x20 SH1 | | Qualification | 2014-07-24 | 1 |
| Women's 50m Sport Rifle 3x20 SH1 | | Final | 2014-07-24 | 2 |
Cheongju 2018 World Shooting Para Sport Championships (Cheongju, South Korea)

| Event | Medal | Unit | Date | Rank |
| --- | --- | --- | --- | --- |
| R8 - Women's 50m Rifle 3 Positions SH1 | | Final | 2018-05-05 | 1 |
| R8 - Women's 50m Rifle 3 Positions SH1 | | Qualification | 2018-05-05 | 5 |
| R3 - Mixed 10m Air Rifle prone SH1 | | Final | 2018-05-05 | 1 |
| R3 - Mixed 10m Air Rifle prone SH1 | | Qualification | 2018-05-05 | 4 |
| R6 - Mixed 50m Rifle prone SH1 | | Final | 2018-05-05 | 7 |
| R6 - Mixed 50m Rifle prone SH1 | | Qualification | 2018-05-05 | 3 |
| R2 - Women's 10m Air Rifle standing SH1 | | Final | 2018-05-05 | 2 |
| R2 - Women's 10m Air Rifle standing SH1 | | Qualification | 2018-05-05 | 1 |
| Team R3 - Mixed 10m Air Rifle prone SH1 | | Qualification | 2018-05-05 | 3 |