Imagen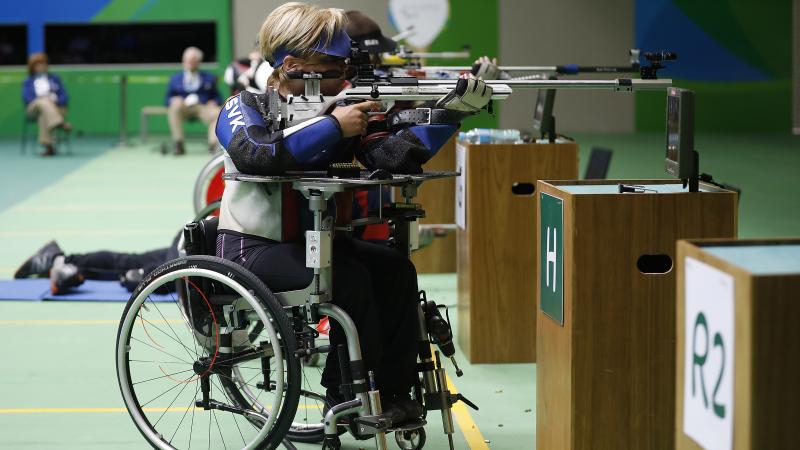 Veronika Vadovicova
Shooting
Veronika Vadovicova is one of the sport's greats. Over five Paralympic Games and four World Championships, Vadovicova has been consistent at the top with numerous medals.
She made her international debut in 1999, and the 2018 World Championships in Cheongju, South Korea, only confirmed that she is still in form.
In Cheongju, Vadovicova added a pair of gold medals to her collection, including a world record in the R3 (mixed 10m air rifle prone SH1). The Slovakian had to settle for silver in the R2 (women's 10m air rifle standing SH1). But do not count her out of gold at the Tokyo 2020, which would be her fifth Paralympics.
The Trnava native has fought long and hard to get to the position she is in today. After winning gold in her Paralympic debut at Beijing 2008 in the R2, she has been plugging away at World Cups. In 2015, she won seven World Cup events and set a new R3 world record in Poland.
Her closest competitors are China's R2 Paralympic champion Cuiping Zhang, as well as Germany's R3 European champion Natascha Hiltrop and Great Britain's Matt Skelhon.
At Rio 2016, Vadovicova beat all three to claim two golds and one silver, only missing out on the podium in R6 (mixed 50m rifle prone SH1). Her titles also came with a finals Paralympic record in R3 and a qualification and finals Paralympic record in R3.
Results
2010 IPC Shooting World Championships (Zagreb, Croatia)

| Event | Medal | Unit | Date | Rank |
| --- | --- | --- | --- | --- |
| Women's 10m Air Rifle standing SH1 | | Qualification | 2010-07-17 | 8 |
| Mixed 10m Air Rifle prone SH1 | | Qualification | 2010-07-19 | 2 |
| Women's 50m Sport Rifle 3x20 SH1 | | Qualification | 2010-07-20 | 3 |
| Mixed 50m Rifle prone SH1 | | Elimination | 2010-07-23 | 16 |
| Mixed 50m Rifle prone SH1 | | Qualification | 2010-07-23 | 26 |
2014 IPC Shooting World Championships (Suhl, Germany)

| Event | Medal | Unit | Date | Rank |
| --- | --- | --- | --- | --- |
| Women's 10m Air Rifle standing SH1 | | Final | 2014-07-19 | 1 |
| Women's 10m Air Rifle standing SH1 | | Qualification | 2014-07-19 | 1 |
| Mixed 10m Air Rifle prone SH1 | | Final | 2014-07-21 | 7 |
| Mixed 10m Air Rifle prone SH1 | | Qualification | 2014-07-21 | 2 |
| Mixed 50m Rifle prone SH1 | | Elimination | 2014-07-22 | 20 |
| Mixed 50m Rifle prone SH1 | | Qualification | 2014-07-22 | 25 |
| Women's 50m Sport Rifle 3x20 SH1 | | Qualification | 2014-07-24 | 1 |
| Women's 50m Sport Rifle 3x20 SH1 | | Final | 2014-07-24 | 2 |
Cheongju 2018 World Shooting Para Sport Championships (Cheongju, South Korea)

| Event | Medal | Unit | Date | Rank |
| --- | --- | --- | --- | --- |
| Team R3 - Mixed 10m Air Rifle prone SH1 | | Qualification | 2018-05-05 | 3 |
| R8 - Women's 50m Rifle 3 Positions SH1 | | Final | 2018-05-05 | 1 |
| R8 - Women's 50m Rifle 3 Positions SH1 | | Qualification | 2018-05-05 | 5 |
| R3 - Mixed 10m Air Rifle prone SH1 | | Final | 2018-05-05 | 1 |
| R3 - Mixed 10m Air Rifle prone SH1 | | Qualification | 2018-05-05 | 4 |
| R6 - Mixed 50m Rifle prone SH1 | | Final | 2018-05-05 | 7 |
| R6 - Mixed 50m Rifle prone SH1 | | Qualification | 2018-05-05 | 3 |
| R2 - Women's 10m Air Rifle standing SH1 | | Final | 2018-05-05 | 2 |
| R2 - Women's 10m Air Rifle standing SH1 | | Qualification | 2018-05-05 | 1 |
Sydney 2019 World Shooting Para Sport Championships (Sydney, Australia)

| Event | Medal | Unit | Date | Rank |
| --- | --- | --- | --- | --- |
| R3 - Mixed 10m Air Rifle prone SH1 | | Final | 2019-10-12 | 8 |
| R3 - Mixed 10m Air Rifle prone SH1 | | Qualification | 2019-10-12 | 1 |
| Team R3 - Mixed 10m Air Rifle prone SH1 | | Final | 2019-10-12 | 5 |
| R8 - Women's 50m Rifle 3 Positions SH1 | | Qualification | 2019-10-14 | 8 |
| R8 - Women's 50m Rifle 3 Positions SH1 | | Final | 2019-10-14 | 7 |
| R2 - Women's 10m Air Rifle standing SH1 | | Final | 2019-10-16 | 1 |
| R2 - Women's 10m Air Rifle standing SH1 | | Qualification | 2019-10-16 | 4 |
| R10 - 10m Air Rifle Standing Mixed Team SH1 | | Final | 2019-10-17 | 2 |
| Team R6 - Mixed 50m Rifle prone SH1 | | Final | 2019-10-17 | 4 |
| R10 - 10m Air Rifle Standing Mixed Team SH1 | | Qualification | 2019-10-17 | 5 |
| R6 - Mixed 50m Rifle prone SH1 | | Elimination | 2019-10-17 | 1 |
| R6 - Mixed 50m Rifle prone SH1 | | Qualification | 2019-10-18 | 9 |