Imagen
Yon Santacana Maiztegui
Alpine Skiing
Jon Santacana Maiztegui is a visually impaired skier who, with guide Miguel Galindo, is one of the best, but possibly most unlucky, performers in the men's field.
Before Vancouver 2010, Santacana suffered a knee injury which very nearly ruled him out of his second Paralympic Games. However, he was determined to travel to Canada for what turned out to be a successful trip, winning downhill gold and a further two silver medals.
The following seasons proved to fruitful and injury free, with Santacana Maiztegui winning three world titles at 2011 World Championships. Then in 2013 at his home World Championships he won three gold medals in the downhill, giant slalom and super-G events.
But disaster was to strike once again in the year before a Paralympic Games, as Santacana Maiztegui tore his Achilles tendon, putting him out of action for six months.
And so the comeback King returned at the very last opportunity for the 2013-14 IPC Alpine Skiing World Cup Finals just weeks before the start of Sochi 2014. He went on to retain his Paralympic title.
In 2015, Santacana Maiztegui proved he is still amongst the best with one silver and two bronze medals.
In the following season, he took third in the slalom and giant slalom World Cup, finishing fifth in the overall men's visually impaired standings.
Off the slopes, Santacana is a keen surfer and mountain biker and he will be hoping to glide down the slopes in a similarly flawless fashion at the 2017 World Para Alpine Skiing Championships in Tarivsio, Italy.
Photo Gallery
Imagen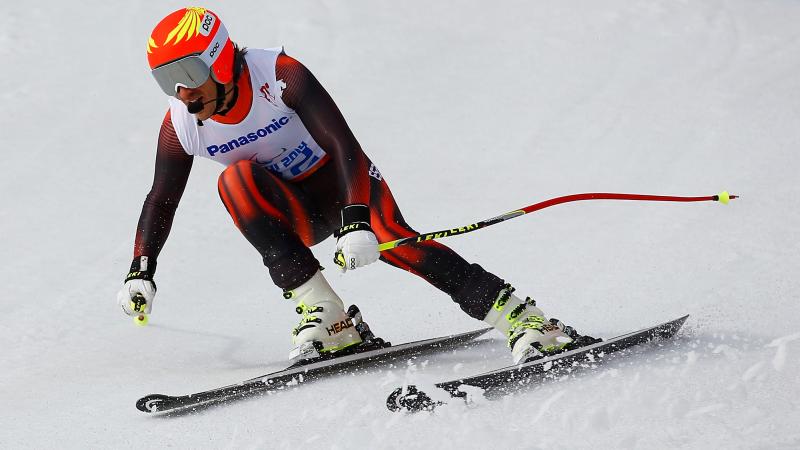 Imagen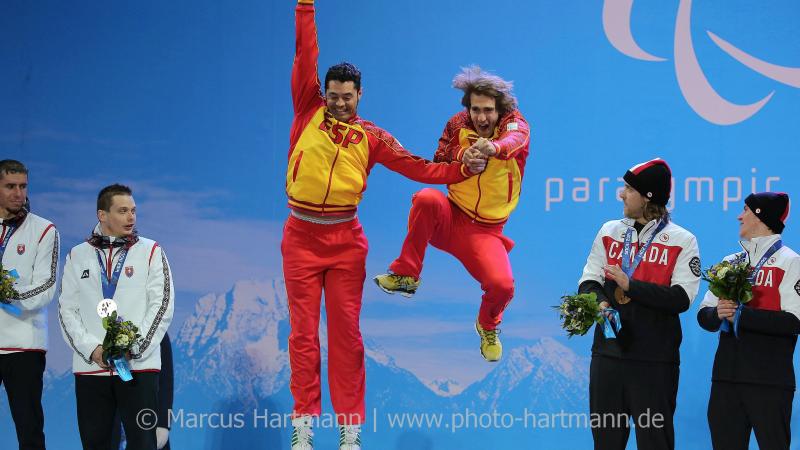 Results
IPC Alpine Skiing World Championships (Kangwonland, South Korea)

| Event | Medal | Unit | Date | Rank |
| --- | --- | --- | --- | --- |
| Men's Super-Combined VI | | Final | 2009-02-23 | 1 |
| Men's Super-G VI | | Final | 2009-02-23 | 2 |
| Men's Super-G VI | | Run 2 | 2009-02-24 | 2 |
| Men's Downhill VI | | Final | 2009-02-28 | 2 |
2011 IPC Alpine Skiing World Championships (Sestriere, Italy)

| Event | Medal | Unit | Date | Rank |
| --- | --- | --- | --- | --- |
| Men's Downhill VI | | Final | 2011-01-16 | 2 |
| Men's Super-G VI | | Final | 2011-01-18 | 1 |
| Men's Super-Combined VI | | Final | 2011-01-19 | 1 |
| Men's Slalom VI | | Final | 2011-01-20 | 2 |
| Men's Giant Slalom VI | | Final | 2011-01-21 | 1 |
| Mixed Team Event VI/Sitting/Standing | | Final | 2011-01-23 | 8 |
IPC Alpine Skiing World Championships (La Molina, Spain)

| Event | Medal | Unit | Date | Rank |
| --- | --- | --- | --- | --- |
| Men's Downhill VI | | Race 1 | 2013-02-20 | 1 |
| Men's Super-G VI | | Race 1 | 2013-02-21 | 1 |
| Men's Slalom VI | | Race 1 | 2013-02-24 | 9999 |
| Men's Super-Combined VI | | Race 1 | 2013-02-25 | 9999 |
| Men's Giant Slalom VI | | Race 1 | 2013-02-26 | 1 |
2015 IPC Alpine Skiing World Championships Panorama (Panorama, Canada)

| Event | Medal | Unit | Date | Rank |
| --- | --- | --- | --- | --- |
| Men's Downhill VI | | Race 1 | 2015-03-04 | 9999 |
| Men's Super-G VI | | Race 1 | 2015-03-05 | 4 |
| Men's Super-Combined VI | | Race 1 | 2015-03-07 | 3 |
| Men's Giant Slalom VI | | Race 1 | 2015-03-08 | 2 |
| Men's Slalom VI | | Race 1 | 2015-03-10 | 3 |
2017 IPC Alpine skiing World Championships Tarvisio, ITA (Tarvisio, Italy)

| Event | Medal | Unit | Date | Rank |
| --- | --- | --- | --- | --- |
| Men's Downhill VI | | Race 1 | 2017-01-25 | 2 |
| Men's Super-G VI | | Race 1 | 2017-01-26 | 9999 |
| Men's Super-Combined VI | | Race 1 | 2017-01-28 | 4 |
| Men's Giant Slalom VI | | Race 1 | 2017-01-30 | 3 |
| Men's Slalom VI | | Race 1 | 2017-01-31 | 2 |
Kranjska Gora/Sella Nevea 2019 World Para Alpine Skiing Championships (Kranjska Gora/Sella Nevea, Slovenia)

| Event | Medal | Unit | Date | Rank |
| --- | --- | --- | --- | --- |
| Men's Giant Slalom VI | | Race 1 | 2019-01-21 | 5 |
| Men's Slalom VI | | Race 1 | 2019-01-23 | 9999 |