Imagen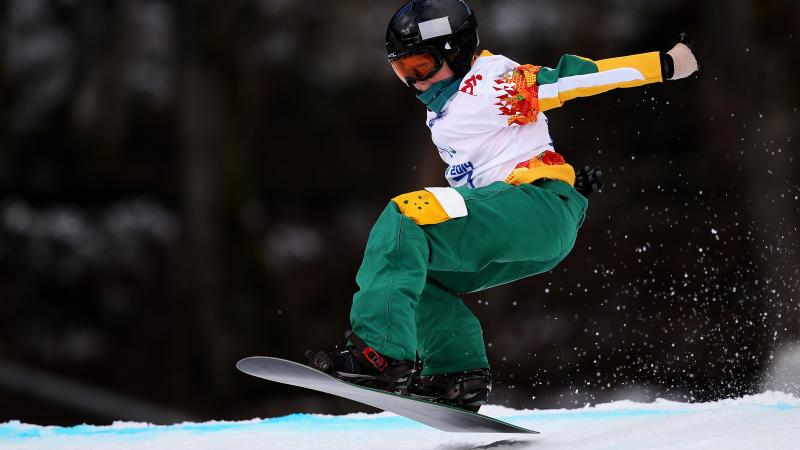 Ben Tudhope
Snowboard | Alpine Skiing
Ben Tudhope is having the best season of his young career. The 19-year-old has been on fire since coming off his second Paralympic Game at PyeongChang 2018, where he took top-10 finishes in both snowboard-cross and banked slalom races.
Tudhope won both banked slalom races at the World Cup season opener in Dubai, UAE. It was the teenager's first career win on the World Para Snowboard circuit. Further podium finishes this season have positioned him for a medal in the men's SB-LL2 category at the 2019 World Championships in Pyha, Finland.
Tudhope was arguably one of the biggest surprises of Sochi 2014, where he was only 15 years old. He finished among the top 10 riders in the men's snowboard-cross despite being the youngest competitor, a performance that earned him the role of flag bearer for Australia at the Closing Ceremony.
Tudhope just missed his first podium finish in the 2016-17 season, taking fourth in snowboard-cross at the PyeongChang 2018 Test Event.
He was invited to compete at the 2015 Winter X Games in Aspen, USA, where he finished 11th in the Snowboarder X Adaptive event. The following year, he reached the podium with third.
He took up snowboarding at age eight after his sister Annabel, who competed on the World Snowboard Tour. His other sister Phoebe competed for Australia in moguls.
Results
2015 IPCAS Para Snowboard World Championships La Molina (La Molina, Spain)

| Event | Medal | Unit | Date | Rank |
| --- | --- | --- | --- | --- |
| Men's Snowboard Cross SB-LL2 | | Race 1 | 2015-02-24 | 10 |
| Men's Banked Slalom SB-LL2 | | Race 1 | 2015-02-28 | 8 |
2017 IPC Snowboard World Championships Big White, CAN (Big White, Canada)

| Event | Medal | Unit | Date | Rank |
| --- | --- | --- | --- | --- |
| Men's Snowboard Cross SB-LL2 | | Race 1 | 2017-02-04 | 9 |
| Men's Banked Slalom SB-LL2 | | Race 1 | 2017-02-07 | 8 |
Pyha 2019 World Para Snowboard Championships (Pyha, Finland)

| Event | Medal | Unit | Date | Rank |
| --- | --- | --- | --- | --- |
| Men's Banked Slalom SB-LL2 | | Race 1 | 2019-03-27 | 4 |
| Men's Snowboard Cross SB-LL2 | | Race 1 | 2019-03-30 | 2 |
Lillehammer 2021 World Para Snow Sports Championships (Lillehammer, Norway)

| Event | Medal | Unit | Date | Rank |
| --- | --- | --- | --- | --- |
| Men's Banked Slalom SB-LL2 | | Race 2 | 2022-01-14 | 3 |
| Men's Snowboard Cross SB-LL2 | | Race 2 | 2022-01-21 | 2 |