Gareth Davies: Sir Philip Craven's Broad Vision
With 100 days to go until London 2012, The Telegraph's Gareth Davies dicusses IPC President Sir Philip Craven's exploration of the myth of disability.
21 May 2012
Imagen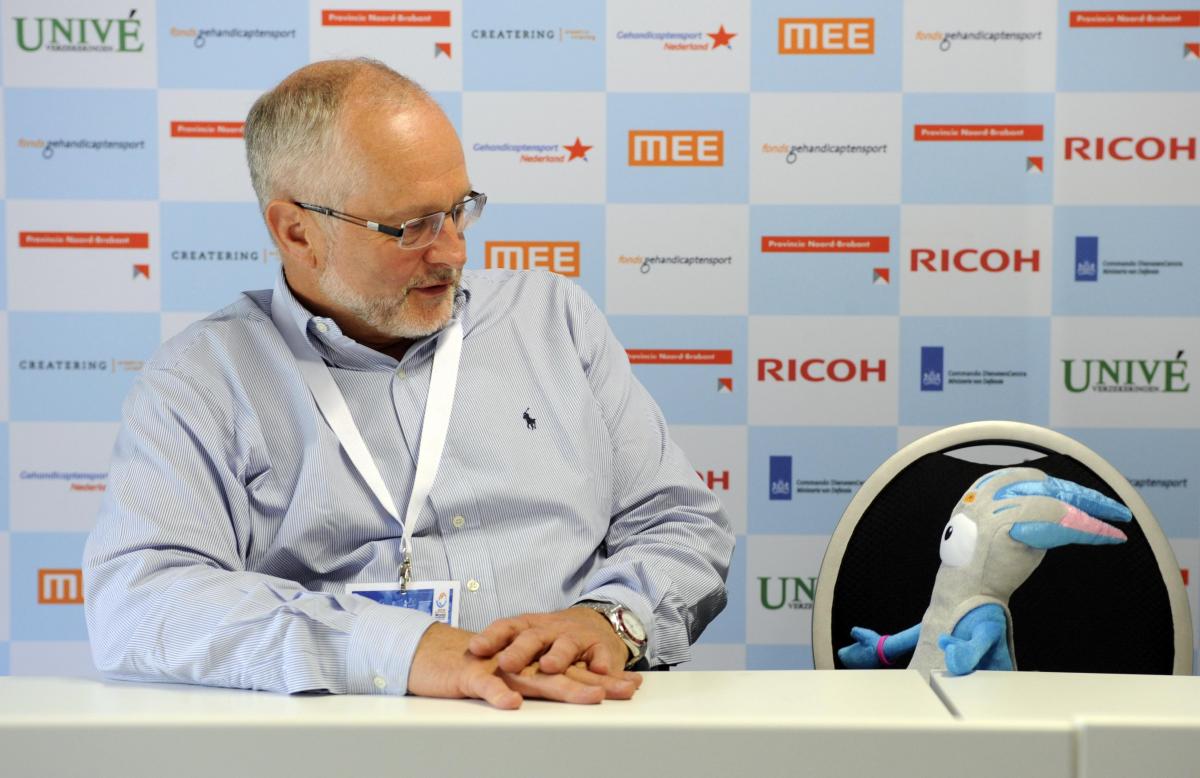 ⒸMathilde Dusol
"Paralympians don't look at what doesn't work; they maximize what does."
Sir Philip Craven, the President of the Paralympic Movement, has a broad vision for the Paralympic Games in London, now just 100 days away.
But like all good leaders, he is already looking beyond that.
There is no choice.
It has come from over a decade easing, cajoling and politicizing around the world, within sport and with governments.
London is the next staging post for the Paralympic Movement to take a hold.
Given the long history of involvement in Paralympic issues in the UK, and huge investment in structures for Britain's Paralympians, the country is among the dominant nations - having finished second in the overall medal table at the last three Games.
But there are visions both broad and deep which take up Craven's time.
That includes eradicating the 'D' word from the lexicon. Whisper 'disabled' around Sir Phil, and you risk 'a spraying' as they call it in Wheelchair Basketball, or the 'hairdryer treatment' as they call it when Sir Alex Ferguson gives his players a dressing down at Old Trafford.
Craven, who broke his back in the sixties, falling from a quarry cliff in a mountaineering accident, was known as the 'Che Guevara of Wheelchair Basketball.' He was considered the world's leading player on court, representing Great Britain at the Games from 1972-88.
Opponents faced a seemingly tireless foe. A similarly indefatigable energy has typified his presidency.
"When I came in, we wanted to make the Paralympic Games a 'main event' with a 'wow factor' as a sports event, and get rid of that word 'disabled' from everywhere.
"We had to change the IPC itself. It was like a tanker heading in the wrong direction. We had to stop it with the first strategic plan, 2003-2006. Then we turned it around 2007-2010, and now we're on our third strategic plan for 2011-2014. We're really moving now and London will really propel us forward."
"To do that, we had to strengthen our organization - not criticising others for the way we were viewed - which we have done.
Since December 2001, Craven has been head of the International Paralympic Committee, has been a voting IOC member, and for London, has overseen the development of first 'commercial' Paralympic Games, where the television rights went to tender bids for the first time - Channel 4 paid almost 10 million for them - and several major corporate conglomerations have become Paralympic sponsors.
It will be no surprise that the employees of major corporations or indeed, their customers see Paralympic athletes and values as 'normal' after these Games.
His vision, then?
"It's been with us for 19 years now. It's to enable paralympic athletes to achieve sporting excellence and inspire and excite the world. You can change the world, and that's in fact what is happening."
For me, the key is to 'normalize' the ways Paralympians are seen. The crucial thing is getting eyes on the sport, and then words like 'disabled' will disappear, and preconceptions will move on. The great thing is that we are getting more and more exposure."
Indeed, by way of example, time was when The Telegraph headers were "Disability Sport," in edition and online. Just prior to Beijing, I had put a request in to my editors there that we should change it to 'Paralympic Sport'.
The description just did not fit, was not apt, and was, frankly, wrong semantically. They are all incremental improvements, however small.
"The second major objective is creating far, far more athletes around the world at all levels: elite, national and regional. That's the key to ensure our survival as a major event organizer."
"Before I became President, I was only a Wheelchair Basketball player in one summer sport. But when I went to the winter sports, and I saw these guys and girls coming down the downhill on a sit ski, I thought, 'You're nutcases. But then I thought get on with it, do it, don't kill yourselves. I was shocked.'
The Paralympic landscape is laden with characters and personalities.
Craven wants them to have a platform.
"You've probably got so many characters because they've probably had to fight in their lives for what they've achieved and I'm not just talking about sport.
"What you've got to remember is the heart and the mind are never injured and with sport they can just blossom, and so if you've had to fight and your heart is in great shape and your mind is in great shape, there's nothing stopping you. Then, after sport, they move on to other things."
Craven cites a couple of examples from the United Kingdom. Baroness Tanni Grey-Thompson and Lee Pearson, between them a collection of 20 gold medals at the Games.
"We're talking about some incredible people. Look at Tanni Grey Thompson and what she's done since she finished her
(sports) career.
"She has been made a Dame and now she's knocking hell out of the House of Lords. Or Lee Pearson - what a great guy he is, an amazing bloke.
"He's not just riding a horse and winning medals: he runs his own yard up in Staffordshire.
"But this happens with Paralympians - they go on. The thing that employers have to see - don't look at what doesn't work, like the legs or the arms, look at what does. That's normally the heart and the mind and the brain and the will to succeed.
"Paralympians don't look at what doesn't work; they maximize what does."
Gareth A Davies is Paralympics Correspondent for The Telegraph, London. The 2012 Games are the fifth Summer Paralympic Games he has covered for the media organization.
Related Images