Imagen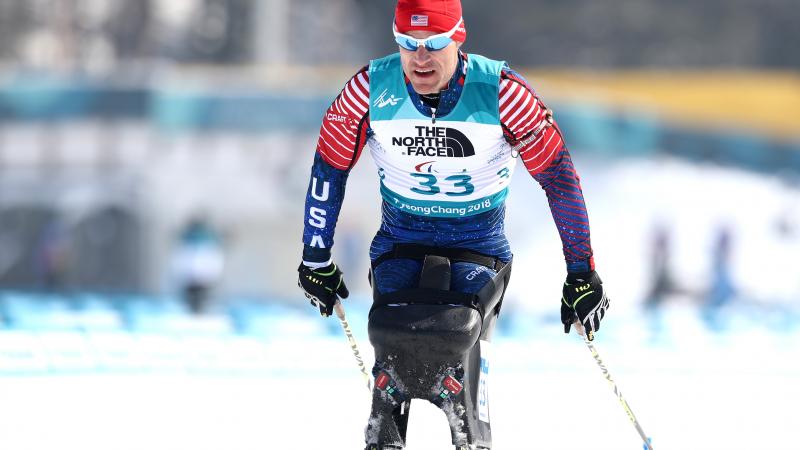 Daniel Cnossen
Nordic Skiing
Daniel Cnossen is enjoying the best moment of his career, having recently taken his maiden Winter Paralympic title in the men's biathlon long distance sitting at PyeongChang 2018. As a result, he became the first male US Nordic skier to seal Winter Paralympic gold.
He later added two biathlon silvers and two cross-country silvers and one bronze to his tally.
Cnossen extended his winning form into the new season, claiming four golds and two bronze at the first World Cup in Vuokatti, Finland, before sweeping all his cross-country and biathlon events at the Ostersund World Cup.
Prince George 2019 seems to be the perfect opportunity to add a world title to his Paralympic gold.
In September 2009 he was serving as a US Navy Seal in Kandahar, Afghanistan, when he was injured by an improvised explosive device and lost both his legs.
In 2016 he gained a master's degree in public administration from Harvard University. Cnossen then went on to take a master's degree in theological studies.
Biography
Impairment information
Type of Impairment
Limb deficiency
Origin of Impairment
Acquired
Further personal information
Residence
Natick, MA, USA
Languages
English, Spanish
Higher education
English - United States Naval Academy: United States
Sport specific information
When and where did you begin this sport?
He took up the sport in around 2010 in Montana, United States of America.
Why this sport?
He began Para Nordic skiing after he was invited to a US Olympic Committee [USOC] Paralympic Military Sports Camp in San Diego, CA, United States of America. Some of the coaches there noticed his natural talent and invited him to a biathlon training camp in Montana six weeks later. "I was introduced to the sport of cross-country skiing and immediately fell in love with the peacefulness and its connection with nature. Then you add on the shooting and that had the connection with my military career so this seemed like both sports would be the perfect fit for me."
Name of coach
Gary Colliander [national, biathlon]
Training Regime
He trains for between two and three hours a day. In the lead-up to the 2022 Paralympic Winter Games, he was training in West Yellowstone, MT, United States of America.
International debut
Competing for
United States
General interest
Nicknames
Dan, Danny Boy, Danger Dan, Cnoss, C-Nasty, Disco Dan, Batta Bing (Athlete, 02 Mar 2022; brutallyhonest.org, 26 Sep 2009)
Hobbies
Surfing, reading. (Athlete, 02 Mar 2022)
Memorable sporting achievement
Winning six medals [one gold, four silvers and one bronze] at the 2018 Paralympic Winter Games in Pyeongchang. (Athlete, 02 Mar 2022)
Most influential person in career
His mother. (Athlete, 02 Mar 2022)
Hero / Idol
His father. (Athlete, 02 Mar 2022)
Sporting philosophy / motto
"My expectations are simply to train as well as I can and give my best results in each race. What matters is how hard I can go and how hard I can push myself and how deep I can dig." (paralympic.org, 30 Jan 2019)
Awards and honours
He was named Team USA's Male Paralympic Athlete of the Games after winning six medals at the 2018 Paralympic Winter Games in Pyeongchang. (teamusa.org, 26 Apr 2018)
Other sports
He represented the United States of America in Para cycling at the road world championships in 2014 and 2015, winning silver in the team relay open at the 2014 edition in Greenville, SC, United States of America. He competed in both cross-country skiing and biathlon at the Paralympic Winter Games in 2014 and 2018, winning six medals at the 2018 edition in Pyeongchang. He also won gold in Para swimming at the 2011 Warrior Games in Colorado Springs, CO, United States of America. Before his injury he was on the United States Naval Academy's triathlon team. (nbcolympics.com, 01 Mar 2022; SportsDeskOnline, 27 Nov 2020; teamusa.org, 2015; paralympic.org, 29 Aug 2014)
Milestones
He became the first male athlete representing the United States of America to win a gold medal in biathlon at the Paralympic Winter Games by claiming victory in the 7.5km sitting event at the 2018 Games in Pyeongchang. (SportsDeskOnline, 05 Dec 2018; pyeongchang2018.com, 10 Mar 2018)
Ambitions
To compete at the 2022 Paralympic Winter Games in Beijing. (LinkedIn profile, 01 Jan 2020)
Impairment
In September 2009 he lost both legs while serving as a US Navy SEAL in Kandahar, Afghanistan, after he was injured by an improvised explosive device [IED]. He required two years of physical therapy. (Athlete, 02 Mar 2022; brownbears.com, 11 Jan 2021; usnavyseals.com, 12 Oct 2009; brutallyhonest.org, 26 Sep 2009)
Other information
MILITARY CAREER
His grandfather served in the US Army during World War II, and his father did three tours in the Vietnam War with the US Marines from 1965 to 1968. However, Cnossen says he did not feel pressure from his family to enlist in the military. He began his military career after graduating from the US Naval Academy in 2002 and was medically retired from the US Navy in 2015. "I was born and raised on a fifth generation farm in Kansas. As a younger child, I gravitated to reading books about life in the military or war, and this kind of thing interested me. When I was in high school I had heard stories from my father. He didn't talk a lot about the war, but he did talk about life in general in the military. It seemed natural for me to want to combine military service with going to college. I just gravitated to wanting to go to the US Naval Academy. I was always into sports as a kid, team sports, and I thought going into the military is kind of like a team sport, except the consequences can be certainly much more serious. Certainly in the military, you live a very disciplined existence and I found transitioning from the military into being an athlete, there are a lot of parallels. Instead of following orders, I now follow my coach's training plan." (teamusa.org, 01 Feb 2022, 10 Nov 2021; brownbears.com, 11 Jan 2021; US Olympic & Paralympic Museum Facebook page, 11 Nov 2020; militaryfamilies.com, 25 Aug 2020)

FURTHER EDUCATION
In 2016 he gained a master's degree in public administration from Harvard University in Cambridge, MA, United States of America. In 2018 he completed another master's degree in religion, ethics and politics at the same university. "I think what I really gravitate towards is challenge, and often those challenges tend to be physical. But I also gravitate to challenges that are academic or in other ways." (teamusa.org, 10 Nov 2021; LinkedIn profile, 01 Jan 2020; Athlete, 29 Mar 2018; humansofhds.tumblr.com, 10 Nov 2016; harvard.edu, 25 May 2016)

MOTIVATIONAL SPEAKING
He began motivational speaking after competing at the 2018 Paralympic Winter Games in Pyeongchang. "I definitely want to help people as best I can, coming to realise that leveraging my story can help people. I was a little reluctant to get into it in the beginning. After I competed in the Sochi [Paralympic Winter] Games in 2014, I wasn't approached by anybody, I wasn't a medallist. But, when you do well athletically, the way our society works, you can get these opportunities. Before, it was easy for me to say, 'I don't really feel comfortable getting up in front of people and telling my story'. I would rather just keep my military service quiet. But then you get these opportunities, which came from success. I went with it. I realised as I do more and more talks, it helps people." (brownbears.com, 11 Jan 2021)

OTHER ACTIVITIES
He has taught indoor rock climbing to children with cancer through the US Navy SEALs One Summit programme. In 2018 he began working part-time as a resilience specialist at O2X Human Performance, a tactical training and education centre for athletes in the United States of America. (nbcolympics.com, 01 Mar 2022; o2x.com, 18 Jun 2021; LinkedIn profile, 01 Jan 2020)
Results
IPC Nordic Skiing World Championships Solleftea (Solleftea, Sweden)

| Event | Medal | Unit | Date | Rank |
| --- | --- | --- | --- | --- |
| Men's Sprint - Classic Sitting | | Final | 2013-02-25 | 22 |
| Men's Long Distance - Classic Sitting | | Final | 2013-02-26 | 6 |
| Men's Short Distance Sitting | | Final | 2013-02-28 | 12 |
| Men's Middle Distance Sitting | | Final | 2013-03-01 | 13 |
| Men's Long Distance Sitting | | Final | 2013-03-03 | 12 |
| Men's Middle Distance - Classic Sitting | | Final | 2013-03-05 | 12 |
2015 IPC Nordic Skiing World Championships Cable (Cable, United States of America)

| Event | Medal | Unit | Date | Rank |
| --- | --- | --- | --- | --- |
| Men's Short Distance Sitting | | Race 1 | 2015-01-24 | 7 |
| Men's Long Distance - Free Style Sitting | | Race 1 | 2015-01-25 | 8 |
| Men's Middle Distance Sitting | | Race 1 | 2015-01-27 | 8 |
| Men's Sprint - Classic Sitting | | Race 1 | 2015-01-28 | 5 |
| Men's Long Distance Sitting | | Race 1 | 2015-01-30 | 5 |
| Men's Middle Distance - Classic Sitting | | Race 1 | 2015-01-31 | 6 |
Prince George 2019 World Para Nordic Skiing Championships (Prince George, Canada)

| Event | Medal | Unit | Date | Rank |
| --- | --- | --- | --- | --- |
| Men's Middle Distance Sitting | | Final | 2019-02-16 | 6 |
| Men's Middle Distance - Free Style Sitting | | Final | 2019-02-17 | 2 |
| Men's Sprint - Free Style Sitting | | Final | 2019-02-18 | 2 |
| Men's Sprint Sitting | | Final | 2019-02-20 | 9 |
| Men's Long Distance Sitting | | Final | 2019-02-21 | 4 |
| Men's Long Distance - Classic Sitting | | Final | 2019-02-24 | 4 |