Imagen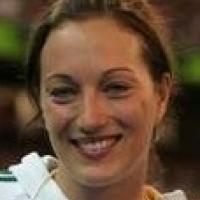 Eliza Ault-Connell
Athletics
Biography
Impairment information
Type of Impairment
Limb deficiency
Origin of Impairment
Acquired
Further personal information
Family
Daughters Eva and Elka, son Jensen
Other names
Eliza Stankovic
Residence
Albury, NSW, AUS
Sport specific information
When and where did you begin this sport?
She took up Para athletics in 1998.
Why this sport?
She was involved in sport before her legs were amputated. She decided to take up Para athletics and attempt to qualify for the 2000 Paralympic Games in Sydney. "My physio showed me a package of the 1996 Paralympics and there was a woman running on prosthetics. Sport had played a huge part in my life, running was something that I loved doing and I wanted to run so I made that my goal."
Name of coach
Fred Periac
International debut
Tournament
World Championships
General interest
Nicknames
Liz (Athlete, 11 Nov 2019)
Hobbies
Cooking, camping. (Athlete, 11 Nov 2019)
Memorable sporting achievement
Winning silver in the women's T54 marathon at the 2018 Commonwealth Games in Gold Coast, QLD, Australia. (Athlete, 06 Nov 2019)
Most influential person in career
Her children. (Athlete, 06 Nov 2019)
Hero / Idol
US ultra marathon runner David Goggins. (Athlete, 11 Nov 2019)
Superstitions / Rituals / Beliefs
She arrives at the stadium early before competitions. (Athlete, 11 Nov 2019)
Sporting philosophy / motto
"Be prepared physically and mentally." (Athlete, 11 Nov 2019)
Awards and honours
In 2019 she was named a Member of the Order of Australia [AM] in recognition of her services to sport and community health. (smh.com.au, 09 Jun 2019)

In 2003 she was named Young Citizen of the Year in Newcastle, NSW, Australia. (newcastleherald.com.au, 10 Jun 2019)
Ambitions
To win a medal at the 2020 Paralympic Games in Tokyo. (Athlete, 11 Nov 2019)
Impairment
At age 16 she was diagnosed with meningococcal meningitis, which resulted in the amputation of both her legs below the knee. "I had the typical early symptoms, but we hadn't even heard of it when the doctors told my parents. I woke up one morning and felt unwell, not disastrously unwell, but by that night I was on life support and things progressed rapidly. I had both of my legs amputated and my fingers as well." (Athlete, 11 Nov 2019; newcastleherald.com.au, 10 Jun 2019; triplem.com.au, 11 Mar 2019; abc.net.au, 16 Mar 2018)
Other information
RETURN TO SPORT
In 2007 she took a break from the sport to start a family. She was inspired to return to competition after watching the 2016 Paralympic Games in Rio de Janeiro. In September 2020 she was named on the Australian team for the 2020 Paralympic Games in Tokyo. "I got married in 2007 and the 2008 Paralympic Games in Beijing was completely the goal. I was told that perhaps I wasn't going to be able to have children. [It] was very unexpected, immediately I just knew that there was no way that I wasn't going to take that opportunity with two hands and become a mum. After watching the Paralympic Games with my children in 2016, they basically encouraged me to jump back in a race chair and do a race so they could watch something. The thought of being able to compete in Australia during the [2018] Gold Coast Commonwealth Games, in front of my family and in front of my children, was a massive draw factor. The thought of having that opportunity made me come back. My eldest daughter [Eva] is a very keen long jumper and her goal is to get to the 2028 Olympic Games in Los Angeles. She's dead set. 'Mum, we both have to be there. You have to do the Paralympics and I'll have to do the Olympics.' I think she hasn't really quite done the maths and worked out how old I'm going to be. I can most certainly say that at this point [speaking in 2020], short of some sort of catastrophic injury, I very much intend to still be racing the 2022 Commonwealth Games in Birmingham, and then onto the 2024 Olympic Games in Paris." (tokyo2020.org, 14 Jan 2021; paralympic.org, 09 Dec 2020; theroar.com.au, 12 Sep 2020; ABC News In-depth YouTube channel, 08 Aug 2020; Australian Beef Facebook page, 10 Mar 2020; newcastleherald.com.au, 10 Jun 2019; london-marathon.s3.amazonaws.com, 01 Apr 2019; BMG Partners YouTube channel, 18 Sep 2018)

MOTHERHOOD
She says being a mother is a universal experience. "I think immediately people jump to that conclusion that what I am doing [having three children] is more special, for some reason what I'm experiencing is harder. I don't necessarily agree with it. I think anyone that has a child has to go to that steep learning curve, able-bodied or not. Introducing a child into the world is probably the greatest change you can have in your life. From the first time Eva [her first child] was born, I just knew that it was one of the things I was meant to do. The kids used to ask, 'Mummy, do you feel sad that you had meningococcal disease?' For young kids to come out and say something like that, obviously they've processed a lot and thought about it, and maybe their perception was that you should feel sad. My answer is always, 'How can I be sad when I've been able to do the amazing things that I have, and I've got you.' I think my kids are lucky, they've got that opportunity to be exposed on a day-to-day basis and see what living a life with an impairment is all about, and they see that it's no different to any other life being led." (ABC News In-depth YouTube channel, 08 Aug 2020)

WHEELCHAIR RACING
Initially she tried to compete on prosthetic legs, but after sustaining a number of injuries she switched to wheelchair racing. "Watching my friends representing their country was so inspiring and I saw wheelchair racing and the great [Australian wheelchair racer] Louise Savage and, as running was not an option, I wondered if wheelchair racing was, so I got a second-hand race chair and fell in love with the sport." (abc.net.au, 16 Mar 2018; smh.com.au, 29 Aug 2003)

OTHER ACTIVITIES
She has served as director of Meningococcal Australia, and has been involved in campaigns to raise awareness of the condition and increase vaccination rates. "I have been able to turn what people may consider a misfortune into a