Imagen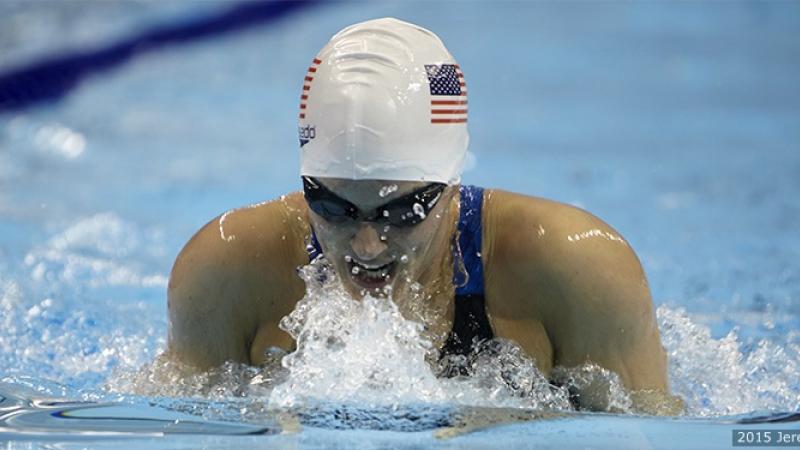 Elizabeth Marks was serving in the US military in Iraq, in 2010, when she got injured on both her hips and had to undergo three operations to restructure them. Only one year later, she took up swimming whilst recovering at the Brooke Army Medical Center in Fort Sam Houston, Texas.
In 2012, the mobility in her legs was reduced and her lung capacity decreased as a result of an illness. But that did not stop her from competing on a national level, securing several wins at the U.S. Paralympics Swimming Spring National Championships and the Jimi Flowers Classic.
But Marks fell gravely ill again in 2014 and had to be hospitalized, resulting in a neurological impairment. Luckily, doctors from the Papworth Hospital in Cambridgeshire, Great Britain, saved her life and Marks was back in the pool by the end of the year, proving nothing can let her down.
In 2016, she won four gold medals at the Invictus Games in Orlando, Florida, USA. When she received one of them from British Prince Harry, Marks gave it back to him, asking Harry to pass it on to the Papworth Hospital, where she was saved two years before.
After so many ups and downs, the 26-year-old made her Paralympic debut at Rio 2016, where she set a world record of 1:28.13 on her way to gold in the women's 100m breaststroke SB7. Marks also secured bronze in the 4x100m medley 34pts.
She is hopeful of continuing to improve and will seek her first medal at a World Championships in Mexico city, from 30 September-7 October.
Biography
Impairment information
Origin of Impairment
Acquired
Classification
S6, SB6, SM6
Further personal information
Residence
Colorado Springs, CO, USA
Occupation
Athlete, Serves in the Army
Sport specific information
When and where did you begin this sport?
She began swimming in 2011 at the Brooke Army Medical Center in Fort Sam Houston, TX, United States of America.
Why this sport?
She believed the sport would be a good way of overcoming her injuries. "My objective has stayed the same throughout. It has never been about medals or my time. It's about sharing the beauty of adaptive sports. Adaptive sports is healing mentally, physically and emotionally. Everything that comes outside of that is just a bonus."
Name of coach
Nathan Manley
General interest
Nicknames
Ellie (espn.com, 14 Jul 2016; Facebook profile, 09 Apr 2020)
Hero / Idol
Her father James Marks. (teamusa.org, 01 Oct 2016)
Injuries
She fell ill in September 2014 while travelling to the Invictus Games in London, England, which resulted in her being hospitalised and put on life support for 10 days. She woke up in the same hospital in Germany that she had been medically evacuated to from Iraq four years earlier. The illness resulted in a neurological impairment, decreased lung capacity, and a further reduction of mobility in her legs. She returned to training in December 2014. (teamusa.org, 03 Mar 2016; belvoireagle.com, 26 Feb 2015)
Superstitions / Rituals / Beliefs
She carries her father's military identification tags in her pocket at competitions. (stripes.com, 21 Jul 2021)
Sporting philosophy / motto
"When I step onto the blocks, I never think, 'I want to win'. I think, 'I want to pour all of myself into this race because there are people who can't physically, mentally or emotionally do that'. So it's my way of performing for them." (espn.com, 14 Jul 2016)
Awards and honours
In 2017 she was inducted into the Army Women's Hall of Fame by the US Army. (army.mil, 17 Mar 2021)

In 2016 she won the Pat Tillman Award for Service at the Excellence in Sports Performance Yearly [ESPY] Awards in the United States of America. (hollywoodlife.com, 13 Jul 2016)
Other sports
She won a bronze medal in handcycling at the 2013 Warrior Games in Colorado Springs, CO, United States of America. (wtc.armylive.dodlive.mil, 14 May 2013)
Impairment
In April 2010 she sustained injuries to both hips while on assignment in Iraq as a combat medic for the US Army. She underwent three operations to restructure her hips. An illness in 2012 caused a further reduction in mobility in her legs and decreased her lung capacity, which can lead to disorientation and vision issues when she is swimming. After once again falling ill in 2014 she experienced further complications that led to her experiencing chronic pain. In 2017 she decided to have her left leg amputated below the knee. "It was painful, but compared to what I'd been living in it was a relief. It was kind of shocking that it had been so long that I'd been in pain I didn't really recognise it. I got emotional because immediately after the surgery, I felt so much better." (teamusa.org, 12 Dec 2018, 03 Mar 2016; ftgordonsignal.com, 04 Oct 2013)
Other information
EARLY DAYS
She grew up in Prescott Valley, AZ, United States of America, and as a teenager she struggled to find a goal in life. She joined a military-based educational programme sponsored by the US Army, where mentors provided her with structure and a support system that eventually inspired her to join the military at age 17. She served as a combat medic in Iraq, where she got injured, and later became a competitive swimmer in the US Army's World Class Athlete Program at Fort Carson in Colorado. "The Army has afforded me the ability to have a family and a network of people that trust. I think there are a lot of kids that deserve those chances." (defense.gov, 28 Jul 2021; army.mil, 17 Oct 2017)

LONDON REUNION
She was cheered on by the critical care team of Royal Papworth Hospital at the 2019 World Championships in London, England. They had looked after her in 2014 when she fell critically ill ahead of the Invictus Games in the same city. She donated the four gold medals she won at the 2016 Invictus Games to the team at Royal Papworth as a mark of her gratitude. "If not for the people of Papworth Hospital I wouldn't get the chance to compete in a final [where she won a gold medal in the S7 100m backstroke at the 2019 World Championships]." (redlandscommunitynews.com, 01 Nov 2019; people.com, 13 Sep 2019; royalpapworth.nhs.uk, 13 Sep 2019)

TATTOOS
The tattoos on her right leg present an image of her life story. They include a large, wounded crow that represents her, and a red cross that symbolises her work as a combat medic in the army. The tattoos cover some of her scars, but she still leaves some exposed, and refuses make-up to cover them. "I earned them, so I'm going to wear them." She also has a polar bear tattoo on her big toe. "It's just like a goofy ugly tattoo. So, every time I look down on the block, the last thing I see is something that just makes me giggle. That's [for] my husband." (stripes.com, 21 Jul 2021; telegraph.co.uk, 13 Sep 2016; espn.com, 14 Jul 2016)