Imagen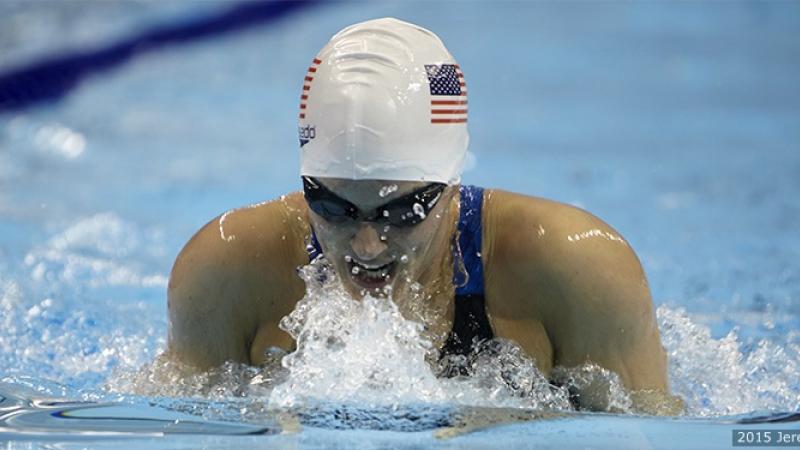 Elizabeth Marks was serving in the US military in Iraq, in 2010, when she got injured on both her hips and had to undergo three operations to restructure them. Only one year later, she took up swimming whilst recovering at the Brooke Army Medical Center in Fort Sam Houston, Texas.
In 2012, the mobility in her legs was reduced and her lung capacity decreased as a result of an illness. But that did not stop her from competing on a national level, securing several wins at the U.S. Paralympics Swimming Spring National Championships and the Jimi Flowers Classic.
But Marks fell gravely ill again in 2014 and had to be hospitalized, resulting in a neurological impairment. Luckily, doctors from the Papworth Hospital in Cambridgeshire, Great Britain, saved her life and Marks was back in the pool by the end of the year, proving nothing can let her down.
In 2016, she won four gold medals at the Invictus Games in Orlando, Florida, USA. When she received one of them from British Prince Harry, Marks gave it back to him, asking Harry to pass it on to the Papworth Hospital, where she was saved two years before.
After so many ups and downs, the 26-year-old made her Paralympic debut at Rio 2016, where she set a world record of 1:28.13 on her way to gold in the women's 100m breaststroke SB7. Marks also secured bronze in the 4x100m medley 34pts.
She is hopeful of continuing to improve and will seek her first medal at a World Championships in Mexico city, from 30 September-7 October.
Results
London 2019 World Para Swimming Championships (London, Great Britain)

| Event | Medal | Unit | Date | Rank |
| --- | --- | --- | --- | --- |
| Women's 100 m Backstroke S7 | | Final 1 | 2019-09-12 | 1 |
| Women's 100 m Backstroke S7 | | Heat 2 | 2019-09-12 | 1 |
| Women's 100 m Breaststroke SB6 | | Heat 1 | 2019-09-15 | 5 |
| Women's 100 m Breaststroke SB6 | | Final 1 | 2019-09-15 | 5 |
Madeira 2022 World Para Swimming Championships (Funchal, Portugal)

| Event | Medal | Unit | Date | Rank |
| --- | --- | --- | --- | --- |
| Women's 100 m Freestyle S6 | | Heat 2 | 2022-06-13 | 9999 |
| Mixed 4x50 m Medley 20pts | | Heat 1 | 2022-06-14 | 1 |
| Mixed 4x50 m Medley 20pts | | Final 1 | 2022-06-14 | 1 |
| Women's 50 m Freestyle S6 | | Heat 1 | 2022-06-16 | 3 |
| Women's 50 m Freestyle S6 | | Final 1 | 2022-06-16 | 3 |
| Women's 50 m Butterfly S6 | | Final 1 | 2022-06-18 | 1 |
| Women's 50 m Butterfly S6 | | Heat 1 | 2022-06-18 | 2 |