9: The IPC is created in Dusseldorf, Germany
On 22 September 1989 the historic meeting took place in Dusseldorf that saw the formation of the IPC.
14 Sep 2014
Imagen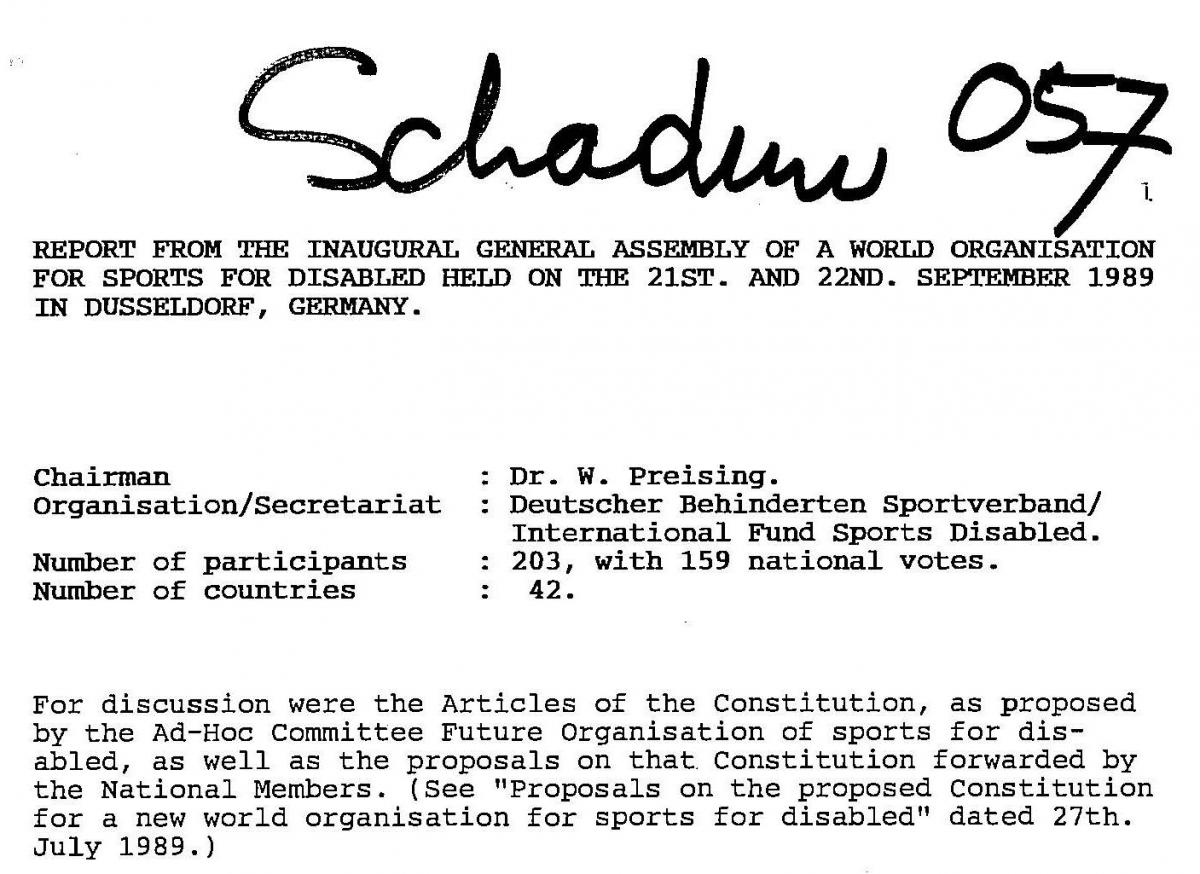 ⒸIPC
By IPC
The German city of Dusseldorf hosted the historic meeting in 1989 that saw the formation of the International Paralympic Committee (IPC).
The aim of the meeting – which was attended by 203 participants from 42 countries, including West German Chancellor Helmut Kohl – was to form a new world organisation for sports for athletes with a disability.
It was a tense and fraught meeting, with existing organisations airing their fears of losing prominence within any new body.
But a vote was taken, and the official founding of the International Confederation of Sports Organisations for the Disabled (ICSOD) was passed. A new organisation had been created.
It was soon agreed to change the name to the International Paralympic Committee, which would be 'the only World Multi-Disability Organisation with the right to organise the Paralympic and Multi-Disability World Games, as well as World Championships'.
The next steps were to elect an Executive Committee, and agree on the constitution.
The Executive Committee – made up of a President, two Vice Presidents, a Treasurer, Secretary General, three Members at Large, and a Technical Officer – would all be elected by the General Assembly.
There were also to be six representatives of the regions elected by the regions, one athlete representative voted for by athletes, and six representatives appointed by the six international organisations of sports for athletes with a disability.
The Executive Committee's role, led by founding President Dr Bob Steadward, was to 'initiate studies and make decisions on the policy as dictated by the General Assembly, respond to the needs of the members, set out rules for sanctioning international events, and ensure all complied with rules laid out by the IPC'.
The International Committee for Deaf Sports, Cerebral Palsy International Sports and Recreation Association, International Blind Sports Association, International Association for Sport for Persons with Mental Handicap, International Stoke Mandeville Games Federation, and International Sports Organisation for the Disabled, would be celebrated as 'Founding Members' of the IPC, while the voting rights and representation of all members was determined.
Full national members of the IPC could participate in all international competitions in all sports, and the separate international federations retained their rights to organise their own events that were separate from the Paralympic Games.
The IPC was initially registered in Belgium as an international non-profit organisation, and shared office space in Brugge with the Flemish League for Sports for People with a Disability.
The IPC was always an athlete-centred organisation, and in 1990 the first Athletes Committee was elected, with Martin Mansell as Chairperson.