Caironi embraces special friendship behind Italy's 100m sweep at Tokyo 2020
Two-time Paralympic gold medallist Martina Caironi took silver behind her "sister" Ambra Sabatini in the women's 100m T63, with fellow Italian and close friend Monica Graziana Contrafatto wrapping up the podium
22 Sep 2022
Imagen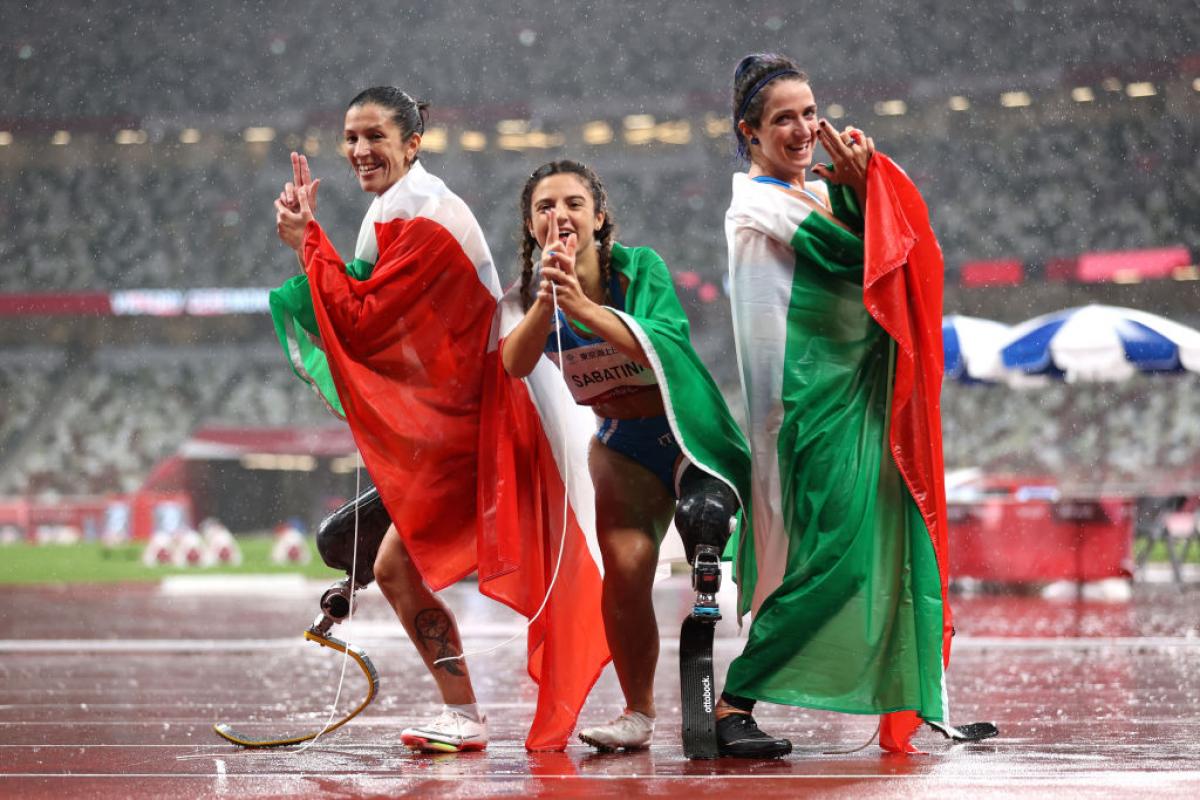 ⒸAlex Pantling/Getty Images
By Ayano Shimizu | For the IPC
Italy's Martina Caironi says friendship formed on the athletics track is one of the strongest bonds that she could ask for.
That is why the two-time Paralympic gold medallist calls her achievement of sweeping the women's 100m T63 with her friends at the Tokyo 2020 Paralympic Games "magic".
In arguably one of the most iconic moments of the Games, rising sensation Ambra Sabatini led Italy's 1-2-3 finish in her Paralympic debut, followed by Caironi and Monica Graziana Contrafatto at Tokyo's Olympic Stadium.
Photos and videos of the three athletes competing in the pouring rain and celebrating by striking the famous pose from the film Charlie's Angels went viral on social media and stole hearts of sports fans in Italy and beyond.
One year since the Games, this friendship has become a motivation for Caironi, 33, to improve in the sport. And she showed just that in May by rewriting Sabatini's world record at a meet in Eugene, Oregon.
Picture-perfect moment
Caironi, who won the 100m T42 at both Rio 2016 and London 2012, said completing a clean sweep at the Tokyo 2020 Paralympic Games was a "dream" for the Italian trio.
"I remember the day before (the competition) we were discussing what we should do if we arrive 1-2-3. I said, 'No, I don't want to talk about this,' because I thought it was bad luck talking about it," Caironi said.
"I think Monica proposed the Charlie's Angels (pose) and I proposed (doing a) can-can," she added. "We knew we could do it. My concern was about a false start or something that would happen to me, not to the others because I'm always thinking about me."
In the final race, the three Italians came from behind, with Sabatini winning in world-record time in her Paralympic debut.
Running in the lane next to Sabatini, Caironi realised a few metres before the finish line that she would not be able to cross before her teammate.
"But when it finished, wow, it was a magic moment because we were there with three flags, making jokes, making a show with the rain," Caironi said.
"And then the moment of the medal ceremony was big because even though I was second, the Italian anthem was playing. So we were there, three of us singing, crying. And I think all of Italy was crying at that moment."
Motivation
Finishing with a silver medal behind Sabatini, who she calls her "young sister", inspired Caironi to challenge herself even more after the Tokyo Paralympics.
"The fact that I got a silver instead of gold, of course, it was strange and hard as well for me. But I think that the best way to lose the crown was this one," she said. "In fact, that motivated me a lot."
Caironi said it felt strange to chase another athlete because she had led the field for most of her career since she took up Para sports in 2010, three years after she was in an accident that resulted in the amputation of her left leg.
This year, Caironi has shaken off the pressure that she felt in 2021, and she has been on a roll. 
The Italian athlete posted a world record of 14.02 seconds in the 100m in Eugene and also extended the world record in the women's long jump T63 in June.
"(I'm) so happy and now I do really hope to run even better because I never thought in my life to run such a great race," Caironi said. "If I've done one, I can do it twice or more."
Not alone anymore
While Caironi wants to enjoy every moment of her career and compete without regrets, one of her big goals is to achieve a clean sweep again with Sabatini and Contrafatto at the Paris 2024 Paralympic Games – with her taking the top spot on the podium this time.
Their friendship has grown over the years.
Caironi first received a Facebook message from Contrafatto in around 2014 asking if they could compete together.
Meeting Sabatini in 2019, Caironi helped the youngster make her first steps in Para athletics, including getting a prosthetic leg for running. Outside of sport, Caironi and Contrafatto inspired Sabatini to climb a mountain and embrace her disability by wearing shorts with a prosthetic leg.
The trio stays in touch through a chat group on WhatsApp called the "Charlie's", a nod to their famous Charlie's Angels pose from Tokyo 2020.
"The friendship born on the track and field is one of the strongest because of those moments that you live there. They are unique," Caironi said. "It's like if you have an exam and you have your best friend over there, doing the same exam. Don't you feel supported? That's the same (way) we are supporting each other."
While athletics is an individual sport and the three sprinters are rivals, they have also cheered for each other and offered support.
"I think that from Tokyo to the finish of my career, I will feel more relaxed, but still very focused. I am in the right place with somebody who really knows me," Caironi said. "The power now is that we are close to each other and we can share a huge message. I'm not alone anymore. I have two Charlie's."