Becoming Paralympic champion helps Uzbekistan's Naimova find her place in life
Overcoming financial difficulty and social stigma before becoming Uzbekistan's youngest Paralympic champion, Guljony Naimova is now one of the most successful and popular athletes in Asia
04 Aug 2022
Imagen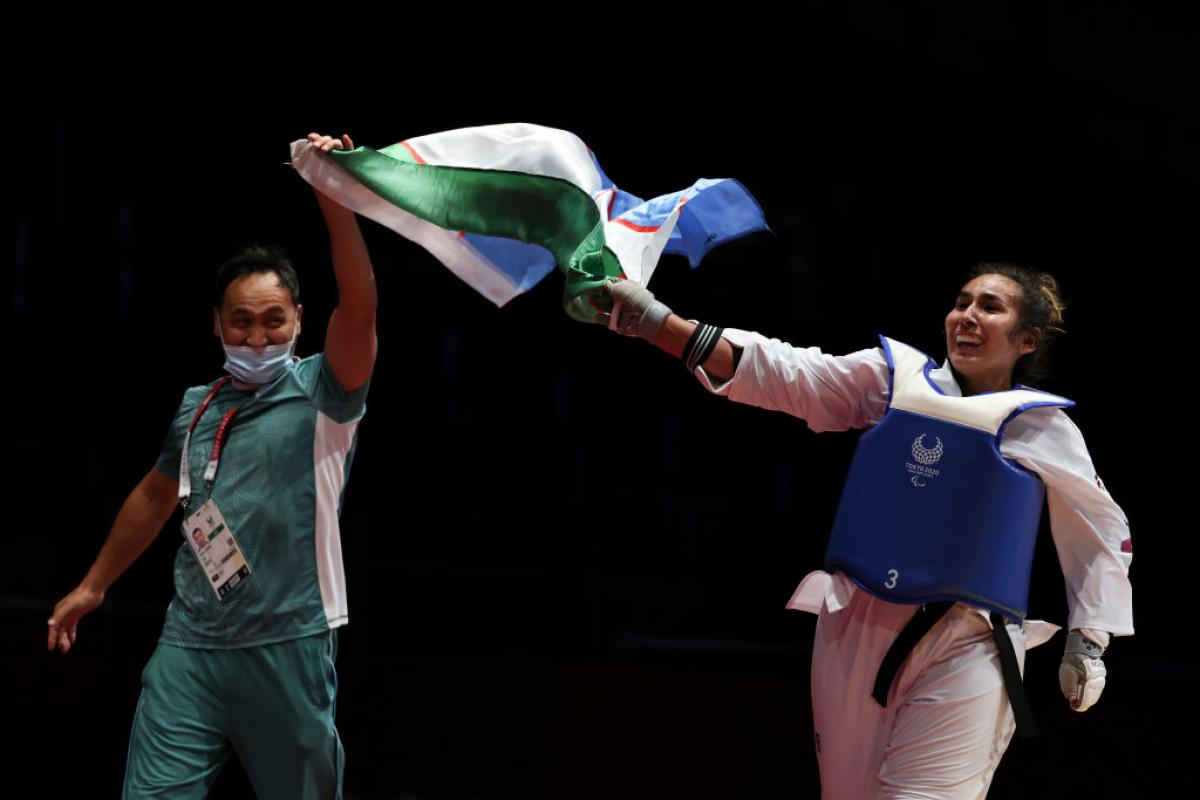 ⒸLintao Zhang/Getty Images
By Lee Reaney | For the IPC
If you are looking for examples of how sport can change lives, look no further than Uzbekistan's Guljonoy Naimova.
The Para taekwondo champion from the Tokyo 2020 Paralympic Games has used her success to pull her family out of poverty and vault herself into becoming one of the country's most successful and famous athletes. 
She is now the only fighter in the world to simultaneously hold the titles of Paralympic, world, and Para Grand Prix champion, and she remains Uzbekistan's youngest Paralympic champion. 
Financial rewards from the Government of Uzbekistan have made her the primary breadwinner in the family – a rarity for those with an impairment in Uzbekistan and a dream come true for Naimova.
But things weren't always so sunny for the Paralympic champion. 
Overcoming the odds
Naimova was born with a plexus lesion, which significantly affects her ability to raise and extend her left arm. 
While Uzbekistan is not the easiest place for someone with an impairment to grow up – 85% of buildings and social infrastructure still need to be adapted for use for people with impairments – Naimova grew up in a supportive environment. 
Her mother, father, and two brothers did not make a big deal out of it. 
"It wasn't until I started school that I realised I was not like the other kids", she said. "I felt disappointed and offended". 
Things got worse for Naimova before they got better. When her parents divorced, she decided to stay with her mother. The family struggled with finances. 
"As a kid, I always dreamed of financial success, of solving all my family's problems and making my mother happy," Naimova said.
Then, at 11 years old, she discovered taekwondo. Naimova was attracted to the discipline required by the sport as well as its physicality. The only problem? Uzbekistan had yet to create a Para taekwondo programme and she was forced compete with able-bodied competitors. 
"I wasn't successful in able-bodied because I couldn't raise my arms to block," she recalled.
Moving to Para taekwondo
Naimova spent five years learning the sport of taekwondo alongside her able-bodied teammates before joining Uzbekistan's newly created Para taekwondo team in late 2015. 
At the time, Para taekwondo was experiencing its first major period of growth. The sport had just held its sixth World Championships and had been named to the Paralympic programme in 2020.
She recalls what it was like training in those early days: "We didn't have enough money for a training camp. We'd train just 60% of what we do now – two weeks of training, and then a month of rest".
In 2017, when she was 17 years old, Naimova made her debut on the international circuit. She showed promise at her first competition – the 2017 Asian Championships in the Republic of Korea – where she won silver, falling to the No. 1 ranked fighter in the world, Great Britain's Amy Truesdale. 
It was the beginning of one of the sport's greatest rivalries. 
Naimova won medals at her next two events – the 2017 World Championships and 2017 IWAS Games – losing in the semifinals both times to Truesdale. The following year, she won her first international tournament, becoming Asian champion by edging Truesdale in a thrilling 9-8 final. 
Becoming the best
The young athlete's success did not go unnoticed back home and the Uzbek Paralympic Committee responded by making a significant investment in its Para taekwondo team. Beginning in 2019, the government provided the team with funding so that they could train without breaks.
Naimova and her teammates engaged in an ambitious seven-hours-per-day, three-days-per-week training programme. Trainings are intense thanks in no small part to coach Bobur Koziyev – one of the most passionate and animated coaches on the circuit. 
"I have a strong character," he said. "I even get warnings from the referee."
Naimova agreed. 
"During the trainings, he is very strict," she said. "Whether it's a Paralympic Games champion or a newcomer, we make sure to listen."
Going from 7:30 in the morning to 7:00 in the evening, the team does a full range of activities, including fitness, weight, taekwondo, and video training. 
"I watch all the matches of my opponents," Naimova said. "I know each and every opponent I face."
Determined to improve on her bronze medal from the 2017 World Championships, Naimova entered the 2019 World Championships confident that she could beat any opponent. 
She even caught a break, as defending world champion Truesdale was upset in the quarterfinal by Japan's Shoko Ota. Naimova then cruised past Ota 14-5 in the semifinal to qualify for her first World Championship final. 
The Uzbek fighter ultimately fell to Brazil's Debora Menezes in a hard-fought 7-3 final. It was the last time she lost in regulation time.
In a dramatic post-fight scene, her coach stormed out, leaving a devastated Naimova alone on the sidelines. 
In what turned out to be the beginning of a lasting and unlikely friendship – neither athlete speaks the same language – Menezes came over to console the silver medallist.
"She told me that I fought well and that I'm a great athlete," Naimova said. "We became friends because our characters match and we are both kind people."
Admitting regret, coach Koziyev speaks openly about his reaction that day: "I love my athletes and I'm so worried about them that I can be harsh. I see my athletes have a chance to medal and I get nervous when they are about to lose."
Life-changing Paralympic Games
Naimova continued to improve and in her final tournament before the COVID-19 pandemic, she beat No. 1 ranked Truesdale 16-8 in the 2019 European Championship semifinal. She fell to Azerbaijan's Aynur Mammadova by golden point in the final, but not before securing automatic qualification to Tokyo 2020.
The prospect of competing at the Games during Para taekwondo's Paralympic debut did not put extra pressure on Naimova.
"My mother always dreamed her daughter would become a Paralympic champion, and I didn't want to let her down," she said. 
There was also a potential financial windfall. 
The Uzbek government awards Paralympic champions the title of 'Pride of Uzbekistan'. They also receive 200,000 USD, a new apartment, and a new car. A Paralympic silver earns Uzbek athletes 100,000 USD, while bronze medallists receive 50,000 USD.
These are life-changing sums in a country where the average Uzbek makes less than 350 USD per month and, according to the World Bank, only 7.1% of the impaired population is gainfully employed. 
At Tokyo 2020, Naimova was drawn on the same side of the bracket as two of her most dangerous opponents, hometown favourite Shoko Ota and No. 1 ranked Truesdale. A comfortable 37-12 win over Ota in the quarterfinal set the stage for one of Tokyo 2020's most anticipated matchups – and one of the most unforgettable upsets. 
After a tense opening 30 seconds that saw her go down 6-4 to Truesdale, Naimova put together 10 straight points before closing the round with a stunning 22-6 lead over her perennial rival. Not letting up, Naimova easily won the next two rounds to qualify for the Paralympic final with a statement 60-14 win.
The victory thrilled Uzbeks back home, including president Shavkat Mirziyoyev, who promised to tune in for the Paralympic final. 
In her final fight in Tokyo, Naimova bested reigning world champion and friend Menezes 8-4 to become her division's first-ever Paralympic champion.
Naimova returned home to be greeted by an adoring crowd at Tashkent's Yangi Uzbekistan Park where she also received greetings from the country's president, a giant novelty cheque for 200,000 USD, and the keys to a scarlet SUV. At the end of the ceremony, she was driven to her new apartment. 
"The president personally chose the colour of my car," Naimova said. "He watched the fight and said he wanted to give me something to stand out…It's the only one of this colour in the country."
The financial reward from the Uzbek government changed Naimova's life. 
"Before, I lived only with my mother and two brothers," she said. "Now I have my own place, I paid for university for both of my brothers and made their lives better."
Becoming a legend
Naimova's triumph in Tokyo was the beginning of an unparalleled streak of success. She has not dropped a fight since, going on to win her first world title, the inaugural Para Grand Prix, and a pair of European Championships. 
She collected another 12,000 USD for her victory at the 2021 World Championships and has become one of Uzbekistan's most famous and popular athletes. 
"I have over 80,000 followers on Instagram," Naimova said. "And now everyone in Uzbekistan knows me and respects me."
It has been a long road for the kid who fell into a depression after realising that she was different from her classmates. Through sport, Naimova has found more than just success, acceptance, and financial security – she has found her place in life. 
At just 22 years old, Naimova holds every major title in the world and provides financial security for her family. So, what's next for the Paralympic champion?
"After making my mom's wish come true, now I want to impress my coach."