China look to build on home advantage
Though its Wheelchair Curling team starts as firm favourites at Beijing 2022, China will be hoping for medals from their other athletes as well
21 Feb 2022
Imagen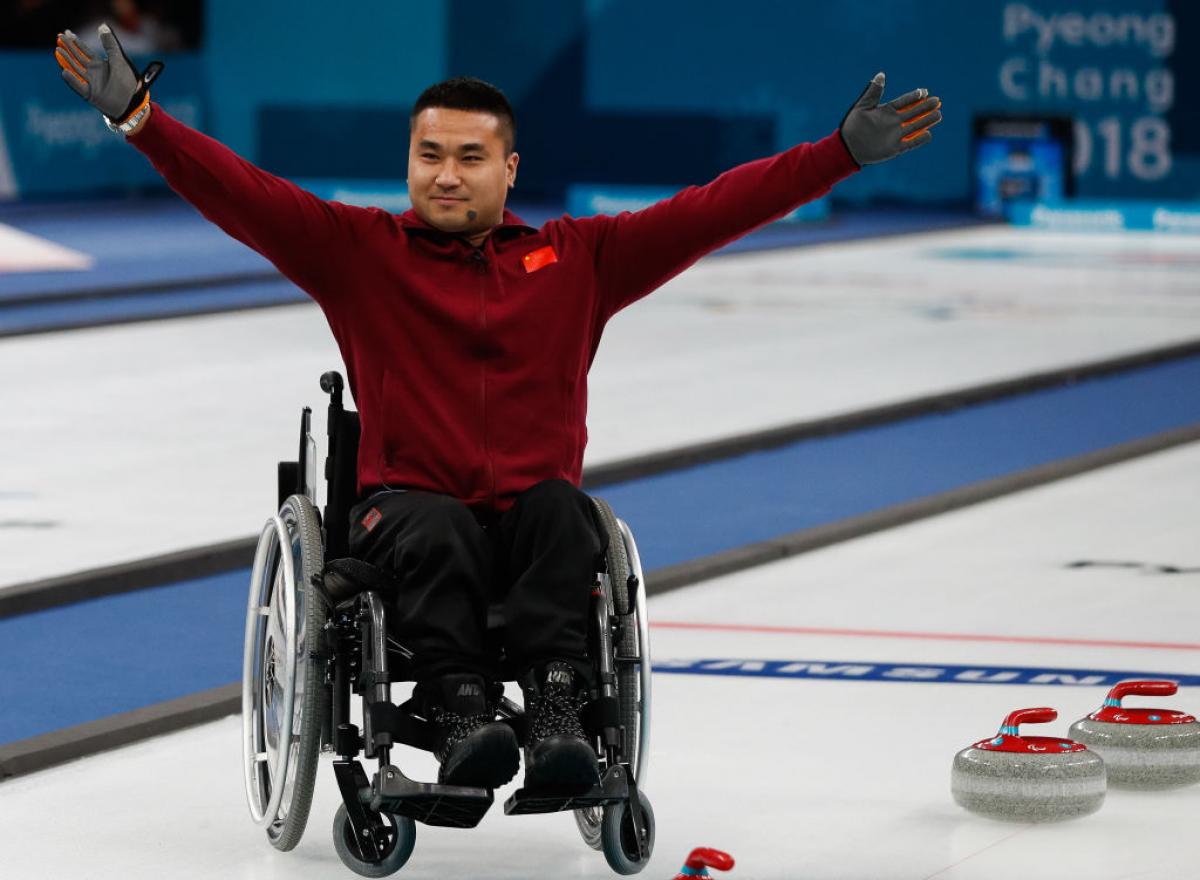 ⒸBuda Mendes/Getty Images
By IPC
China made its debut at the Paralympic Games in 1984 and became a dominant force within a few editions. It has topped the medals table since the 2004 Games in Athens, crossing the 100-gold medal mark at Rio 2016.
On the contrary, the Winter Games haven't yielded much reward since their debut at the Salt Lake 2002 Games. Their first medal came after competing in five Winter Games - a gold in Wheelchair Curling at the PyeongChang 2018.
Though its Wheelchair Curling team starts the favourite at Beijing 2022, Chinese administrators and Para athletes are hoping that their fortunes will change at this Games.
And Beijing 2022 may prove another turning point in the China's Winter Para sports history and they are hoping to reap the rewards of participating in home conditions and win more than the one gold they have bagged so far. To achieve this, the Chinese government has put in a lot of efforts to help their winter Para athletes prepare for the Games, including several training camps.
Here's a look at some Chinese Paralympians who can spring a surprise at home:
HAITAO WANG (WHEELCHAIR CURLING)
China's most accomplished athlete in Wheelchair Curling, Haitao Wang was part of the team that won gold in PyeongChang. Since, then he has gone from strength to strength, having won two bronze, one silver, and two gold medals between 2013 and 2021 World Wheelchair Curling Championships. The 32-year-old is now captain of the Chinese team and is hoping to lead them to defend the gold they won four years ago.
ZHUO YAN (WHEELCHAIR CURLING)
A rising star in the Chinese Wheelchair Curling team, Zhuo Yan was part of the 2019 and 2021 World Wheelchair Curling Championship winning teams. The 29-year-old will be contesting in her maiden Winter Paralympic Games and is a key member of the team. She likes to study all kinds of strategy, even analysing chess, to get better in curling.
"Curling is like chess on ice," Yan explains, adding, "It requires you to predict the next three, four, or even more steps ahead, as well as the corresponding countermeasures."
PENG ZHENG (CROSS-COUNTRY SKIING)
Another medal contender from China, Peng Zheng has not won any medal in snow so far. But he came closest to winning China's first medal on snow in 2018 when he finished fourth in the men's 15km Cross-Country Sitting Skiing. Zheng's most memorable sporting achievement is the second place he bagged in his debut at the 2017 World Cup event in Canada. He is hoping to make history for China at home and win their first medal on snow.
MINGTAO MA (CROSS-COUNTRY SKIING)
Mingtao Ma had finished eighth in the men's 10km Cross-Country Skiing at PyeongChang 2018 and 10th in the 20 km Free Standing, and is full of expectations for the coming Games. "My dream is to stand on the podium at the Beijing 2022," said Ma.
Ma, who in 2000 lost both arms after accidentally touching electric wires, competes in LW5/7 category and will be a contender in home conditions. He made his international debut in 2016 and has been skiing at domestic level since 2011.
CHENYANG WANG (CROSS-COUNTRY SKIING)
The 20-year-old also participated in the PyeongChang 2018 Paralympic Winter Games and finished 11th in men's 20km Cross-Country Skiing. Chenyang Wang, who participates in LW5/7 is now more experienced and has spared no efforts in training for Beijing 2022, making use of the newly constructed venue for the Games. He has been at the camp for last one year, not even going home for the New Year holidays. Wang is determined to open China's account on snow in Beijing.
"The Beijing Paralympic Winter Games is my second Paralympics and I'm much more ready this time. I want to win a medal and bring glory to my country," Wang recently told the Chinese media.
LINGXIN HUANG  (CROSS-COUNTRY SKIING)
Nineteen-year-old Lingxin Huang will hope to make his mark in Country-Country Skiing on his debut in Beijing 2022. The young boy from Yunnan Province has practiced Cross-Country Skiing for the last three years at the ski track in Baiyin, which he feels is very similar to the venue of the Beijing Paralympic Winter Games.
BEIBEI CHU (PARA BIATHLON, CROSS-COUNTRY SKIING)
Beibei Chu switched to Cross-Country Skiing from Canoeing in 2013 and began training seriously since October 2015. The same year the 33-year-old made her international debut and represented her country at PyeongChang 2018 Games where she finished eighth in both, 6km Sprint - Sitting and 10km Middle - Sitting  and 12th in 12.5km Individual - Sitting Para Biathlon. She did well in Cross-Country Skiing too, placing top 10 in 12km - Sitting, Sprint - Sitting, 5km - Sitting and ninth in 4 x 2.5km Relay Mixed and in 4 x 2.5km Relay Mixed World Championships - Para Cross-Country. She competes in LW12 category. 
YIFENG SHEN (PARA ICE HOCKEY) 
Determined to make a real impact when his team makes their Paralympic debut at home in 2022, Yifeng Shen has been making all the right moves. The forward was part of the Chinese squad that reached promotion with a winning performance from the World Championships C-Pool in 2018. The following year, Shen was named Best Forward at the B-Pool Worlds and took the honour again in 2021. Not only that, but Shen's individual achievements helped his side gain promotion once more, by topping the rankings as Scoring Leader for goals and assists and Goal Scoring Leader.
MENGQIU ZHANG (PARA ALPINE SKIING)
Mengqiu Zhang is China's best bet in the women's standing and carries the hopes of a nation that is looking forward to making the most of the home Winter Paralympic Games. In 2020, Zhang won China's first-ever World Cup gold, outracing skiers such as France's Marie Bochet in the Giant Slalom Standing. A further three gold and silver medals followed for Zhang that season. Having started skiing like a lot of her teammates just a few years ago, Zhang has had a lot of learning and training to do to be able to compete with the best skiers in her category. Now, she will be hoping to land China's first-ever Paralympic Alpine Skiing podium.
MENGTAO LIU (NORDIC SKIING)
Mengtao Liu made a successful return to Para Nordic Skiing after a long gap at the Europa Cup in Vuokatti, Finland, and also impressed many at the World Championships held in December 2021. At the Europa Cup, Liu finished second to Brazil's Cristian Ribera in the men's short-distance but came back to beat the Brazilian in the middle distance. Classified LW12, the top Chinese Nordic skier is from Hebei Province in China and one of their big hopes on the snow.