Despite Greece's Economic Woes, Polychronidis Soldiers On
28 Feb 2012
Imagen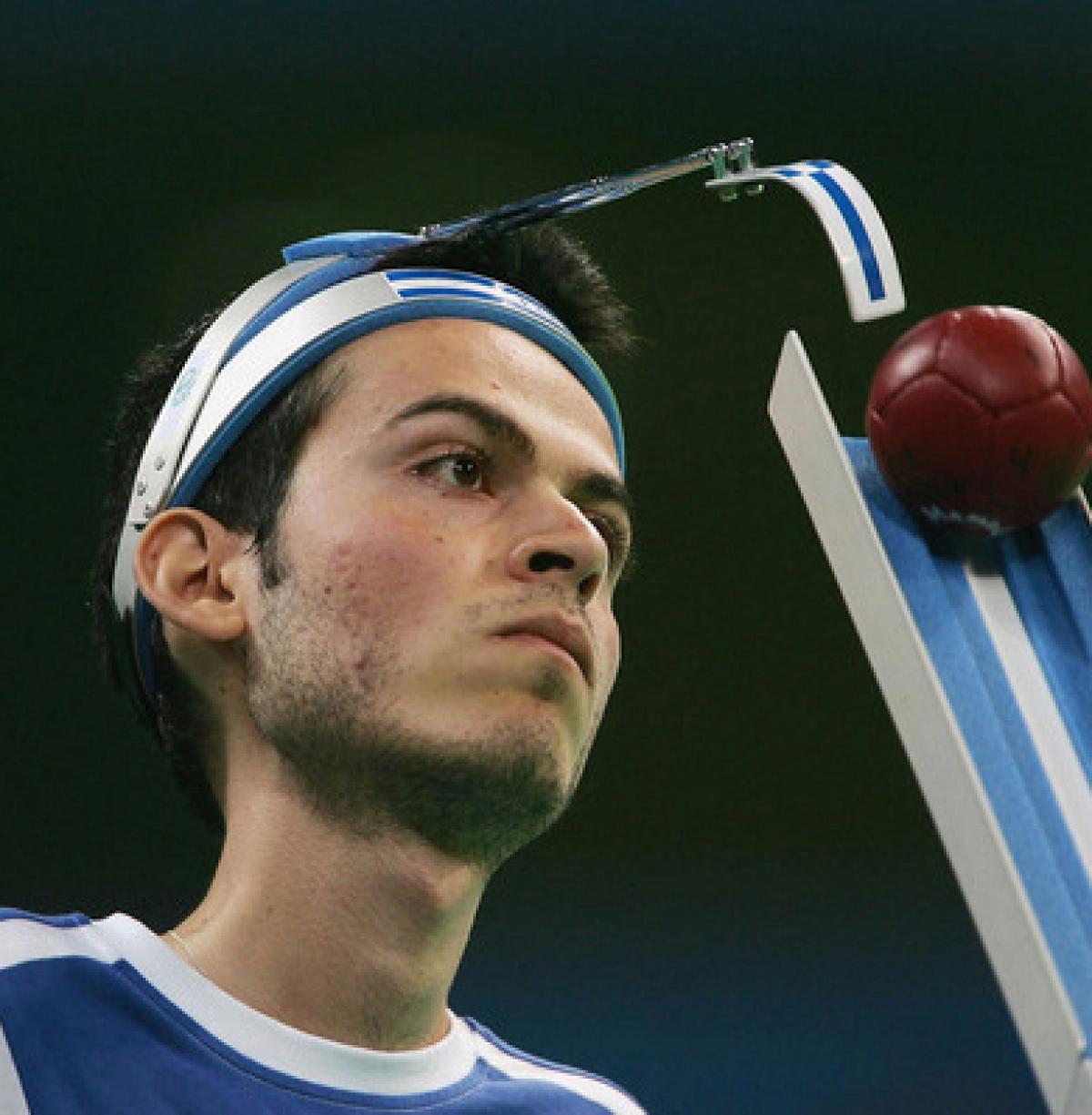 ⒸGetty Images
By IPC
Greece's Grigorios Polychronidis, a favourite for the Boccia BC3 podium at the London Paralympics, has an uphill struggle ahead of him. Not only is competition in Boccia at the London 2012 Paralympic Games going to be fiercer than ever before, but his country is facing an economic crisis.
Polychronidis, who has spinal muscular atrophy, which leads to muscle wasting, competes in the Boccia BC3 class with a ramp to aim his shots and headgear to set them in motion.
Having won two golds last year, first at the CPISRA Boccia World Cup in BC3 Pairs and then in the BC3 Individual at the CPISRA Boccia Europa Cup, he and the Greek team have fulfilled the London qualification criteria for both the individual and team events.
There's no doubt about it – Polychronidis is going for gold.
"The Paralympic Games is by far the most significant competition for every Paralympic athlete, and I'm sure that each and every one of us, the athletes, will give all our efforts and make all the sacrifices needed during our preparation, to deliver the best of our performance at the Games," he told Paralympic.org.
Polychronidis is, however, acutely aware of the effect that the Greek economic crisis is having on athletes like him.
"Greece is in the middle of a terrible economic crisis, so we have absolutely no support, nor interest in our preparation for London 2012," he said.
Family support
Despite this, Polychronidis is sure that he will be ready for London, not least because he has strong support from his family, his coach Georgios Tzimas and the Muscular Dystrophy Association in Greece (MDA Hellas).
Polychronidis' father Daniel Polychronidis and godfather Thomas Chabazi both act as his Sport Assistant or "ramper". Polychronidis instructs his ramper, whose back is turned to the field of play at all times, about where to place the ramp. He then uses headgear to push the ball off the ramp as close as possible to the jack ball.
Polychronidis says the ramper-player relationship is extremely close and requires a high level of intuition about each other's signals.
"A sport assistant in BC3 category is the other half of the player, since he executes every command of the player, and that has to be done quickly, and correctly," said Polychronidis
"A sport assistant has to be absolutely familiar with the equipment, the player's abilities as well as disabilities and the player's style of play. He also has to be able to recognize a player's sign, even if that is only a movement of an eye."
"It was a great surprise that at the Europa Cup 2011, medals were given to the BC3 sport assistants as well. It would be fair if that happened in all the competitions."
Personalized ramp
As well as being his sport assistant, Polychronidis's father also designed his ramp, which started off as a plastic pipe and was modified five times. He has been using the current design for the last five years and says it has been tailored to suit his unique style of play.
"There is no perfect ramp or head gear, but there is the perfect fit to the player that uses it, in order to be quick, accurate and effective," explained Polychronidis.
"The ramp I use at the moment is a result of many improvements. It is stable, flexible and easy to use. It is heavy and fragile though."
During a game, the 30-year-old uses different types of balls to suit his tactics.
"I use soft, medium and hard balls, since my tactic is being aggressive but at the same time watching my back. You can never be sure how the game will turn out, so you have to be ready for everything," he said.
Settling old scores
Some of his stiffest competition at the London 2012 Paralympics will come from the Korean team, which won all three BC3 Individual medals at the 2011 CPISRA Boccia World Cup, and gold and bronze at the Beijing 2008 Paralympic Games.
In particular Ho Wo Jeong and Han So Kim, ranked first and second respectively, will be Polychronidis's toughest opponents.
"Koreans have great discipline, a stable style of play which they execute in an excellent way, and no mistake you make playing against them is forgiven. My goal will be to make no mistakes and deliver a perfect play in order to beat them," said Polychronidis.
Another interesting challenger for Polychronidis is Canada's Paul Gauthier who won the BC3 Individual gold medal at the Athens 2004 Paralympics. Since they first met in competition, Gauthier and Polychronidis have had a fierce rivalry.
Though Gauthier beat Polychronidis at the 2007 World Cup final, the Greek knocked his Canadian opponent out of the Beijing Paralympics.
"I can't know if we will meet in the London 2012 individuals to rematch one more time, but I know we are in the same pool in pairs, so it certainly will be a great game," said Polychronidis, whose BC3 Pairs teammates include Nikos Pananos and Marilena Kordali.
Related Images