Forest makes final run one to remember
Canadian alpine skier and goalball player Viviane Forest will always remember her final para-alpine run.
16 Apr 2013
Imagen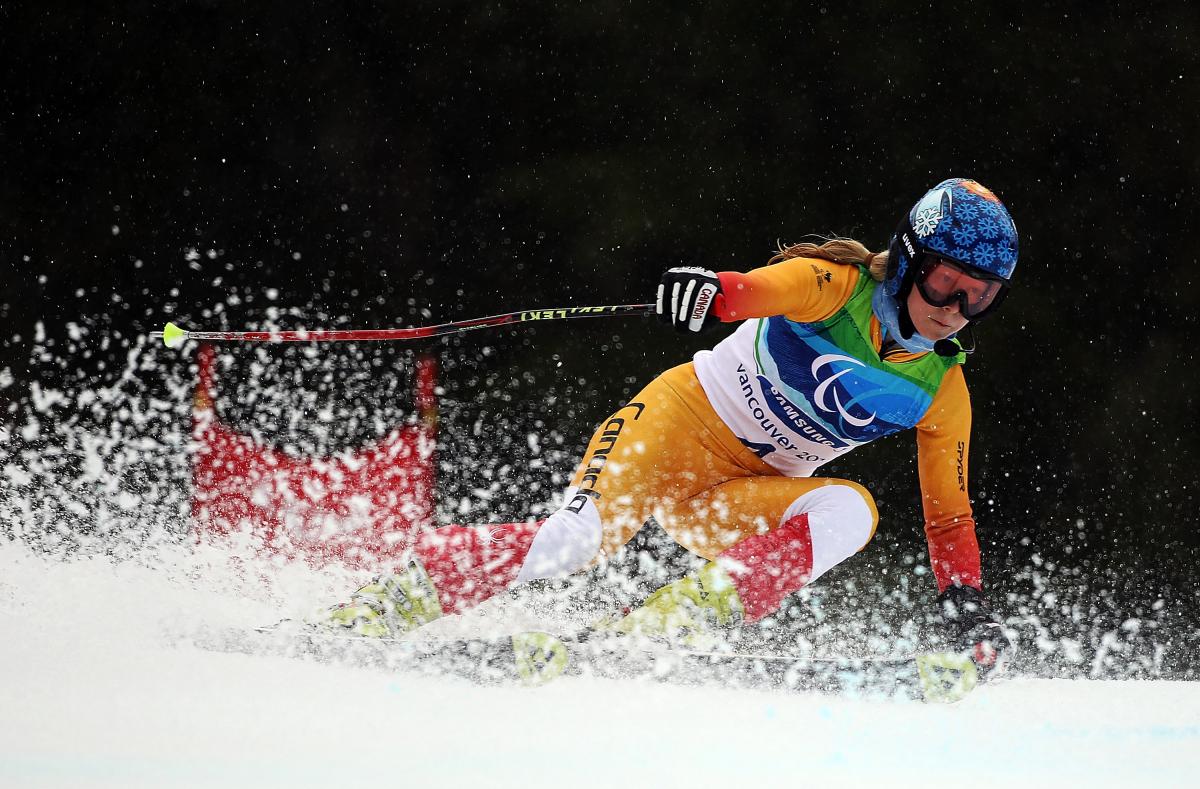 ⒸGetty Images
By Jake Duhaime | For the IPC
"One of my main messages I tell them is that whatever you like to do in life, follow your passion, never give up and always believe in yourself."
There were no medals at stake on the final career run of three-time Paralympic gold medallist Vivane Forest at last month's Para-Alpine Canadian Championships, yet the nerves still rippled through her.
This was the swan song for the Canadian visually impaired skier, as she was leaving her career at its pinnacle with Paralympic titles in both alpine skiing and goalball following that run.
Leaving the slopes
Forest announced her retirement from para-sport on 29 March, but she knew the 2012-13 season would be her last before it even began
She had spent the last two years recovering and rehabbing from a series of ailments, including a wrist injury and a concussion. She sustained both injuries at the absolute peak of her career – a downhill run that won her a gold medal at Vancouver 2010.
The 17-time World Cup title-holder doesn't remember the medal ceremony, nor does she have much recollection of the next few days of competition where she claimed another two silver medals.
That's why this moment, this decision to retire from competitive skiing, stood out so clearly in her mind.
"This season was a chance to prove to myself that I was able to ski and be successful," Forest said. "I didn't want to push my luck and have a chance to get badly injured."
The proof was in the results, including a Canadian championship, numerous NORAM Cup victories and two medals, a silver and a bronze, at the 2013 IPC Alpine Skiing World Championships in La Molina, Spain.
There were no questions left unanswered, no regrets left unturned by the woman aptly nicknamed "the falcon" for her ability to reach blistering speeds going downhill.
The last hurrah
For the last hurrah down the slopes, a familiar name was summoned as Forest's guide. Canada's first dual-sport Paralympic gold medallist would be teamed with Nancy Greene Raine, a gold medallist at the 1968 Olympic Winter Games in Grenoble, France, and the country's Female Athlete of the 20th Century.
"It was such a great moment for me," Forest said. "It was kind and generous of her to accept my invitation to guide me for my last run. For her to do that was overwhelming and very emotional. I did that run with a lot of water in my eyes, but those were happy tears.
"We took our time. It wasn't race mode, but it wasn't a snow plow mode, either."
The honour run was arranged by Alpine Canada, who suggested Forest do something special for her grand finale. Thus, her run with Greene Raine came to life.
Despite having just four per cent of her normal vision, Forest started skiing at age six.
She picked up the sport competitively in 2007 after eight years on Canada's national goallball team, with which she won Paralympic golds at the Sydney 2000 and Athens 2004 Games.
Her learning curve on the mountain was nonexistent, winning 13 of her first 14 races on the slopes.
"It's funny because when I started skiing, I didn't want to do a race because I was afraid of skiing dead last," Forrest said.
"The thing that really helped me coming from another sport was that I knew how to eat. I knew how to prepare at that level."
She described the run up to Vancouver as a rigorous, structured exercise with everything building toward making the podium.
The slopes of Whistler turned out to be Forest's Paralympic playground, winning five medals, including the aforementioned gold with guide Lindsay Debou.
It was what happened after crossing the finish line, a fall, combined with a concussion and a wrist injury that still lingers, which gives her comfort in throwing in the towel now.
"I went through surgery and complications throughout the recovery process. I wasn't even sure if I was going to compete again, let alone complete at that level," she said.
"To be on the national team again and go to a World Championships, it was a great accomplishment. I don't need to take the chance at getting injured again."
Follow your passion
Sochi 2014 was never in the mind of Forest, who will now shift her focus to the classroom, where she'll pass the torch to the next generation through numerous public speaking engagements.
To date, she's met with more than 5,000 students at 120 schools in her native Quebec.
"One of my main messages I tell them is that whatever you like to do in life, follow your passion, never give up and always believe in yourself," Forest said.
"Make sure you have the right people around you to give you the chance to accomplish your dream."
Those dreams came true for Viviane Forest in her Paralympic career.
Right up to the very last honourary run.
Related Images