New Russian coach says wheelchair curling title up for grabs
Russia will try to defend their title at next week's World Wheelchair Curling Championships on their home ice in Sochi.
08 Feb 2013
Imagen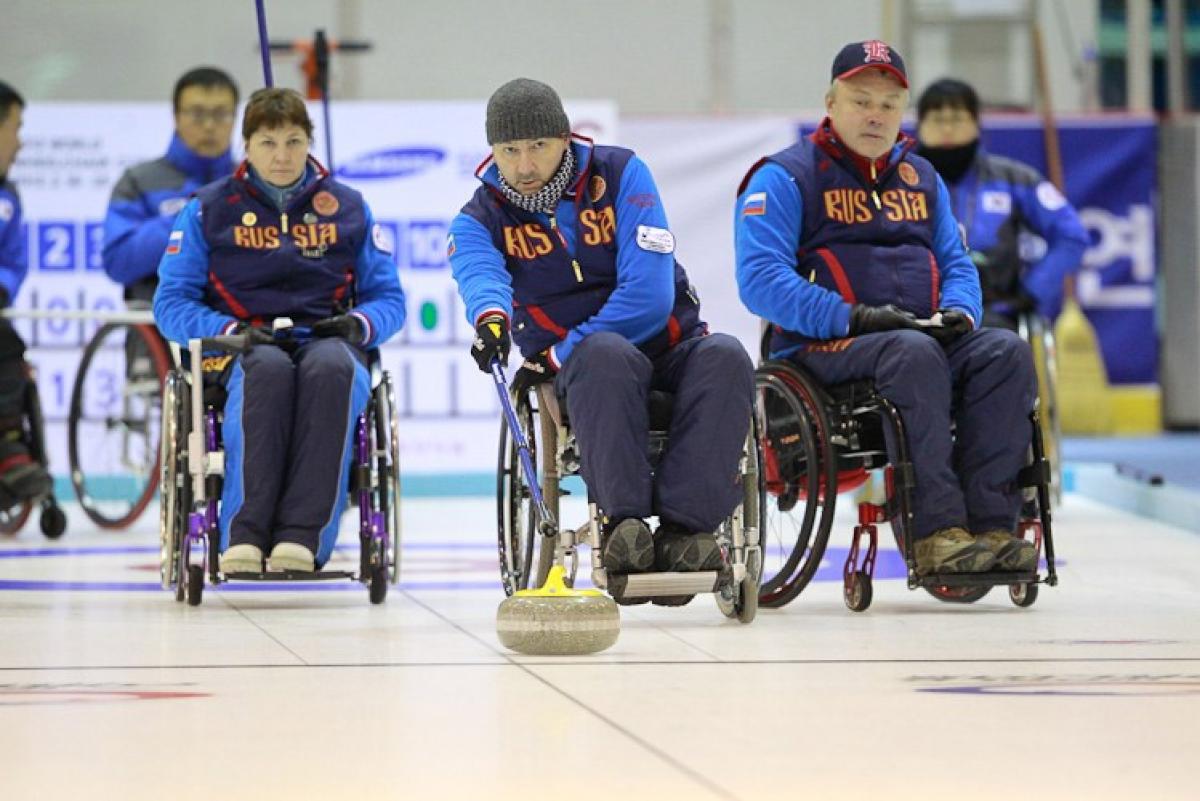 ⒸWorld Curling
By Nate Williams | For the IPC
"We understand that to defend the title is harder then to take it. But I feel we are in good condition, a little bit better than one year ago."
At last year's World Wheelchair Curling Championships, Russian head coach Vladimir Shevchenko passed away as a result of cancer during the event, and then his team went on to win the title and its first-ever medal in the sport on the international stage.
Russia will now try to defend their title next week at the 2013 World Wheelchair Curling Championships, which will be held on their home ice in Sochi from 16-23 February.
The competition will also serve as the sport's test event for the Sochi 2014 Paralympic Winter Games.
Russia won their championship crown in 2012 with a 9-1 victory over Korea under Anton Batugin, who took over the head coaching reigns.
Batugin said believes the sport is a very open competition where on a good day any team can win, and he thinks that this year's competition could throw up a few surprises.
"There's always a chance for a not famous team to win a game against a champion," he said. "Everything can change in one shot."
"I think teams that came from the qualification rounds could show good curling and take high places. Finland wants to go to Sochi in 2014 and they have to take some qualification points, and Norway always has a strong team. Slovakia is a dark horse – we haven't heard anything about them from the last year. We also haven't seen Sweden. So curling, and especially wheelchair curling, is very interesting, because it always could be a surprise."
In Sochi, the Russian team will be skipped by Andrey Smirnov, as Marat Romanov, Alexander Shevchenko and Svetlana Pakhomova join him on the ice. Oxana Slesarenko will be the team's alternate.
As the coach, Batugin thinks the team made a great progression toward their gold-medal achievements this year since receiving financial backing from the Sport Ministry.
He hopes to continue the work done by Shevchenko and continue the programme's success through the Sochi 2014 Games.
"The first five years, it was just on enthusiasm from all sides – from athletes, from coaches, and from club managers.
"Then it became more professional. We got some money from the Sport Ministry. It chose the head coach of the Russian national team, and since that time we started to be more successful in competitions, we had more practices and got new equipment.
"This coach built a team, but unfortunately he was sick and died in the beginning of 2012. So, I am, together with my colleagues, continuing his beginnings and trying to move wheelchair curling in Russia to high horizons."
The 32 year-old has over 11 years of experience in curling involving many different roles. He started out as a curling instructor at a club in Moscow, and he is still a competitive curler himself.
"I've been to European Championships, Worlds, World Juniors and the Torino Olympic Games as an ice technician, sometimes as an umpire and twice as a player," he said.
Now, in his new role as head coach, Batugin explained that last year's gold-medal game was hard to watch as Russia had already lost to Korea twice in the earlier rounds.
"To be a coach and to watch the game is always harder than to play," he said.
"The score 9-1 looks large, but the game wasn't simple. Just some critical mistakes from Koreans gave us the chance to win the gold medal."
Korea will be back on the ice at the Championships, along with last year's bronze medallists, China. Other teams competing include: Canada, Finland, Norway, Scotland, Slovakia, Sweden and USA.
Batugin said Russia's preparations for this year's competition are even stronger after having competed against – and often beating – able-bodied teams.
"We participate not only in wheelchair tournaments, but also we are competing with able-bodied athletes, and very often we win them," he said.
"We understand that to defend the title is harder then to take it. But I feel we are in good condition, a little bit better than one year ago."
Related Images