No. 25 Canada win the world title on home territory
After finishing sixth at London 2012, the Canadian women's wheelchair basketball team made more than amends at the World Championships.
07 Dec 2014
Imagen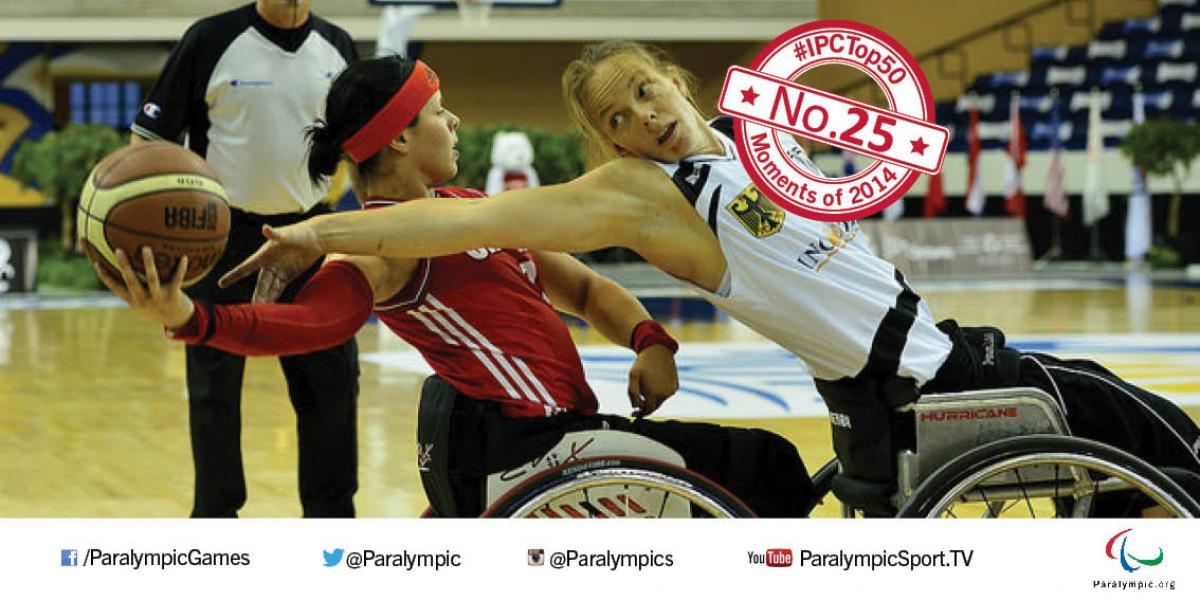 ⒸWheelchair Basketball Canada
By Joel Mackenzie | for the IPC
"One bounce of the ball and the game could have easily gone the other way."
In 2014, the Canadian women's wheelchair basketball team reclaimed the mantle as the world's number one team when they won the IWBF Women's Wheelchair Basketball World Championships.
What makes this moment so special in the IPC's Top 50 Moments of 2014 is not that they did it in front of friends and family on their home court in Toronto, Canada, or that they did it just two years after finishing in sixth place at London 2012.
What makes this moment stand out is that to complete the fairytale, Canada had to defeat all three medallists from the 2012 Paralympic Games in three consecutive days.
A veteran of six Paralympic Games and a member of three gold medal winning teams (1992, 1996, 2000), Canada's Tracey Ferguson acknowledges that while she has played in some very successful teams throughout her career, there was something very special about the Canadian team that took the floor in Toronto.
"We were obviously disappointed with sixth in London; we thought we had a team with a lot more potential than that.
"We just lost the wrong game at the wrong time and it is what it is but we really used London as a learning experience because we do have a really talented team.
"Our team's undergone a lot of growth and development over the last few years and sometimes people ask me why I stay but, I just saw so much potential with the group of players coming through and wanted to be a part of that rebuilding."
The toughest game
After finishing second in their pool after the qualifying rounds, Canada's road towards gold would see them matched up with a Paralympic medallist from 2012 in every single one of their play-off games.
Following a comfortable 16 point quarter-final win against Australia, Canada moved on to face the undefeated Netherlands in a semi-final game that will likely go down as the match of the tournament.
"From a historical standpoint, I would say the semi-final regardless of who you're playing is always the toughest game in my mind," said Ferguson.
"In that game in particular I mean, one bounce of the ball and the game could have easily gone the other way."
Trailing 74-73 with nine seconds remaining, the dream of a gold medal on home soil looked over… but somebody forgot to tell Canada.
"They took a one point lead with nine seconds left and we were down after leading for a big chunk of that fourth quarter.
"We had no choice; we had to knock down a shot.
"Our couches drew up a great play and we executed but it never felt stressful out there.
"It was just like, you know we've got a chance, we're in this game and we just had the confidence in each other to get the job done."
Canada beat the Netherlands 75-74 with the last shot of the game and went on to defeat the reigning Paralympic Champions, Germany, the following day to complete the fairytale.
Winning streak
Three victories against three Paralympic medallists in three days.
In her 24 years on the Canadian National Team, Ferguson said she will never forget that feeling of winning gold at home in front of a stadium packed full of friends and family.
"It's exciting to know that everyone in the crowd is on your side but at the same time, when I'm out there, I don't know that I hear them a tonne.
"The second that horn blows you're high fiving your teammates; that's when and you look up in those stands and you see your family and friends and the flags waving and that's pretty special.
"It was just really great for my family to be able to share in it.
"I've been very fortunate that I've had family members travel to Paralympic Games to watch me play so I'm incredibly grateful for that, but I've had some family members that haven't been able to see me play as much.
"My brother and his wife were in the stands and my nieces and nephews came out to a bunch of other games and to be able to share my passion with them and have them celebrate it with me was really special."
Visit the IPC's Top 50 Moments of 2014 campaign page for more top moments.