No. 36: Perfect shot with moments to spare
With seconds left on the clock, Greece's Greg Polychronidis was just one ball away from his dream of Paralympic gold. His winning shot, when the pressure was on, is the No. 36 moment of 2012.
26 Nov 2012
Imagen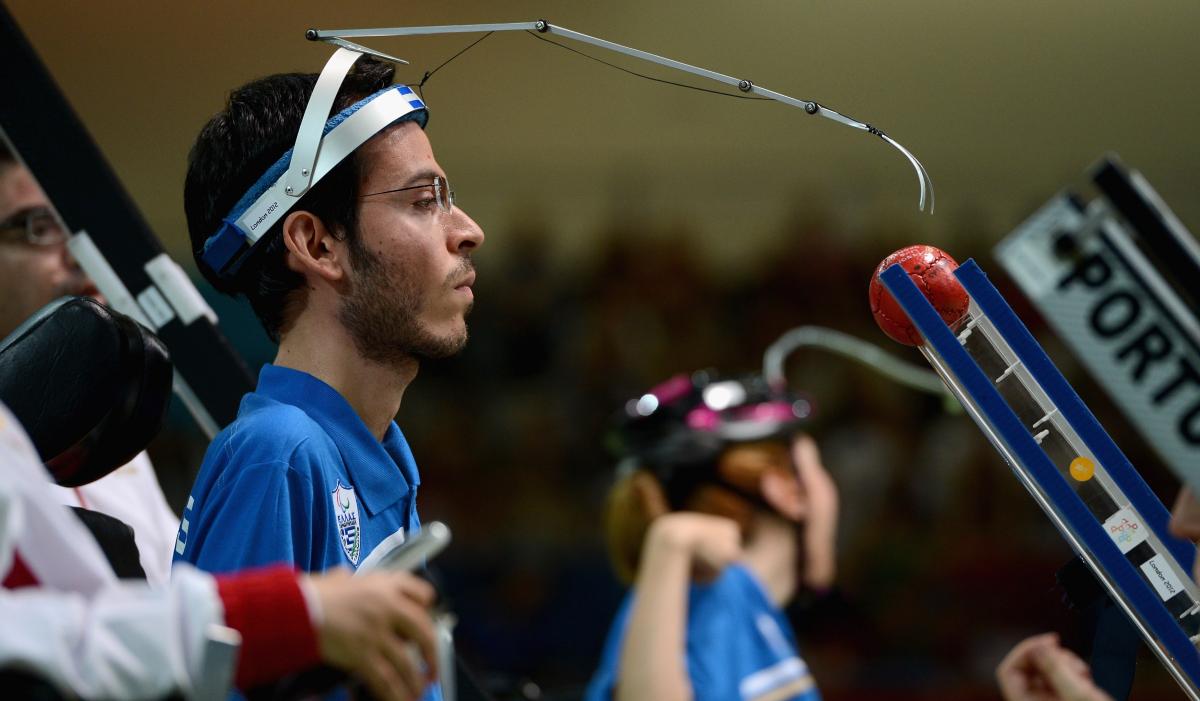 ⒸGetty Images
By IPC
"I felt really proud because I managed to realise my dream and the fact that my country's national anthem and flag would be at the most significant event for people with a disability."
We all have those crunch-time moments in our life when the pressure of the world is on our shoulders and it seems like what happens in a few moments could define our destiny.
For Greece's Greg Polychronidis, that moment came just after 16:00 on 4 September in the fourth end of the BC3 pairs finals against Portugal at London 2012.
The atmosphere inside the ExCeL arena was tense. Greece had been leading 4-0 but it looked like they could lose the whole game in the final end.
Everything came down to one ball with seconds left on the clock, and the 31-year-old put Portugal in a position where it was nearly impossible for them to win.
"I cried when I won," Polychronidis said. "I thought I would cry at the medals ceremony but I cried on the court just when the game was won."
Polychronids, who has been nominated for Greece's Athlete of the Year Award, started the game with partner Nikolaos Pananos. He was anxious from the start to win Paralympic gold – the only medal missing from his collection.
The pair gained a healthy lead, scoring 2-0, 1-0 and 1-0 in the first three ends.
With a comfortable position, Polychronidis decided to substitute Pananos for Maria-Eleni Kordali to allow her to play in the final.
Before they knew it, Kordali had spent all her balls and Polychronidis only had two left. Because it had been his decision to let her play, he felt it was his responsibility to win.
"I was alone, but I just really wanted her to play in that game," he said. "I believing in her strength and knew even if she does not make it, I can make it on my own. And that's how it ended. I managed to win. I even had one more ball, so maybe if I missed I would have another chance.
"I managed to do a perfect shot. After that the Portuguese could not be able in any way to take four points. That shot was just a few seconds before the finish of the game, so that was very emotional."
Polychronidis shouted out for joy after he landed his ball next to the white jack ball. Portugal gained some consolation, winning the final end by a single point, but it was not enough to win the game.
He did not know it yet, but Polychronidis would be the only Greek athlete to win gold at either the London Olympics or Paralympics.
"I felt really proud because I managed to realise my dream and the fact that my country's national anthem and flag would be at the most significant event for people with a disability," he said.
"That's huge. It is a dream.
"Then of course I had personal satisfaction that I finally managed to win a gold medal because in Beijing I was second."
After the euphoria of London, the gold-medallist returned to a very troubled country, joining in with demonstrations against the Greek austerity measures.
"It was like going from heaven to hell. Everything was very difficult here," he said, going quiet for a moment.
"That's life. You have to fight for everything."
Polychronidis, who has spinal muscular atrophy, said the economic situation has already had an effect on elite sport in Greece. At the Beijing 2008 Paralympics, the nation garnered 24 medals, five of them gold.
In 2012 they won 12 medals, and only his was gold.
"Because of that gold, I was offered the microphone to talk about the needs that a person with a disability has and that we are already on our limits of survival because there are many people that don't have their families and cannot support themselves," Polychronidis said.
"All that they do is make the weak pay, not the strong ones."
Editor's Note: For the final 50 days of the year, the IPC will count down the year's top moments in Paralympic sport, culminating with the year's best moment on 31 December.
The 50 moments were selected by nominations from National Paralympic Committees and International Federations and are based on sport performance, emotional moments, media attraction and athletes' personal stories.
The IPC would also like to call on the public to submit their own nominations for what they believe was the top Paralympic moment of 2012. They can do so by emailing ipc.media@paralympic.org, or by leaving a comment on www.Facebook.com/ParalympicGames or sending a tweet to @Paralympic.
Related Images