Paralympic Day host Jeremiasz sees value of historic celebration beyond Paris 2024
To be held on Saturday, 8 October, Paralympic Day will feature entertainment, motivational speeches, and opportunities for visitors to try out Para sports and meet more than 150 athletes
07 Oct 2022
Imagen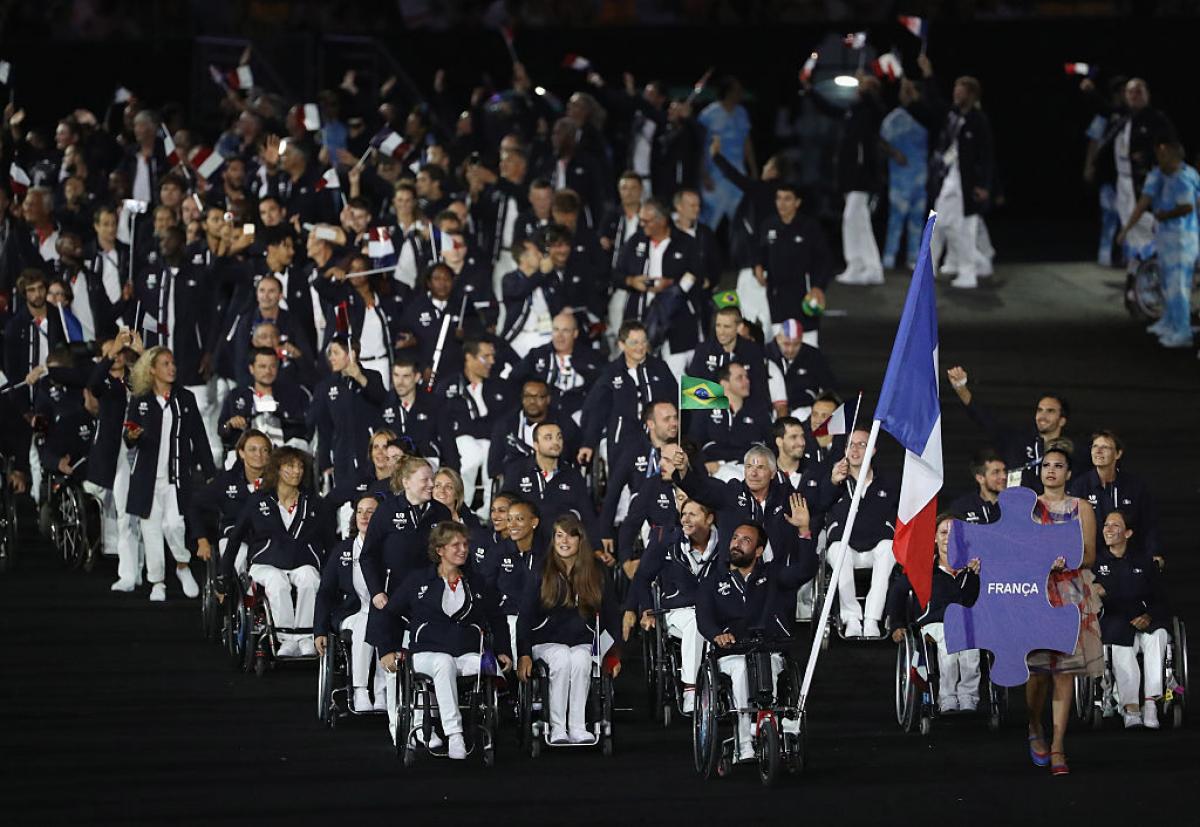 ⒸGetty Images
By Lena Smirnova | For the IPC
For 12 days in two years' time the world's attention will be on Paris as the French capital hosts the 2024 Paralympic Games.
But for Paris 2024 Ambassador Michael Jeremiasz, it is the days that come before and after the Games that matter the most. And one day in particular.
A four-time Paralympic medallist, Jeremiasz has dedicated his life to promoting Para sports. When Paris 2024 hosts the first ever Paralympic Day in France on Saturday, 8 October, the wheelchair tennis legend will be the event's presenter and one of its star attendees. 
"In France, if we want to have full stadiums, if we want to have people changing their vision about disability, that's the kind of powerful tool that we need to exploit, the Paralympic Day, the Paralympic Games," Jeremiasz said. "To me, to organise the Paralympic Games just for the sake of it doesn't bring anything. Organising the Paralympic Games as a powerful tool and to speed up our ability to accept each other and to understand each other, that's where to me it gets interesting."
A day for Para sports
Set to take place in the iconic Place de la Bastille, the Paralympic Day's packed programme will feature entertainment, motivational speeches, as well as opportunities for visitors to try out about 15 Para sports and meet more than 150 accomplished athletes.
Jeremiasz, a member of the Athlete Commission for Paris 2024, will be the presenter on the day. The Paris native is a successful wheelchair tennis player whose competitive career spanned from 2001 to 2016 and brought many accolades, including a gold medal in men's doubles at the Beijing 2008 Paralympic Games. 
"I want it to grow," Jeremiasz said of his key message on Paralympic Day. "I want any kid or young adult or any disabled person to know that sport is accessible to them, that sport is an opportunity to get out of a protected environment, a medicalised environment, to get friends, to have fun, to live a healthier life. You are quite a sedentary population when you're disabled, especially when you're in a wheelchair so you need sports to live better, to live longer. It helps with your quality of life."
Advocacy for disability rights is something Jeremiasz has been passionate and vocal about for many years. In 2011, he founded the charity Comme les Autres, which gives people who have recently acquired a disability the opportunity to try Para sports. Started 11 years ago by Jeremiasz, his wife and his brother with their own money, the charity now has 30 employees and has helped almost 1,000 people.
In his calls for more disability rights, Jeremiasz has often campaigned for a separate day to celebrate Para sports. Now his call has been heard as this will be the first time that Paralympic Day will be held in France.
The French capital previously hosted Olympic Day, an annual holiday that is celebrated around the world on 23 June. This year the Olympic Day celebrations in Paris also featured Para sports, including wheelchair basketball, sitting volleyball and boccia.
"Because we are organising the Games, we decided to bring Para athletes and to involve Para athletes to advertise Paralympic sports, but that was very small, the exposition was very small, whereas this time we are going to communicate all over France and all over the world about Paralympic Day - the day of the Paralympics and the day where we celebrate Para athletes, the day we let the public discover all the sports. That's what at stake."
Beyond Paris 2024
Jeremiasz's efforts to promote Para sports are not limited to Paralympic Day. The four-time Paralympian is eager to get his message about inclusion and opportunity beyond Paris and across the country. 
In May 2020, a documentary about Comme les Autres was released on the French paid channel Canal+. The documentary chronicles a sport trip that Jeremiasz's charity organised for people with disabilities and looks at the power of sport to make them feel more independent and included in society.
Two years since its initial release, Jeremiasz's ambitions have grown and he wants more people to see it.
The Paris 2024 Ambassador is planning to release the documentary again in October 2022, this time on public television. He is also in discussions with France's Ministry of Education to screen the documentary in every secondary school in the country.
Paralympic Day too, he says, will help to spread the message of inclusion within French society where an estimated 12 million people have a disability.
"At the moment, disabled people are the most discriminated minority in France. For the last three years we are the most discriminated minority so obviously there's a lot to do in terms of employment, in terms of universal accessibility, in terms of access to sports, culture, sexuality, to housing, to everything. And I'm not saying the Paralympic Games are going to change everything from one day to another, but they will definitely speed up the process," Jeremiasz said.
"I want to see many more disabled people believing that they have the right to do some sport activities and, more globally, I want our society to understand that at the end of the day, we're the same. We can't judge people on their ability or inability to walk, jump, run, see. That just doesn't make sense."