Pearson to Encounter Puch for First Time in London
Great Britain's Lee Pearson may be one of the most decorated Paralympians of all time, but there is an Austrian rider, Pepo Puch, who may dethrone him at the London Paralympics.
08 Jul 2012
Imagen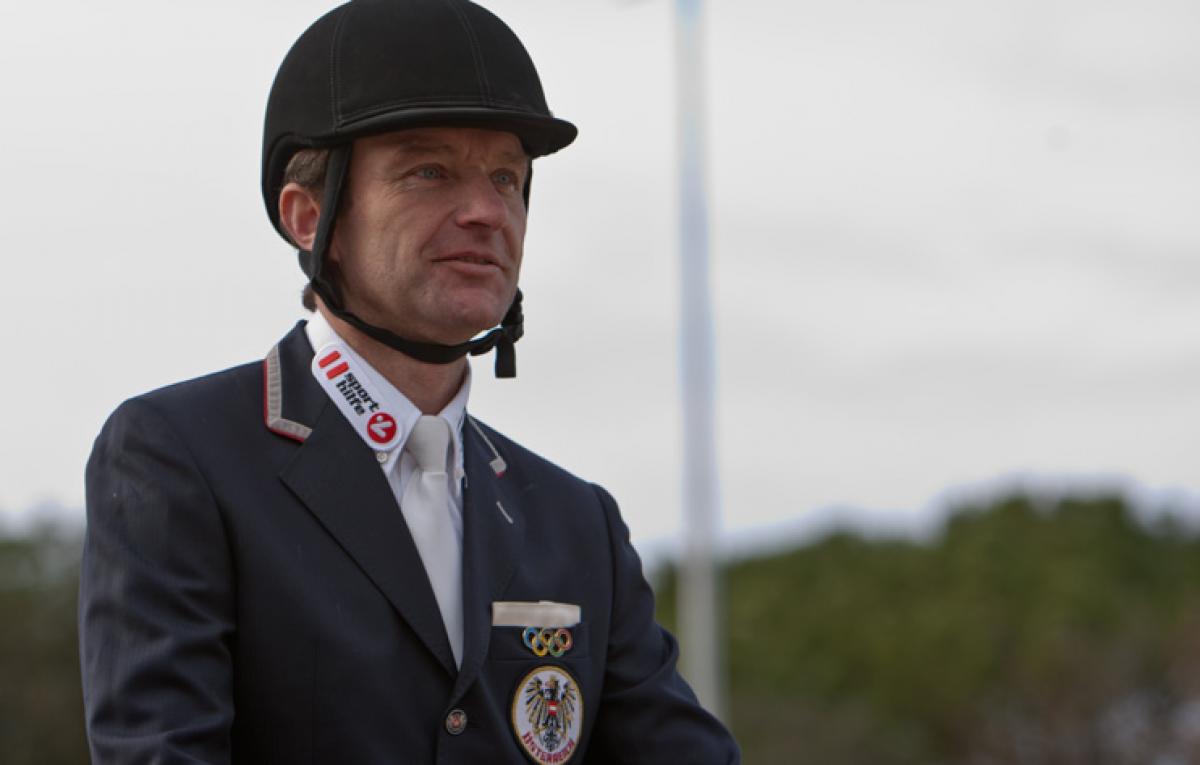 ⒸPepo Puch
By IPC
"I never expected to be so successful."
Great Britain's dressage great Lee Pearson may be the favourite to top the podium at the London 2012 Paralympics, having won three gold medals at each of the past three Games in grade Ib. However, he has been out of competition for over a year with an injury, allowing another rider, Austria's Pepo Puch, to creep to the top of the world-ranking list.
The two riders have never met in competition. Their first confrontation will come at the Paralympic Games in Greenwich Park, London, on the afternoon of Saturday 1 September with the Championship Test, and again two days later for the Freestyle Test.
"He is an absolute great in this sport and has been part of it for so many years," said Puch. "He's an Englishman and the Games are in England and it's not my way to measure myself against him. For me it's important that things work for me."
"I never expected to be so successful. You are so dependent on the horses," said the self-deprecating Austrian.
"My goals are to get good results with my horses and to present these horses well. It's not about the final result, but more about the satisfaction that I, as a horseman, have done my best with my potential and the potential of my horse," said Puch, adding that winning a medal was not his biggest goal.
High expectation for Brit
Whilst Puch can afford to be more relaxed, there are high expectations on the 38-year-old British rider.
"It's a bit strange for me, I am excited but I am more nervous because I have a lot of pressure to do well," said Pearson.
"The ideal situation would be two individual gold medals and a team gold but that's obviously down to the gods, lady luck on the day and how my horses perform.
"But that's what the British public and the Equestrian public are kind of expecting. What I can do is give my best. If I ride to my best ability I will be very happy with my result, whatever my result is. If I ride badly then I'll be disappointed."
Whereas Pearson has already racked up nine Paralympic gold medals, Puch has only been riding in para-dressage for a couple of years. The former Olympic eventer was thrown from his horse in 2008, sustaining a spinal cord injury.
"After my accident it was a new and very different life than it used to be. You certainly couldn't compare it," said Puch.
In 2010 he was back on a horse, but unable to go to the World Championships that year because his mare, Fine Feeling, became injured.
There Pearson picked up gold in the Championship and Freestyle Tests scoring 70.87% and 82.00% respectively.
Puch begins to excel
But the following year, Pearson was thrown from his horse, breaking his back, and a further injury broke a rib.
Whilst he was recovering, Puch began to excel in at competition with two very different horses.
He won gold in the Championship test with 73.69% and silver in Freestyle 75.15% at the 2011 European Championships on Good Boy's Feeling.
"Good Boy's Feeling is really precise and really tries to do everything right. He really thinks a lot about what he is doing and why he is doing it," said Puch.
In Mannheim at the 2012 Maimarkt Tournament, riding a mare, Fine Feeling, he won double gold with 74.20% in the Championship Test and clocking his highest score yet, 80.66%, in the Freestyle Test.
"Fine Feeling is a show girl, who really likes to show off to the masses and be centre of attention," said Puch, who will decide with the Austrian team trainer, which horse to compete with shortly before competition begins in London.
Austria has one other rider, Thomas Haller, competing in grade II at the London 2012 Parlaympic Games.
Related Images