Poland's Paralympic discus champion Kosewicz thanks winter skills for summer success
Piotr Kosewicz, who won the men's discus throw F52 at the Tokyo 2020 Paralympic Games, says Para biathlon and discus throwing have 'a lot in common'
16 May 2023
Imagen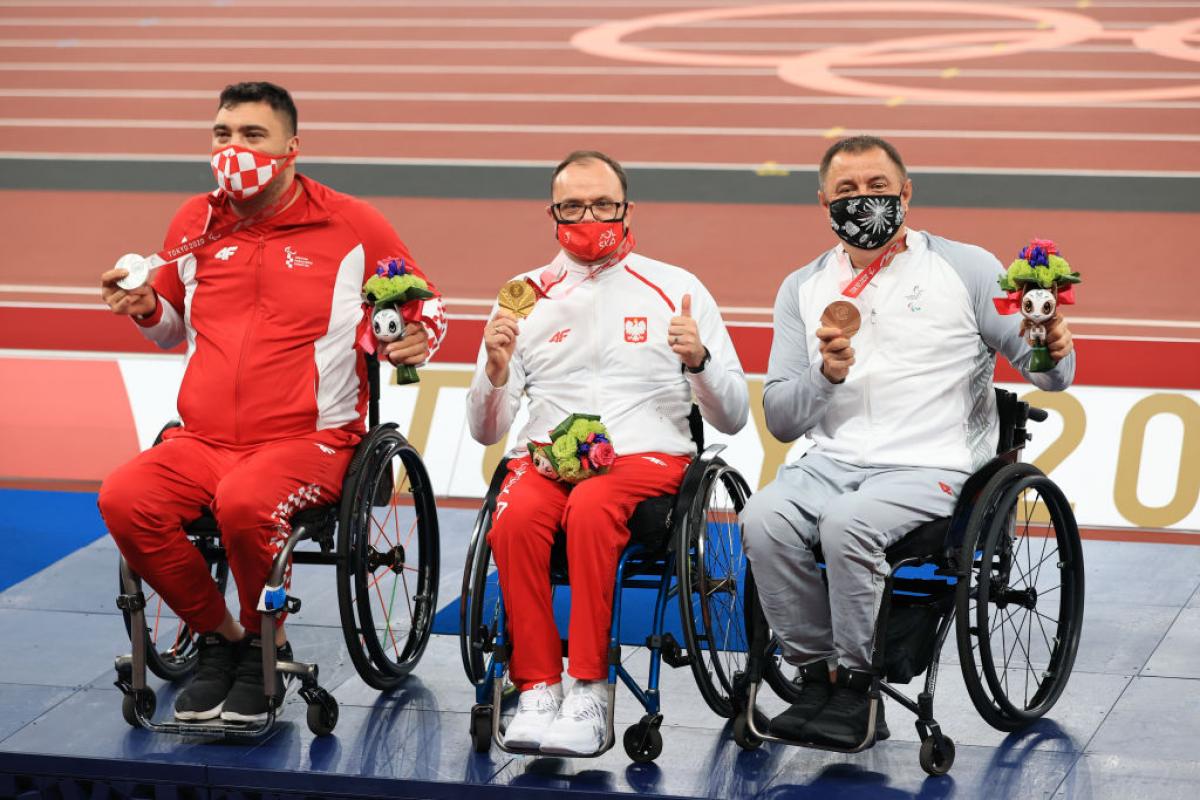 ⒸCarmen Mandato/Getty Images
By AMP Media | For IPC
At first glance, there does not seem to be a lot of similarities between competing in Para biathlon and throwing a discus. But Piotr Kosewicz believes his path to an athletics gold medal at the Tokyo 2020 Paralympic Games started on the snow.
"The time I spent training for skiing helped me in the discus throw," explains 48-year-old Kosewicz from his world championships training base. 
"Biathlon and the disc have a lot in common – diligence and monotony of repetitive movements, (which require complete) concentration. There are a lot of similar behaviour."
Kosewicz, who was paralysed at the age of 14 after falling off a pole, competed at the Nagano 1998 Paralympic Winter Games and Salt Lake City four years later but finished outside the podium each time.
A Second Career 
Kosewicz stepped away from Para biathalon in 2002, concentrating on his photography business instead - he has his own photography studio. However, he wanted to play sports again. 
He took up discus throwing and qualified for the Tokyo 2020 Paralympic Games after finishing second at the Dubai 2019 World Para Athletics Championships.
"My sports career began with winter sports and I was motivated to do so by improving myself. I was persuaded to train with the disc because I can train close to home. 
"The discus throw is a very technical discipline and releasing the disc at just the right angle is very difficult and requires monotonous work.
"I am a person with a spinal cord injury and I am paralysed, so this discipline is not easy."
If Kosewicz needs any motivation as he counts down to the Paris 2024 Paralympic Games, he only has to glance at the shiny gold medal on display in his living room. He also has the unwavering support of his family.
"My wife Magdalena encourages me on a daily basis together with my son Tymoteusz. They follow me on TV and of course cheer along with my whole family."
Looking back to Tokyo also leaves the athlete with a warm glow, whose winning throw of 20.02m pipped Croatia's Velimir Sandor by just 4 cm in the F52 classification.
"A great success is always remembered; I still (think fondly) of the Tokyo Paralympic Games and of the celebration with all my miasteczec (town). The whole neighbourhood came together and greeted me with wonderful, unforgettable moments," the Paralympian recalled.
"The first year after Tokyo I decided to rest. Of course I trained but not at 100 per cent."
The Next Chapter 
A full-time sportsman for now, Kosewicz also has a ready-made career as a photographer. 
"I am a professional athlete and I make a living from sport. The state, of course, supports me in the form of a scholarship. I also have a sponsor.
"Photography is my passion. I've been studying it for over 20 years. After finishing my career in winter sports, I created a job for myself and lived from it for a long time."
Kosewicz is currently gearing up for the World Para Athletics Championships to be held in Paris from 8 to 17 July 2023. The 10-day event in the French capital will give Para athletes the chance to familiarise themselves with next year's Paralympic set-up. 
With less than 500 days to go until Paris 2024, Kosewicz said that he plans to close the curtain on his sporting career after the Games.
"I don't have a special rival, every athlete is treated with respect, they are very outstanding athletes and I always treat each of them as serious contenders," Kosewicz said.
"I intend to retire after Paris 2024 and my ambition, is, of course, to show my best side."