Roundy determined to gain para-snowboard mass appeal
The USA's Nicole Roundy heads out in the IPC Alpine Skiing Snowboard World Cup in Copper Mountain, Colorado, USA, with her sights set on Sochi 2014 and raising awareness to new fans.
19 Jan 2014
Imagen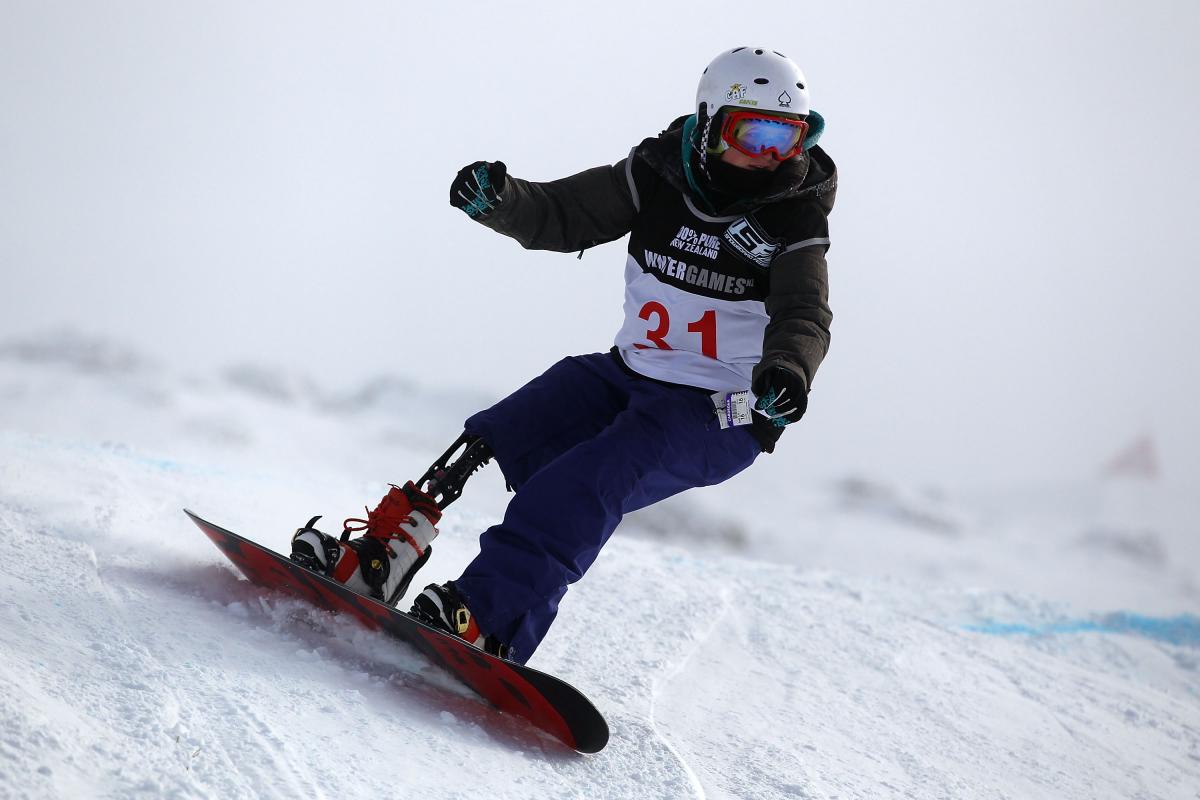 ⒸGetty/Hannah Johnston
By Jake Duhaime | For the IPC
"Even now, there are so many people who are coming out that we've never seen and I know that there are so many more out there, just riding, they probably don't even know it exists."
Snowboarding makes its debut at the 2014 Paralympic Winter Games, something that isn't lost on US athlete Nicole Roundy.
Currently ranked fourth in the world, the Park City, Utah resident will put her board to the test on Sochi's snowboard cross course, where riders speed through twists, turns and jumps to beat opponents down the mountain.
"We're the first group and this has never been done before. I'm most excited about that," Roundy said. "It's a passion. We're fueled by passion."
Roundy hit the slopes for the first time in 2004, a decade after losing her right leg during a battle with osteogenic sarcoma, a form of bone cancer. In the 10 years that followed, she became the first above-the-knee amputee to ever compete in her sport, made history by for-running the X Games halfpipe in 2009 and was named to her first para-snowboard team earlier this year.
"Snowboarders get into snowboarding because it is fun. You can go really fast and become a strong carver, or you can hit jumps or ride rails," Roundy said. "There are so many different things that you can do with the sport that you may not be able to do in others."
That's why, as snowboarding tried to gain acceptance in the Paralympic community, Roundy went back to school. She knows the mountain, her friends, the rails and the pipe will always be there, but obtaining a bachelors degree in Business Management was also a valued opportunity.
So when her Paralympic chance came last spring, it wasn't just a personal victory for Roundy, who took part in a campaign video as a sign of support, but for the entire snowboarding community.
"I'm excited that after all we've done together as a group that we're finally hitting a big milestone," Roundy said. "We've had several milestones, but this is probably one of the biggest ones."
In a sport defined just as much by culture as competition, Roundy is trying to adjust to more than an endless stream of prosthetic knees. She's trying to balance winning medals and maintaining those friendships so valued by her sport.
"Yes, this is a competition, but we're all really good friends and we love snowboarding," Roundy said. "It's a way of life and that's why you fall in love with it. You wouldn't keep going if you didn't have that."
Those new to snowboard cross will learn that its competitive aspect is as unpredictable as it is exciting, which has generated attention back in her home country. With the United States Paralympic TV rights-holder NBC devoting more resources and airtime than ever for Sochi 2014, Roundy sees this as her opportunity to inspire a curious audience.
"I think everyone is going to be really excited and it will be interesting to see how much the sport grows after 2014," Roundy said. "You can tell people what you do, or that you're an adaptive snowboarder, but it doesn't really sink in until you are right there.
"Even now, there are so many people who are coming out that we've never seen and I know that there are so many more out there, just riding, they probably don't even know it exists."
Nicole Roundy is in action from 17-19 January in the IPCAS Snowboard World Cup at Copper Mountain, Colorado in the USA.
Related Images