We call ourselves 'The Three Amigos'
Team USA snowboarders Mike Shea and Keith Gabel reveal their recipe for success – turkey impressions, camaraderie and paper-airplanes.
25 Nov 2013
Imagen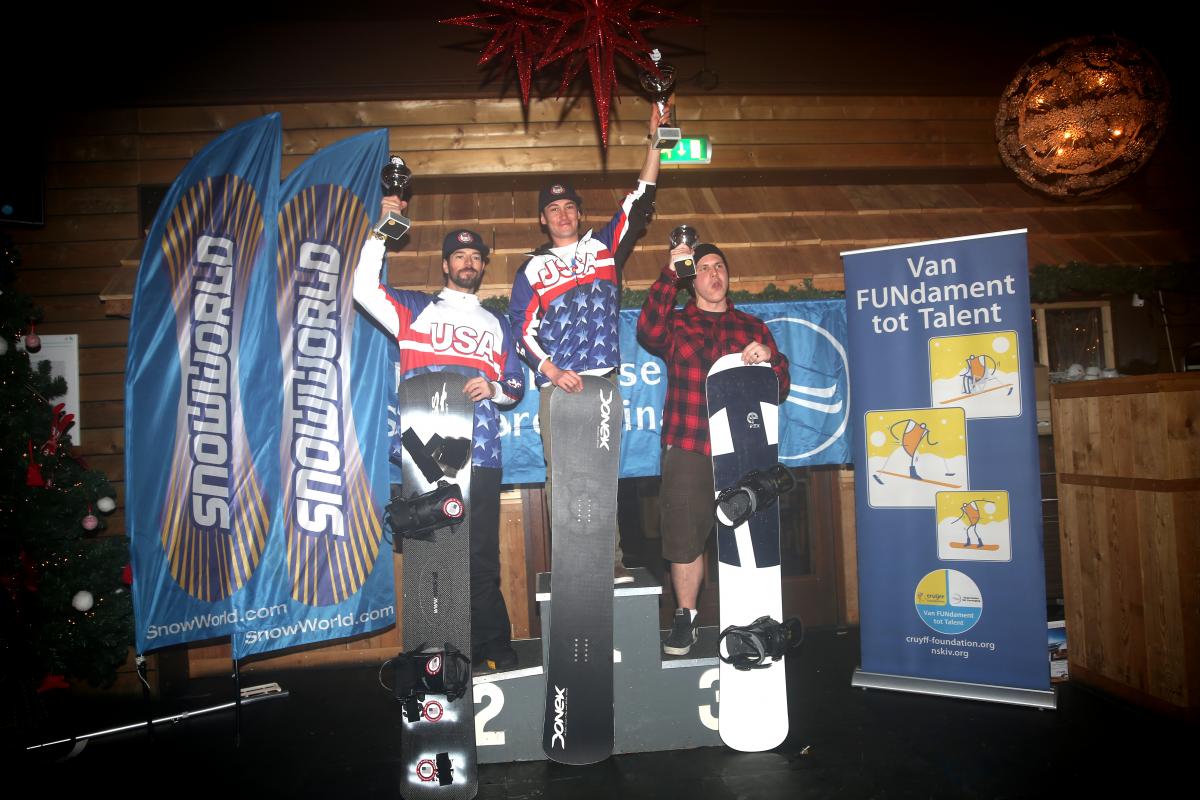 ⒸEdo Jugerius
By Will Davies for the IPC
"The whole team just kind of roots each other around really well and me and Evan (Strong) and Keith we have a really good relationship that's always worked well. We call ourselves The Three Amigos."
The sport of para-snowboard has grown considerably in the past few years and competition on the World Cup scene is booming. But outside of the highly competitive nature of many of the sport's best, it seems friendship and a spirit of adventure are driving things forward.
"The snowboard culture is quite different from any other winter sports activity," explains USA para-snowboarder Mike Shea.
"It comes from more of a playfulness background whereas the skiing comes from racing and competitiveness and boarder-cross is actually born from freestyle which is actually a lot looser.
"So the backgrounds are much different where we don't have the rivalry and competitive type thing that you would see between alpine ski racers or any other winter sport. It's more of a camaraderie," he said.
Shea has been at the opening IPC Alpine Skiing Snowboard World and Europa Cup event of 2013-14 at Landgraaf, the Netherlands, sweeping gold in both events, and with teammate Keith Gabel, the pair represent two of the sport's elite.
Gabel is ranked number three in the world for men's para-snowboard and says his bond with countrymen such as Shea, or them being "snow-bros", is at the centre of his success.
"Not only does he push me on the snow but he also pushes me off the snow," Gabel said, before picking up a bronze in the Europa Cup and silver in the World Cup.
"He's helped me in a lot of ways to become a better person overall. When I first started competing in 2010-2011 I was partying a lot and showed up with a mohawk (hairstyle) and crazy designs in the side of the head and Mike's way more laid back. I admire that because I've always been kind of the wild guy."
Between Gabel, Shea and teammate and para-snowboard world number one Evan Strong, USA have an incredibly talented group of riders all building their campaigns through the 2013-14 IPCAS Season towards the Sochi 2014 Paralympic Winter Games.
Shea says despite the competition, there's never any animosity derived from the desire for success and the wider squad comes first.
"The whole team just kind of roots each other around really well and me and Evan (Strong) and Keith we have a really good relationship that's always worked well. We call ourselves The Three Amigos," he said.
"I think that's why the US team has been so successful is we've been there as a team for each other and helping each other out quite a bit and pushing ourselves beyond the limit we ever thought was possible when we first started this thing.
Now when we race with able bodied people we're figuring out some of our times are on par with able bodied board cross racers so it's a testament to show that all of the progression that we've had over the years has definitely paid off."
There's a real playfulness about the competition between Shea and Gabel and they're always looking to make a positive impact upon each other. Whether it's a mid-week paper-airplane competition or Shea's efforts to match Gabel's turkey or peacock impressions, their friendship seems destined to ease any nerves ahead of para-snowboard's Paralympic Winter Games debut at Sochi 2014.
"I'm stoked it's here (the season ahead of Sochi 2014) and everything's moving really fast now that it is here," Gabel said.
"I don't know if I really feel pressure as much as I'd say that I'm excited. I'm really excited to have the opportunity and I'm excited to have our sport in it (the Winter Paralympic Games) more than anything."
Snowboarders have three World Cups to go this season ahead of Sochi 2014 in Copper Mountain from 17-19 January, Big White, Canada and Maribor, Slovenia, in addition to the final in La Molina, Spain, the same venue as the 2013 IPC Alpine Skiing World Championships.
Related Images