Time for Canada's Women to Bounce Back
Cindy Ouellet - one of Canada's youngest Wheelchair Basketball players and one of the few with Paralympic Games experience - is determined to get the team back on the podium.
16 Jun 2012
Imagen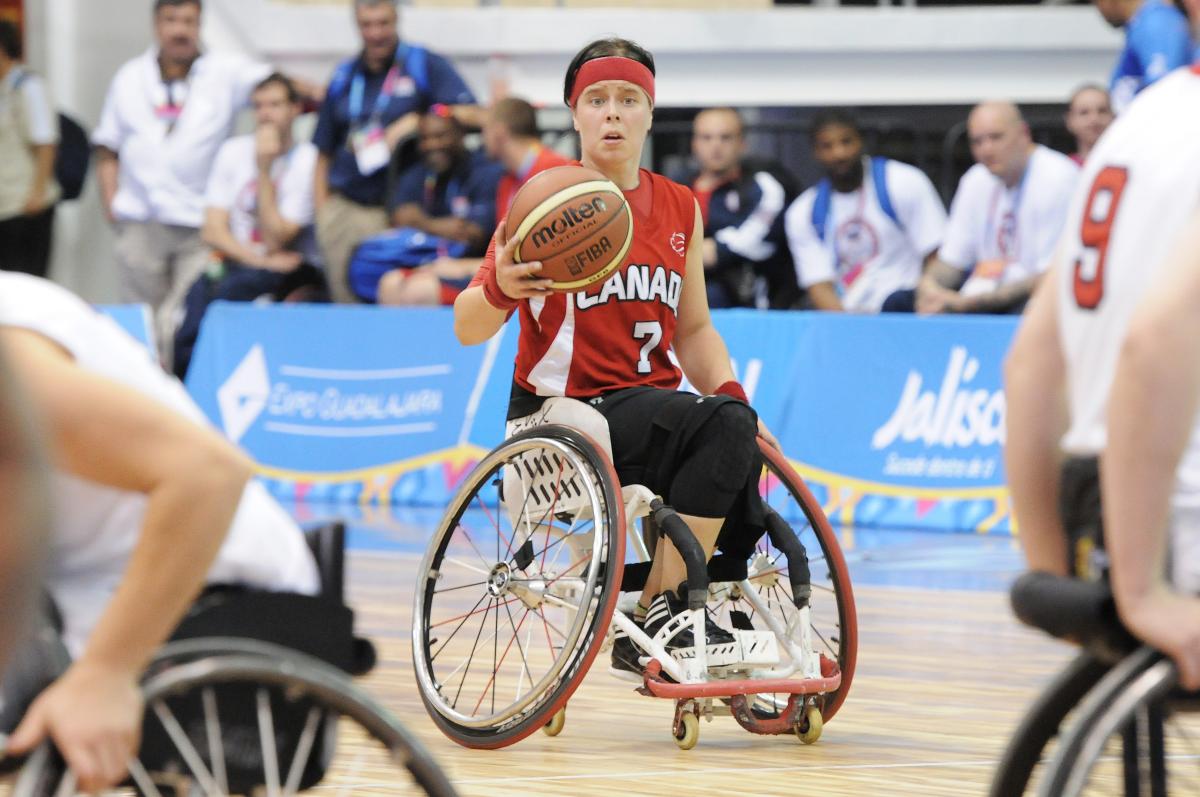 ⒸMatthew Murnaghan/Canadian Paralympic Committee
By IPC
"I think we're in good shape in terms of what we have in the line-up and what we can do in the court."
Before the Beijing 2008 Paralympic Games, Canada's women's Wheelchair Basketball team had built up a pretty solid reputation for winning medals, having stood on the podium at every Paralympics since Barcelona 1992, mostly with golds around their necks.
But in Beijing, the team came in a disappointing fifth place.
"We knew pretty early on that it was disappointing," admitted Cindy Ouellet, who was 19 at the time. "We did not do good."
"It's a bit more pressure now because we have a history of winning gold medals, especially since we didn't do so well in Beijing," she admitted.
"Obviously we want to bring back gold to continue our history of gold medals."
Since Beijing, half of the team has been replaced. The final 12-person roster for London 2012 includes 11 returning players from the squad that won silver at the 2011 Parapan American Games, six of whom have Paralympic Games experience.
"Our strength is that we have some experienced players and some new players, and obviously Janet [McLachlan] is one of the best shooters in the world," said Ouellet, a 3.5-point player.
McLachlan, a former successful stand-up player, switched to Wheelchair Basketball as a 4.5-pointer after sustaining a knee injury in 2005, and her experience on the court has been one of Canada's strengths ever since.
The team also has speed and, as one of the fastest players on the squad, Ouellet was given the nickname "the Hornet" in Canada's Super Athletes advertising campaign.
"We're a pretty quick team, so I think we're going to match up pretty well with Great Britain and USA, because they're pretty quick too," she said.
"We have a line-up where we play with big players, so that allows us to match up well with Germany and Australia. I think we're in good shape in terms of what we have in the line-up and what we can do in the court."
The 23-year-old already counts herself amongst the more experienced players, with three World Championships under her belt: the Juniors in 2009, Senior Women's in 2010, and Women's U25 in 2011.
"I think [Australia's] Cobi Crispin is the only other athlete that did that," she said.
She attributes a lot of her success to her love of sport even before she got bone cancer in her hip at the age of 12.
"I've always been in sports since I was very young. Even when I was able-bodied I did a lot of sports," she explained.
She continued with swimming and athletics, but some years ago, she realized she craved contact with teammates, so after a recommendation from her physiotherapist, she gave Wheelchair Basketball a try.
"I really like team sports because I used to play soccer, and I missed that point in my life, just having people around me," she said.
Ouellet has been training with the national team in Winnipeg since the start of June, and they will stay there until August.
They have a full-on training regime of two three-hour sessions each day, which can be exhausting, but faced with some really tough competition this year, she knows a gold medal is going to take a lot of hard work.
"I think the top teams are all the same level: Germany, Australia, USA, Canada, so it's going to be hard for us this year."
"We're going to have to play as a team," she sighed. "Not just one player's going to make a difference."
Related Images