Imagen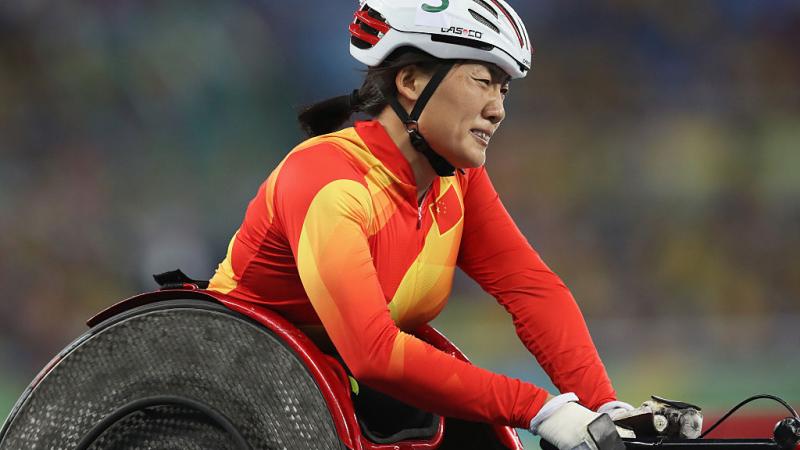 Zhou is one of the world's best T53 wheelchair racers who, during a glittering career, has won six Paralympic and seven world titles.
She made her Paralympic debut at Beijing 2008, having taken up the sport four years earlier at 16-years-old. Zhou immediately made her mark, medalling in each of her three races. She won 800m T53 (1:57.25) gold, 400m T53 (55.28) silver and 200m T53 (30.15) bronze.
Four years later at London 2012, she won 400m T53 (55.47) and 800m T53 (1:52.85) gold, as well as 100m T53 (16.90) silver and 200m T53 (29.40) bronze.
In 2014 she also won three gold medals at the Asian Para Games in Incheon, South Korea.
At Rio 2016 she retained her 400m T53 (54.43) and 800m T53 (1:47.45) titles, setting new world records in both events. She also set a personal best over 100m (16.51) to take silver and was part of the Chinese team that won gold and broke the world record in the 4x400m relay T53-54 (3:32.11).
Away from the Paralympics, Zhou has competed in five World Championships. Since her debut in 2006 she has won 15 medals, seven of which are gold.
Most recently, at the London 2017 World Championships, Zhou clinched 400m (55.22) and 800m T53 (1:54.72) gold as well as bronze over 100m against a formidable field which includes the likes of Australian Madison de Rozario, Great Britain's Samantha Kinghorn and the USA's Chelsea McClammer.
The impairment to her legs is the result of polio, an illness she contracted at age three.
Photo Gallery
Imagen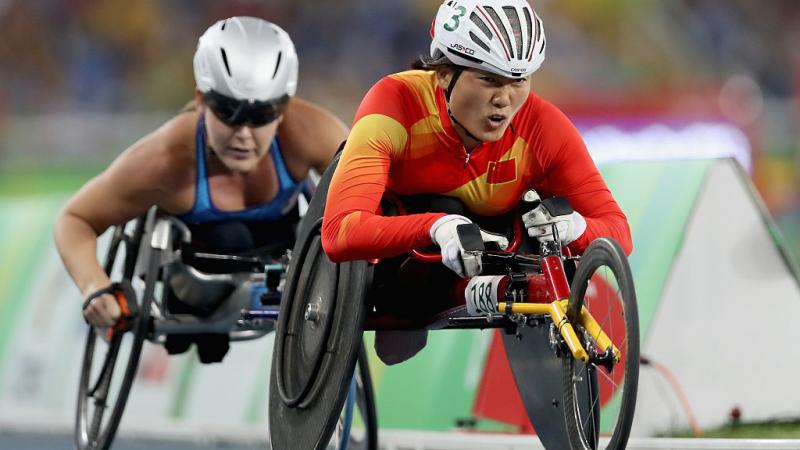 Imagen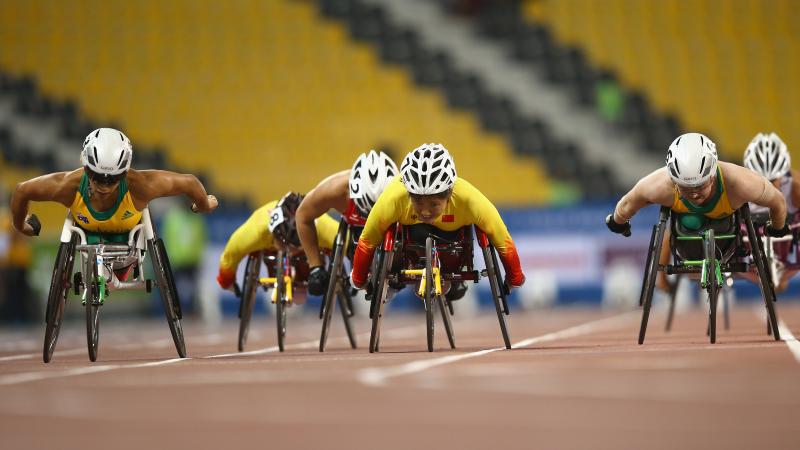 Results
IPC Athletics World Championships Assen 2006 (Assen, Netherlands)

| Event | Medal | Unit | Date | Rank |
| --- | --- | --- | --- | --- |
| Women's 100 m T53 | | Heat 2 | | 2 |
| Women's 400 m T53 | | Heat 2 | | 9999 |
| Women's 200 m T53 | | Final Round | | 5 |
| Women's 200 m T53 | | Heat 2 | | 2 |
| Women's 100 m T53 | | Final Round | | 2 |
2011 IPC Athletics World Championships (Christchurch, New Zealand)

| Event | Medal | Unit | Date | Rank |
| --- | --- | --- | --- | --- |
| Women's 100 m T53 | | Heat 2 | 2011-01-22 | 3 |
| Women's 100 m T53 | | Final | 2011-01-23 | 3 |
| Women's 800 m T53 | | Final | 2011-01-24 | 2 |
| Women's 200 m T53 | | Heat 2 | 2011-01-24 | 2 |
| Women's 200 m T53 | | Final | 2011-01-25 | 3 |
| Women's 4x400 m T53/54 | | Final | 2011-01-27 | 1 |
| Women's 400 m T53 | | Heat 1 | 2011-01-28 | 1 |
| Women's 400 m T53 | | Final | 2011-01-29 | 9999 |
IPC Athletics World Championships (Lyon, France)

| Event | Medal | Unit | Date | Rank |
| --- | --- | --- | --- | --- |
| Women's 800 m T53 | | Semifinal 2 | 2013-07-22 | 5 |
| Women's 800 m T53 | | Final 1 | 2013-07-23 | 1 |
| Women's 400 m T53 | | Semifinal 1 | 2013-07-26 | 1 |
| Women's 400 m T53 | | Final 1 | 2013-07-27 | 1 |
IPC Athletics 2015 World Championships (Doha, Qatar)

| Event | Medal | Unit | Date | Rank |
| --- | --- | --- | --- | --- |
| Women's 1500 m T54 | | Heat 2 | 2015-10-23 | 7 |
| Women's 1500 m T54 | | Final 1 | 2015-10-24 | 1 |
| Women's 400 m T53 | | Final 1 | 2015-10-25 | 2 |
| Women's 400 m T53 | | Heat 1 | 2015-10-25 | 2 |
| Women's 800 m T53 | | Heat 2 | 2015-10-26 | 5 |
| Women's 800 m T53 | | Final 1 | 2015-10-27 | 2 |
| Women's 5000 m T54 | | Heat 2 | 2015-10-28 | 4 |
| Women's 5000 m T54 | | Final 1 | 2015-10-29 | 2 |
| Women's 4x400 m T53/54 | | Final 1 | 2015-10-31 | 1 |
World Para Athletics Championships London 2017 (London, Great Britain)

| Event | Medal | Unit | Date | Rank |
| --- | --- | --- | --- | --- |
| Women's 1500 m T54 | | Heat 1 | 2017-07-15 | 10 |
| Women's 1500 m T54 | | Final 1 | 2017-07-17 | 9 |
| Women's 400 m T53 | | Heat 2 | 2017-07-18 | 1 |
| Women's 400 m T53 | | Final 1 | 2017-07-19 | 1 |
| Women's 800 m T53 | | Final 1 | 2017-07-23 | 1 |
| Women's 100 m T53 | | Final 1 | 2017-07-23 | 3 |
Dubai 2019 World Para Athletics Championships (Dubai, United Arab Emirates)

| Event | Medal | Unit | Date | Rank |
| --- | --- | --- | --- | --- |
| Women's 100 m T53 | | Heat 1 | 2019-11-07 | 3 |
| Women's 100 m T53 | | Final 1 | 2019-11-08 | 2 |
| Women's 400 m T53 | | Final 1 | 2019-11-09 | 2 |
| Women's 400 m T53 | | Heat 2 | 2019-11-09 | 2 |
| Women's 800 m T53 | | Final 1 | 2019-11-12 | 3 |