Imagen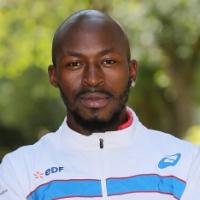 Jean-Baptiste Alaize
Athletics
Jean-Baptiste Alaize's outstanding story of overcoming adversity is told in the Netflix documentary 'Rising Phoenix' released on August 2020, where he is featured among nine Paralympians.
The Frenchman and two-time Paralympian, who took bronze at the London 2017 World Para Athletics Championships, suffered from a traumatic childhood as he had his right leg was amputated after being attacked during an armed conflict in Burundi in 1994 at three years old. "They gave me a machete in the back, arm and leg. They left me for dead but I survived." He even witnessed his mother being assassinated.
After years in an orphanage, he was adopted by a French family and moved to Montelimar, France, in 1998. He took up the sport at 14 at school. Initially he wanted to hide his prosthesis from his classmates, but after he helped his team win a relay race, he was no longer ashamed. Alaize admits to enjoying long jump especially since it gives him the "sensation of flying."
He returned to Burundi in March 2013 and met his two sisters and other family members.
"I felt in my heart the need to know the truth about my past." In 2017, with the organisation Peace and Sports, he staged a sports competition called 'The Friendship Games of the Big Lakes' with young people from Burundi, Rwanda and the Democratic Republic of the Congo. "I wanted to show the kids that despite if we are Hutus or Tutsis, we can live together. Time has gone by, I do not have any more hate."

Results
2011 IPC Athletics World Championships (Christchurch, New Zealand)

| Event | Medal | Unit | Date | Rank |
| --- | --- | --- | --- | --- |
| Men's 200 m T44 | | Heat 2 | 2011-01-23 | 4 |
| Men's 200 m T44 | | Final | 2011-01-24 | 8 |
| Men's Long Jump F44 | | Final | 2011-01-25 | 6 |
| Men's 100 m T44 | | Heat 1 | 2011-01-25 | 4 |
IPC Athletics World Championships (Lyon, France)

| Event | Medal | Unit | Date | Rank |
| --- | --- | --- | --- | --- |
| Men's 100 m T44 | | Semifinal 1 | 2013-07-22 | 10 |
| Men's Long Jump T44 | | Final 1 | 2013-07-24 | 7 |
| Men's 4x100 m T42-47 | | Final 1 | 2013-07-27 | 5 |
World Para Athletics Championships London 2017 (London, Great Britain)

| Event | Medal | Unit | Date | Rank |
| --- | --- | --- | --- | --- |
| Men's Long Jump T44 | | Final 1 | 2017-07-17 | 3 |
Dubai 2019 World Para Athletics Championships (Dubai, United Arab Emirates)

| Event | Medal | Unit | Date | Rank |
| --- | --- | --- | --- | --- |
| Men's Long Jump T64 | | Final 1 | 2019-11-13 | 8 |