Imagen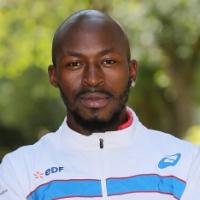 Jean-Baptiste Alaize
Athletics
Jean-Baptiste Alaize's outstanding story of overcoming adversity is told in the Netflix documentary 'Rising Phoenix' released on August 2020, where he is featured among nine Paralympians.
The Frenchman and two-time Paralympian, who took bronze at the London 2017 World Para Athletics Championships, suffered from a traumatic childhood as he had his right leg was amputated after being attacked during an armed conflict in Burundi in 1994 at three years old. "They gave me a machete in the back, arm and leg. They left me for dead but I survived." He even witnessed his mother being assassinated.
After years in an orphanage, he was adopted by a French family and moved to Montelimar, France, in 1998. He took up the sport at 14 at school. Initially he wanted to hide his prosthesis from his classmates, but after he helped his team win a relay race, he was no longer ashamed. Alaize admits to enjoying long jump especially since it gives him the "sensation of flying."
He returned to Burundi in March 2013 and met his two sisters and other family members.
"I felt in my heart the need to know the truth about my past." In 2017, with the organisation Peace and Sports, he staged a sports competition called 'The Friendship Games of the Big Lakes' with young people from Burundi, Rwanda and the Democratic Republic of the Congo. "I wanted to show the kids that despite if we are Hutus or Tutsis, we can live together. Time has gone by, I do not have any more hate."

Biography
Impairment information
Type of Impairment
Limb deficiency
Origin of Impairment
Acquired
Classification
T64, F64, P44
Further personal information
Languages
English, French
Higher education
Commerce, Real Estate Studies - National Institute of Sport, Expertise and Performance [INSEP]: Paris, FRA
Sport specific information
When and where did you begin this sport?
He took up the sport at age 14 at school in France. Initially he wanted to hide his prosthesis from his classmates, until he helped win a relay race.
Why this sport?
He practised equestrian sports before taking up athletics. He enjoys the long jump because it gives him the "sensation of flying". He says athletics also allows him to forget the trauma he experienced as a child. "During the conflict in Burundi, I ran with my mother to try to survive. Unconsciously when my coach told me to do five or six laps [in my first training session], I didn't listen and I did it until I was exhausted. After that, I spent one of the best nights of my life because until then I had flashes of the massacre. Running allowed me to get rid of all that."
General interest
Nicknames
JB, The Lion. (Facebook profile, 03 Aug 2018; nationthailand.com, 11 Aug 2017)
Hobbies
Travelling, extreme sports, mixed martial arts. (Athlete, 20 Aug 2018)
Memorable sporting achievement
Winning bronze at the 2017 World Championships in London, England. (France 3 Provence-Alpes Cote d'Azur's YouTube channel, 20 May 2018; Athlete, 20 Aug 2018)
Hero / Idol
Jamaican sprinter Usain Bolt, US sprinter Carl Lewis. (Athlete, 20 Aug 2018)
Injuries
An injury to his left thigh and a swollen right knee prevented him from competing at the 2019 French National Championships. (Facebook page, 30 Aug 2019)

He was involved in a road accident while driving his scooter home in February 2015, which resulted in torn ligaments in his left leg. He returned to training in September 2015. (leparisien.fr, 10 Mar 2015; Facebook page, 02 Sep 2015)

He suffered from a slipped disc in November 2014. (leparisien.fr, 10 Mar 2015)
Sporting philosophy / motto
"What does not kill you makes you stronger." (fr.ulule.com, 16 Jun 2016)
Awards and honours
He received an acknowledgement medal from French club AMSL Frejus for his 2018 performances. (amslfrejus.com, 18 Dec 2018)
Ambitions
To win a medal at the Paralympic Games in Tokyo. (leparisien.fr, 26 Dec 2017)
Impairment
His right leg was amputated after he was attacked during an armed conflict in Burundi in 1994 when he was age three. His injuries resulted in the amputation of his right leg. "They gave me a machete in the back, arm and leg. They left me for dead. I was all but dead for a week. I suffered serious internal hemorrhaging as a result of the four machete cuts and lost so much blood. They [the nursing staff] thought I had died on several occasions but I defied the odds and was out of danger by the end of the first week." (francetvsport.fr, 31 Aug 2012; athleworld.fr, 2012; lejdd.fr, 06 Jul 2018; Athlete, 20 Aug 2018; nationthailand.com, 11 Aug 2017)
Other information
MOVE TO FLORIDA
In 2020 he moved to Florida in the United States of America to train ahead of the Paralympic Games in Tokyo, and remained there in 2020 and 2021 after the postponement of the Games. He said the move was a result of attitudes towards race and people with impairments in France. "When I arrived in France and faced racism, it was very hard to see and hear such wicked racism, so I knew that was going to be very difficult. I have felt hatred, racism, and people's negative views on disability more than once. I'll never understand this. I needed to take stock and in Florida, there is a different mentality. I don't want people to think I'm at war with my country, not at all. But it's like a couple, if you don't say things, it's never going to progress. You have to talk to try to influence change." (Instagram profile, 16 Mar 2021; sport.francetvinfo.fr, 02 Sep 2020; paralympic.org, 10 Oct 2020)

CHILDHOOD
He witnessed his mother being murdered when he was age three during the Burundian Civil War, in the same attack that resulted in his impairment. After several years in an orphanage, he was adopted by a French family and moved to Montelimar, France, in 1998. He returned to Burundi in March 2013 and met his two sisters and other family members. "I felt in my heart the need to know the truth about my past." In 2017, with the organisation Peace and Sports, he staged a sports competition called The Friendship Games of the Big Lakes with young people from Burundi, Rwanda and the Democratic Republic of the Congo. "I wanted to show the kids that despite if we are Hutus or Tutsis, we can live together. Time has gone by, I do not have any more hate." (jb-alaize.com, 06 Mar 2014; francetvsport.fr, 31 Aug 2012; lejdd.fr, 06 Jul 2018; leparisien.fr, 26 Dec 2017)

RISING PHOENIX
He featured in the 2020 Netflix film 'Rising Phoenix', which focused on the stories of nine Para athletes. "It's crazy. I keep getting messages saying, 'It's great!' [There are] too many emotions. I cried. I accepted this project without even knowing its size. I knew it was going to be fun, because the director [Ian Bonhote] had done a huge job for the documentary on [fashion designer] Alexander McQueen, but honestly not at that point. I was even able to talk to Prince Harry. It's a dream come true. And something that I hope will change my life. (sport.francetvinfo.fr, 02 Sep 2020)

FILM
In 2021 a biopic film about his life called 'Mouguicha' was planned to be released, in which he played himself. He previously played a role in the French film 'Tout le Monde Debout' [Stand Up, Everybody]. "I am ready to take the risk to be the actor of my own story. There isn't any other, rather than me, who knows the feelings of my story. Nothing will be acted. Today I have the impression that my life is a film. I wanted the film to be named 'The Fabulous Destiny of Jean-Baptiste Alaize' but Mouguicha is stronger. That is my real name and it means the 'Lucky and Happiness Boy'. I changed my name after being adopted." (20minutes.fr, 17 Feb 2019; Facebook page, 14 Mar 2018)
Results
2011 IPC Athletics World Championships (Christchurch, New Zealand)

| Event | Medal | Unit | Date | Rank |
| --- | --- | --- | --- | --- |
| Men's 200 m T44 | | Heat 2 | 2011-01-23 | 4 |
| Men's 200 m T44 | | Final | 2011-01-24 | 8 |
| Men's Long Jump F44 | | Final | 2011-01-25 | 6 |
| Men's 100 m T44 | | Heat 1 | 2011-01-25 | 4 |
IPC Athletics World Championships (Lyon, France)

| Event | Medal | Unit | Date | Rank |
| --- | --- | --- | --- | --- |
| Men's 100 m T44 | | Semifinal 1 | 2013-07-22 | 10 |
| Men's Long Jump T44 | | Final 1 | 2013-07-24 | 7 |
| Men's 4x100 m T42-47 | | Final 1 | 2013-07-27 | 5 |
World Para Athletics Championships London 2017 (London, Great Britain)

| Event | Medal | Unit | Date | Rank |
| --- | --- | --- | --- | --- |
| Men's Long Jump T44 | | Final 1 | 2017-07-17 | 3 |