Imagen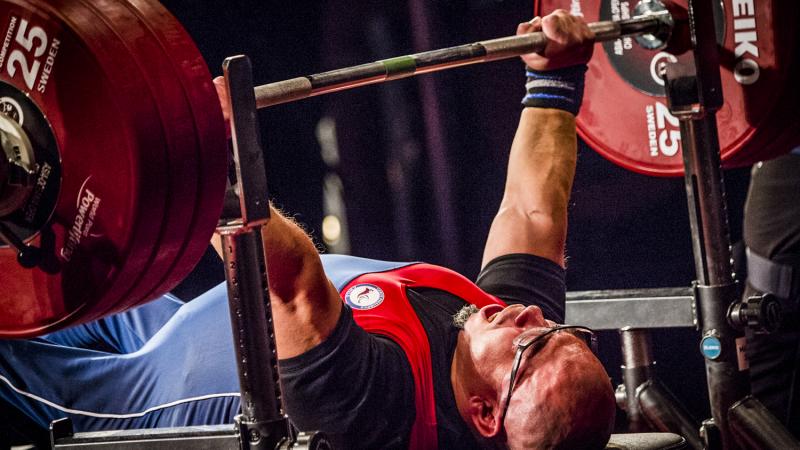 Juan Carlos Garrido
Powerlifting
Juan Carlos Garrido is one of Chile's most well-known and talented Paralympians.
The veteran powerlifter has enjoyed recent success around the world.
In 2018, he secured gold at the Americas Open Championships, silver at the European Open Championships and bronze in the Asia-Oceania Open Championships, all in the men's up to 59kg.
Before that, he ended in fifth place at the Mexico City 2017 World Championships. Garrido was widely expected to give Chile a medal at Rio 2016, but failed his three attempts. The Chilean is also the reigning Parapan American champion.
Garrido took up powerlifting in 1998 and competed for six years before retiring from the sport.
He went to Athens 2004 having prepared to take part in the men's up to 56kg, but the national federation mistakenly enrolled him in the up to 48kg. He tried to make the weight but was unsuccessful, and the disappointment resulted in him retiring.
But Garrido returned to Para powerlifting three months before the 2011 Parapan American Games in Guadalajara, Mexico, having been inspired by his daughter.
He initially played wheelchair basketball, until a friend suggested he should try powerlifting. He was naturally good at the sport and within three months was competing at the 1998 World Championships in Dubai, United Arab Emirates.
Results
IPC Powerlifting World Championships Kuala Lumpur 2002 (Kuala Lumpur, Malaysia)

| Event | Medal | Unit | Date | Rank |
| --- | --- | --- | --- | --- |
| Men's -52 kg | | Final Round | | 10 |
IPC Powerlifting World Championships Busan 2006 (Busan, South Korea)

| Event | Medal | Unit | Date | Rank |
| --- | --- | --- | --- | --- |
| Men's -67.5 kg | | Final Round | | 20 |
2014 IPC Powerlifting World Championships (Dubai, United Arab Emirates)

| Event | Medal | Unit | Date | Rank |
| --- | --- | --- | --- | --- |
| Men's Up to 59.00 kg MD | | Final | 2014-04-06 | 5 |
Mexico City 2017 World Para Powerlifting Championships (Mexico City, Mexico)

| Event | Medal | Unit | Date | Rank |
| --- | --- | --- | --- | --- |
| Men's Up to 59.00kg | | Final | 2017-12-03 | 5 |
Nur-Sultan 2019 World Para Powerlifting Championships (Nur-Sultan, Kazakhstan)

| Event | Medal | Unit | Date | Rank |
| --- | --- | --- | --- | --- |
| Men's Up to 59.00kg | | Final | 2019-07-14 | 3 |
Tbilisi 2021 World Para Powerlifting Senior World Championships (Tbilisi, Georgia)

| Event | Medal | Unit | Date | Rank |
| --- | --- | --- | --- | --- |
| Men's Up to 59.00kg | | Final | 2021-11-30 | 3 |
| Mixed Team Event | | Final | 2021-12-06 | 1 |