Imagen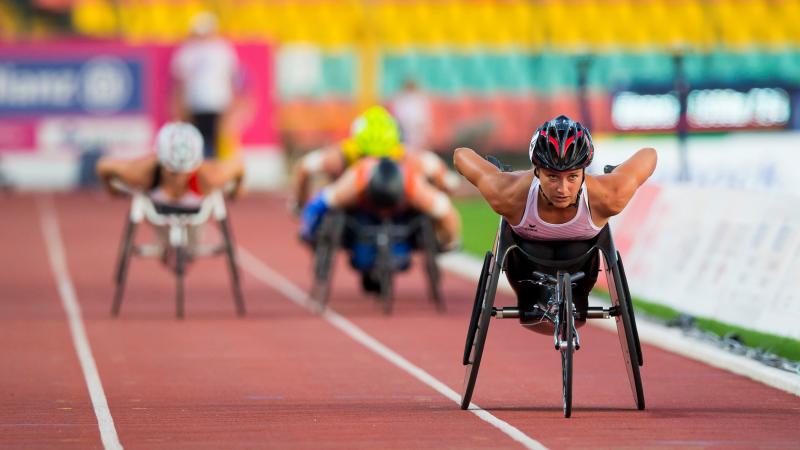 It was out on the roads that Manuela Schaer made the greatest impact in 2017.
The Swiss racer began the year with a second-place finish at the Tokyo Marathon in February, but come April she was at the top of the podium – a place she would become familiar with by the end of the year.
First place at the Boston Marathon in the USA was followed one week later with victory at the London Marathon in Great Britain. Even more impressively, Schaer set new course records both times.
In September she crossed the line first at the Berlin Marathon in Germany, then a month later took third in Chicago, USA.
She rounded the year off with victory in the New York Marathon, having finished in second place behind the USA Tatyana McFadden for the previous three years. Going in to 2018, Schaer sits top of the Abbott World Marathon Majors Series XI leaderboard.
Schaer made her senior international debut on the track in 2001 and competed in her first Paralympic Games at Athens 2004, where she won 200m T54 silver and 100m T54 bronze.
Four years later in Beijing she was on the podium again, winning 200m T54 bronze as Canada's Chantal Petitclerc stole centre stage, but she was less successful at London 2012, where her best results were two fifth places. The USA's Tatyana McFadden was now a major adversary and claimed three golds in London.
It was a similar story at Rio 2016 – McFadden and her US teammates Amanda McGrory and Chelsea McClammer enjoyed two clean sweeps of the podium, leaving Schaer out of the medals.
Schaer has also competed at four World Championships, winning marathon gold in 2013 – she also won 400m, 800m and 5,000m T54 silver that year.
Four gold medals went Schaer's way at the 2014 European Championships in Swansea, Great Britain, while most recently at the London 2017 World Championships she won 800m T54 silver.
Photo Gallery
Imagen
Imagen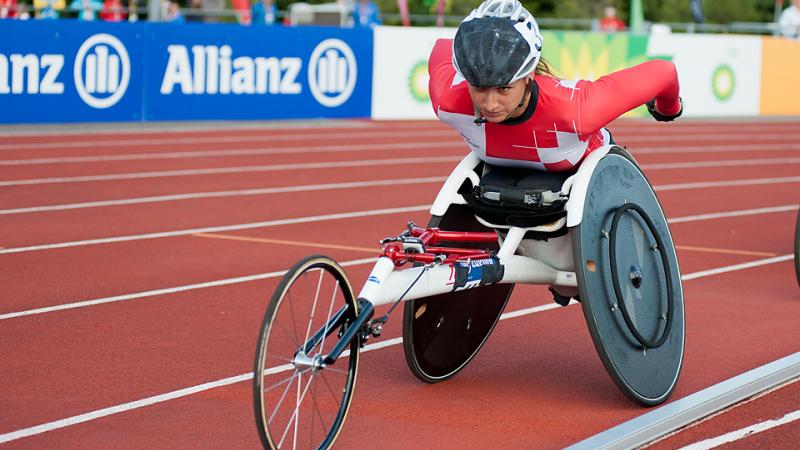 Imagen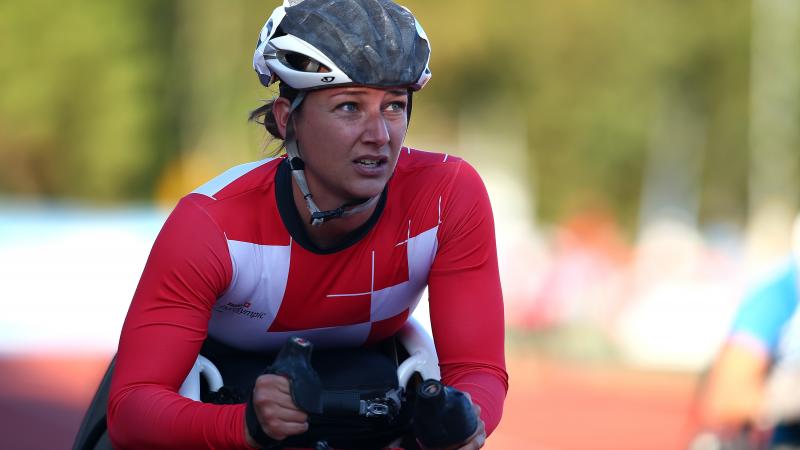 Results
IPC Athletics World Championships Villeneuve d'Ascq 2002 (Villeneuve d'Ascq, France)

| Event | Medal | Unit | Date | Rank |
| --- | --- | --- | --- | --- |
| Women's 100 m T54 | | Heat 2 | | 3 |
| Women's 400 m T54 | | Heat 1 | | 4 |
| Women's 200 m T54 | | Final Round | | 5 |
| Women's 200 m T54 | | Heat 2 | | 3 |
| Women's 100 m T54 | | Final Round | | 5 |
2011 IPC Athletics World Championships (Christchurch, New Zealand)

| Event | Medal | Unit | Date | Rank |
| --- | --- | --- | --- | --- |
| Women's 100 m T54 | | Heat 1 | 2011-01-22 | 2 |
| Women's 100 m T54 | | Final | 2011-01-23 | 5 |
| Women's 800 m T54 | | Heat 2 | 2011-01-24 | 3 |
| Women's 800 m T54 | | Final | 2011-01-25 | 4 |
| Women's 200 m T54 | | Final | 2011-01-25 | 3 |
| Women's 400 m T54 | | Heat 2 | 2011-01-28 | 2 |
| Women's 400 m T54 | | Final | 2011-01-29 | 3 |
IPC Athletics World Championships (Lyon, France)

| Event | Medal | Unit | Date | Rank |
| --- | --- | --- | --- | --- |
| Women's 5000 m T54 | | Semifinal 2 | 2013-07-20 | 6 |
| Women's 5000 m T54 | | Final 1 | 2013-07-21 | 2 |
| Women's 800 m T54 | | Semifinal 2 | 2013-07-22 | 2 |
| Women's 800 m T54 | | Final 1 | 2013-07-23 | 2 |
| Women's 1500 m T54 | | Semifinal 1 | 2013-07-24 | 5 |
| Women's 1500 m T54 | | Final 1 | 2013-07-25 | 5 |
| Women's 400 m T54 | | Semifinal 1 | 2013-07-26 | 3 |
| Women's 400 m T54 | | Final 1 | 2013-07-27 | 2 |
| Women's Marathon T54 | | Final 1 | 2013-07-28 | 1 |
World Para Athletics Championships London 2017 (London, Great Britain)

| Event | Medal | Unit | Date | Rank |
| --- | --- | --- | --- | --- |
| Women's 1500 m T54 | | Heat 2 | 2017-07-15 | 1 |
| Women's 400 m T54 | | Heat 1 | 2017-07-16 | 5 |
| Women's 1500 m T54 | | Final 1 | 2017-07-17 | 7 |
| Women's 400 m T54 | | Final 1 | 2017-07-17 | 5 |
| Women's 800 m T54 | | Heat 1 | 2017-07-18 | 3 |
| Women's 800 m T54 | | Final 1 | 2017-07-19 | 2 |
| Women's 5000 m T54 | | Final 1 | 2017-07-22 | 5 |