IPC podcast: Manuela Schär solves 'puzzle' to success
Swiss wheelchair racer took years to finally perform at her peak, which involved having the right pieces to work with her
13 Nov 2020
Imagen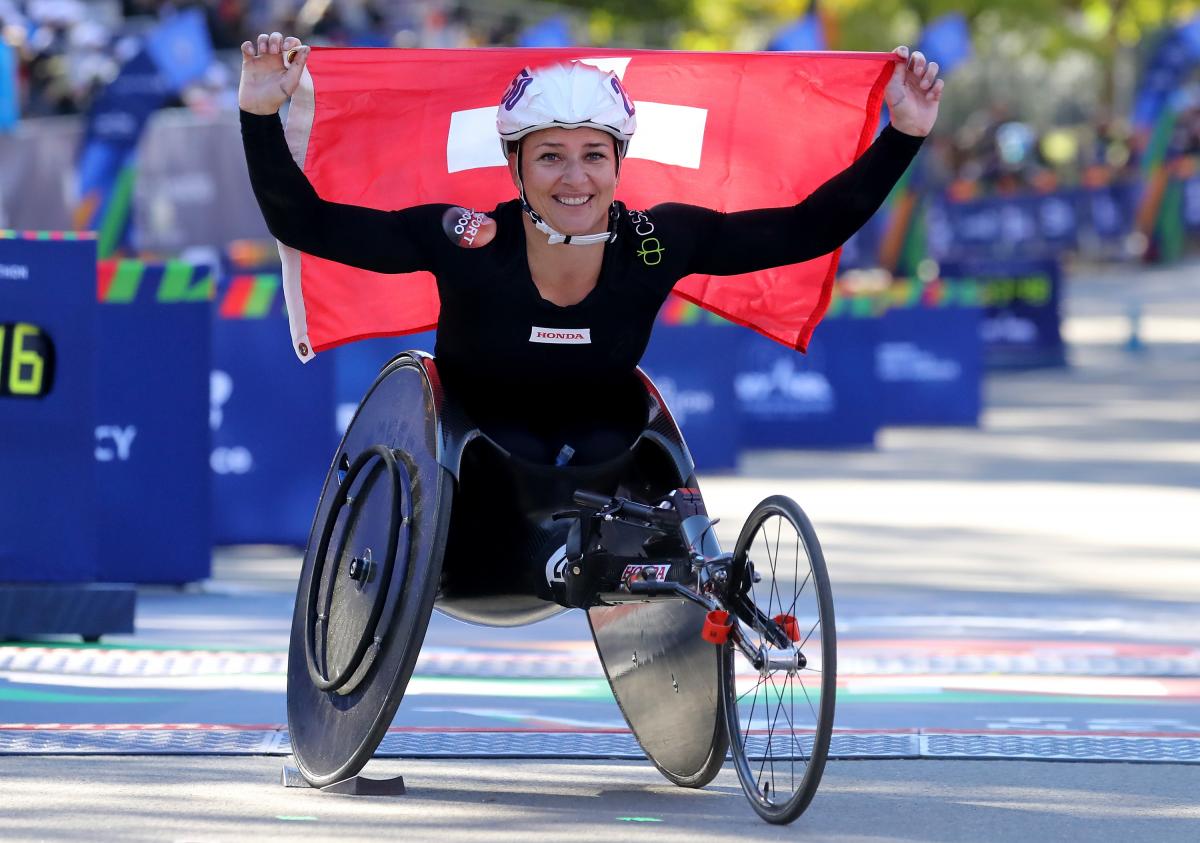 ⒸGetty Images
By IPC
Manuela Schär is the rabbit to chase in the marathon. She took over that role in the women's wheelchair division for the past few years, accomplishing an impressive grand slam of winning each of the six major marathon races in a row, from the 2018 Berlin Marathon to the 2019 London Marathon.
The Swiss sensation said there is no secret to her high performance, but instead described her success using a different analogy, on episode 12 of 'A Winning Mindset: Lessons from the Paralympics'.
"It's such a big puzzle and so many small pieces that have to fit together," the 35-year-old explained. "It was a long time until I had the perfect environment for me to train. It means you know the perfect chair, perfect coach, perfect life."
The puzzle also included which discipline she should focus on. She started with short and middle distance races.
Her favourite event, the 200m, was cancelled in the London 2012 Paralympic Games. But changing distances became easier when she came to realise that her muscles would fit better for longer distance as she gets older.
"I've been racing for so many years and then just have to have a change and it was not the only thing I changed," she explained. "I also started working with different people, I changed my material, my racing chair and everything. It felt a bit like a new chapter, a new episode. So it was just the time."
Schär was candid about her accident at 9 years old that paralysed her legs. But she recalled the top Swiss wheelchair athletes who were around even before her accident, such as Heinz Frei and Franz Nietlispach. 
"It was very difficult for me to come back. Also you are the centre of attention. Where I grew up, it's really a small town," Schär recalled. 
"I met my first coach when I was still at the hospital. We had a nice group of wheelchair athletes who trained in Nottwil," she continued. "I think at first (Wheelchair racing) was just to be included in that group of people, and included in that group of people who are happy and nice and funny and didn't treat me like a different person. I felt really comfortable and really safe there."
Since her first major competition in 2001 at the European Championships to dominating the marathon scene in 2019, Schär's athletic journey has been a culmination of various pieces and is a continuing process. 
"I think as an athlete, it's really important how you deal with disappointment also, because it's going be a part of your life – no matter what," Schär said. "You can turn bad experiences or not reaching a goal into something really good, or it can go in a really bad way. I think I somehow turned it into something good and took it as a teacher or a motivation to grow."
The full podcast transcript with Manuela Schär is available online.