Imagen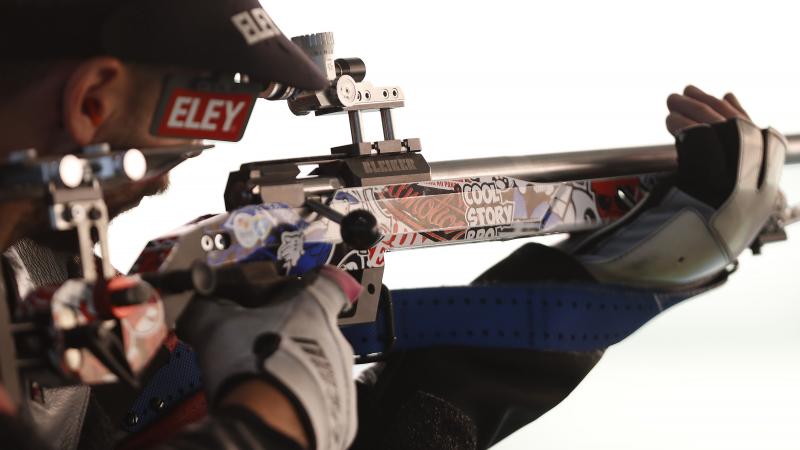 Matt Skelhon is arguably Great Britain's most renowned Paralympic shooter.
At the 2018 World Championships, Skelhon battled with Slovakian star Veronika Vadovicova for R3 (mixed 10m air rifle prone SH1) gold. It came down to the final shot, and Skelhon came up 0.7 points short of Vadovicova's world-record win. But it was a satisfying finish after getting knocked out of the elimination round in the R6 (mixed 50m rifle prone SH1) the previous day.
His notoriety began at the Beijing 2008 Games where, sporting a distinctive red mohican, the Peterborough native hit a perfect score in R3 to win gold only two years after taking up the sport.
However, at his home Paralympic Games at London 2012, the Brit found himself up against France's Cedric Fevre who took the crown from him by just 0.3 points to leave him with silver.
That was not the end of the story for the self-confessed perfectionist. Skelhon hit back in R6 to take an unexpected bronze.
Just over one year later, the man nicknamed "Buzal" clinched R6 gold at the 2013 European Championships in Alicante, Spain, with a new qualification and finals world-record score.
At the 2014 World Championships in Suhl, Germany, Skelhon was back to his best, winning gold in R6 with a new world record and silver in R3.
At the Rio 2016 Paralympic Games it looked like Skelhon was on track to win Paralympic gold in R6.
With a new Paralympic record in qualification he went into the final in good form. But it was not to be. Skelhon started well, placing third after the first round of shots. But by the third round a series of sub 10.0 scores meant he was eliminated, leaving China's Cuiping Zhang to take gold whilst Skelhon finished seventh.
Results
2010 IPC Shooting World Championships (Zagreb, Croatia)

| Event | Medal | Unit | Date | Rank |
| --- | --- | --- | --- | --- |
| Men's 10m Air Rifle standing SH1 | | Qualification | 2010-07-17 | 7 |
| Team R3 - Mixed 10m Air Rifle prone SH1 | | Final | 2010-07-19 | 1 |
| Mixed 10m Air Rifle prone SH1 | | Qualification | 2010-07-19 | 2 |
2014 IPC Shooting World Championships (Suhl, Germany)

| Event | Medal | Unit | Date | Rank |
| --- | --- | --- | --- | --- |
| Mixed 10m Air Rifle prone SH1 | | Qualification | 2014-07-21 | 1 |
| Mixed 10m Air Rifle prone SH1 | | Final | 2014-07-21 | 2 |
| Mixed 50m Rifle prone SH1 | | Elimination | 2014-07-22 | 7 |
| Mixed 50m Rifle prone SH1 | | Final | 2014-07-22 | 1 |
| Mixed 50m Rifle prone SH1 | | Qualification | 2014-07-22 | 1 |
Cheongju 2018 World Shooting Para Sport Championships (Cheongju, South Korea)

| Event | Medal | Unit | Date | Rank |
| --- | --- | --- | --- | --- |
| R3 - Mixed 10m Air Rifle prone SH1 | | Final | 2018-05-05 | 2 |
| R3 - Mixed 10m Air Rifle prone SH1 | | Qualification | 2018-05-05 | 3 |
| R6 - Mixed 50m Rifle prone SH1 | | Final | 2018-05-05 | 5 |
| R6 - Mixed 50m Rifle prone SH1 | | Qualification | 2018-05-05 | 1 |
Sydney 2019 World Shooting Para Sport Championships (Sydney, Australia)

| Event | Medal | Unit | Date | Rank |
| --- | --- | --- | --- | --- |
| R3 - Mixed 10m Air Rifle prone SH1 | | Qualification | 2019-10-12 | 4 |
| R3 - Mixed 10m Air Rifle prone SH1 | | Final | 2019-10-12 | 1 |
| R6 - Mixed 50m Rifle prone SH1 | | Elimination | 2019-10-17 | 5 |
| R6 - Mixed 50m Rifle prone SH1 | | Qualification | 2019-10-18 | 2 |
| R6 - Mixed 50m Rifle prone SH1 | | Final | 2019-10-18 | 1 |