Imagen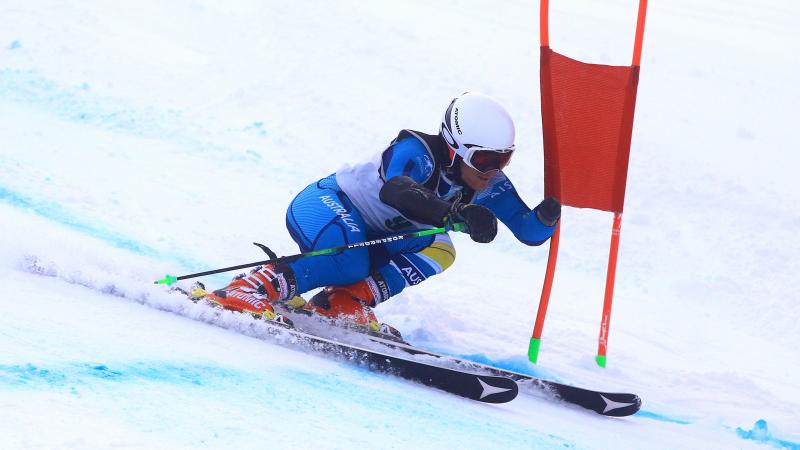 Mitchell Gourley
Alpine Skiing
Mitchell Gourley began skiing at the age of eight, making his international debut when he was 15 years old. But he had to wait another 10 years until he could enjoy his first major achievement, when he sealed gold in the men's super-combined standing at the Tarvisio 2017 World Championships.
With that title in the bag, the 2017-18 season presented him with a very good chance of medalling at the PyeongChang 2018 Paralympic Winter Games. But his best result was fifth in the super-combined.
On the World Cup circuit, Gourley finished in second place in the overall men's standing World Cup in 2017-18, repeating his performance from the previous season.
He has also showed his credentials as a Proud Paralympian, being elected as Athlete Representative on the World Para Alpine Skiing Sport Technical Committee.
Born without a left forearm, Gourley lives in Montreal, Canada but is a proud skier for the Australian team.
He enjoys track cycling, trail running, cooking and climbing and has shown himself to be superstitious; confessing he always puts his left ski boot on first.
Biography
Impairment information
Type of Impairment
Limb deficiency
Origin of Impairment
Congenital
Further personal information
Languages
English, French
Higher education
Economics, Marketing - University of Melbourne: Australia
Sport specific information
When and where did you begin this sport?
He began skiing at age eight in Mount Buller, VIC, Australia. "I skied with the family recreationally for a few years, and then started ski racing when I was about 14."
Why this sport?
"I was lucky enough to have an older brother who was not impaired, and so we basically just had at it in every sport there was, at the back yard or competing locally. I think mum and dad just put me into any sport they could and see what happens, and luckily for me that worked. I probably didn't realise I didn't have an arm until a few years down the track."
International debut
Location
Breckenridge, CO, USA
General interest
Nicknames
Mitcho, Spinach, Mitch (Facebook profile, 09 Oct 2018; Athlete, 17 Jun 2016; vis.org.au, 31 Jan 2017)
Hobbies
Cycling, mountain biking, climbing, crossword puzzles. (paralympic.org.au, 01 Jan 2021)
Memorable sporting achievement
Winning gold in super combined at the 2017 World Championships in Tarvisio, Italy, and winning the Crystal Globe in giant slalom for the 2016/17 World Cup season. (paralympic.org.au, 01 Jan 2021; geelongadvertiser.com.au, 31 Jan 2017)
Most influential person in career
Australian alpine skier Jono Brauer, and Australian Para alpine skiers Toby Kane, Marty Mayberry and Cameron Rahles-Rahbula. (Athlete, 17 Jun 2016)
Hero / Idol
US alpine skier Bode Miller, Australian Para alpine skier and cyclist Michael Milton, Australian Para alpine skiers Toby Kane and Cameron Rahles-Rahbula, Australian cyclist Cadel Evans. (vis.org.au, 31 Jan 2017; paralympic.org.au, 01 Jan 2021)
Injuries
He broke his right wrist in a crash at the 2019 World Championships in Kranjska Gora, Slovenia. He did not race again that season and decided to miss the 2019/20 season as well. (geelongindy.com.au, 17 Jan 2020)

He suffered a wrist injury in the lead-up to the 2017 World Championships in Tarvisio, Italy. He went on to win gold in super combined at the event. (geelongadvertiser.com.au, 31 Jan 2017; skiandsnowboard.org.au, 23 Jan 2017)
Superstitions / Rituals / Beliefs
He puts on his left ski boot first. (Athlete, 17 Jun 2016)
Awards and honours
He and fellow alpine skier Melissa Perrine were flag bearers for Australia at the opening ceremony of the 2022 Paralympic Winter Games in Beijing. (IPC Entries, 04 Mar 2022)

He received the Performance Lifestyle Award at the 2019 Victorian Institute of Sport [VIS] Awards in Australia. (snow.org.au, 21 Nov 2019)

In 2017 he received the Elite Athlete with a Disability Award from the Victorian Institute of Sport [VIS] in Australia. (vis.org.au, 2022)

He was presented with the Para Performance of the Year Award at the 2017 Australian Institute of Sport [AIS] Performance Awards. (Victorian Institute of Sport Facebook page, 12 Dec 2017)

He received the Male Sportsperson of the Year Award at the 2017 Victorian Disability Sport and Recreation Awards in Australia. (alignedleisure.com.au, 22 Aug 2017)

He was named Para Snowsport Athlete of the Year for 2016 and 2017 by Ski and Snowboard Australia. (skiandsnowboard.org.au, 28 Apr 2017)
Ambitions
To compete at the 2022 Paralympic Winter Games in Beijing. (paralympic.org.au, 13 Jan 2022)
Impairment
He was born without his left forearm and hand. (abc.net.au, 24 Jun 2017)
Other information
TIME OUT
After breaking his wrist in January 2019 he took time away from the sport to focus on his studies. He returned to international competition during the 2021/22 season. "I've always stayed in touch with ski racing, but I definitely took some planned time out after that 2019 injury. At first that was meant to be just one year to work and complete my master's, but the pandemic turned it into over two years away. I also knew that the one-year break might turn out to be a retirement, but I learned a lot working in 'real jobs' over these two, three years and I'm excited to be back ski racing in Europe. Mentally, I think I've learned to have more perspective. I'm a lot more grateful for all the opportunities that ski racing brings me and I'm determined to enjoy and savour them on this last lap." (paralympic.org, 07 Dec 2021; geelongindy.com.au, 17 Jan 2020; SportsDeskOnline, 18 Feb 2022)

OTHER ACTIVITIES
In 2015 he began serving as an athlete representative on the International Paralympic Committee [IPC] alpine skiing sport technical committee and in January 2017 he was re-elected for a further two years. "It's exciting. I'm really proud and honoured to have the chance to do it again. It's something which is really hard work but really rewarding." He has also served as the chairman of the World Para Alpine Skiing athlete advisory group. In June 2020 he was elected to the Paralympics Australia Athlete Commission. "One of the main ways I want to work with the commission is to help with how we can improve the pathway for developing athletes in winter sport here in Australia, as well as supporting their ongoing development as people, more than anything." (LinkedIn profile, 12 Oct 2021; insidethegames.biz, 26 Jun 2020, 29 Jan 2017; paralympic.org, 27 Jan 2017)

OCCUPATION
He has worked as an external consultant in engagement at the Australian Institute of Sport [AIS]. (LinkedIn profile, 12 Oct 2021)

FURTHER EDUCATION
In 2019 he graduated with a master's degree in sport management from Deakin University in Australia. (LinkedIn profile, 12 Oct 2021; geelongindy.com.au, 17 Jan 2020; Athlete, 17 Jun 2016)
Results
IPC Alpine Skiing World Championships (Kangwonland, South Korea)

| Event | Medal | Unit | Date | Rank |
| --- | --- | --- | --- | --- |
| Men's Slalom Standing | | Final | 2009-02-20 | 19 |
| Men's Giant Slalom Standing | | Final | 2009-02-21 | 24 |
| Men's Super-G Standing | | Final | 2009-02-23 | 28 |
| Men's Super-Combined Standing | | Final | 2009-02-23 | 25 |
| Men's Super-G Standing | | Run 2 | 2009-02-24 | 26 |
| Men's Downhill Standing | | Final | 2009-02-28 | 30 |
2011 IPC Alpine Skiing World Championships (Sestriere, Italy)

| Event | Medal | Unit | Date | Rank |
| --- | --- | --- | --- | --- |
| Men's Downhill Standing | | Final | 2011-01-16 | 6 |
| Men's Super-G Standing | | Final | 2011-01-18 | 7 |
| Men's Super-Combined Standing | | Final | 2011-01-19 | 7 |
| Men's Slalom Standing | | Final | 2011-01-20 | 7 |
| Men's Giant Slalom Standing | | Final | 2011-01-21 | 5 |
IPC Alpine Skiing World Championships (La Molina, Spain)

| Event | Medal | Unit | Date | Rank |
| --- | --- | --- | --- | --- |
| Men's Downhill Standing | | Race 1 | 2013-02-20 | 13 |
| Men's Super-G Standing | | Race 1 | 2013-02-21 | 11 |
| Men's Slalom Standing | | Race 1 | 2013-02-24 | 8 |
| Men's Super-Combined Standing | | Race 1 | 2013-02-25 | 5 |
| Men's Giant Slalom Standing | | Race 1 | 2013-02-26 | 9999 |
2015 IPC Alpine Skiing World Championships Panorama (Panorama, Canada)

| Event | Medal | Unit | Date | Rank |
| --- | --- | --- | --- | --- |
| Men's Downhill Standing | | Race 1 | 2015-03-04 | 9999 |
| Men's Super-G Standing | | Race 1 | 2015-03-05 | 5 |
| Men's Super-Combined Standing | | Race 1 | 2015-03-07 | 9999 |
| Men's Giant Slalom Standing | | Race 1 | 2015-03-08 | 4 |
| Men's Slalom Standing | | Race 1 | 2015-03-10 | 9999 |
2017 IPC Alpine skiing World Championships Tarvisio, ITA (Tarvisio, Italy)

| Event | Medal | Unit | Date | Rank |
| --- | --- | --- | --- | --- |
| Men's Downhill Standing | | Race 1 | 2017-01-25 | 4 |
| Men's Super-G Standing | | Race 1 | 2017-01-26 | 8 |
| Men's Super-Combined Standing | | Race 1 | 2017-01-28 | 1 |
| Men's Giant Slalom Standing | | Race 1 | 2017-01-30 | 5 |
| Men's Slalom Standing | | Race 1 | 2017-01-31 | 5 |
Kranjska Gora/Sella Nevea 2019 World Para Alpine Skiing Championships (Kranjska Gora/Sella Nevea, Slovenia)

| Event | Medal | Unit | Date | Rank |
| --- | --- | --- | --- | --- |
| Men's Giant Slalom Standing | | Race 1 | 2019-01-21 | 4 |
| Men's Slalom Standing | | Race 1 | 2019-01-23 | 3 |
| Men's Downhill Standing | | Race 1 | 2019-01-30 | 9999 |
| Men's Super-G Standing | | Race 1 (from SC) | 2019-01-31 | 9999 |
| Men's Super-Combined Standing | | Race 1 | 2019-01-31 | 9999 |