Imagen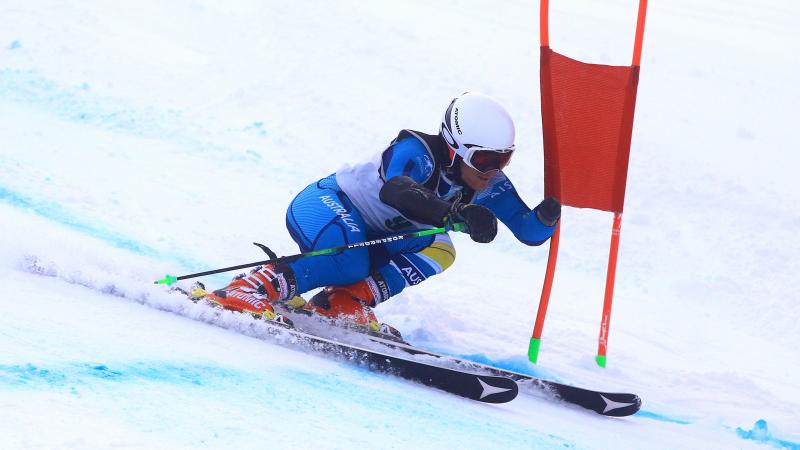 Mitchell Gourley
Alpine Skiing
Mitchell Gourley began skiing at the age of eight, making his international debut when he was 15 years old. But he had to wait another 10 years until he could enjoy his first major achievement, when he sealed gold in the men's super-combined standing at the Tarvisio 2017 World Championships.
With that title in the bag, the 2017-18 season presented him with a very good chance of medalling at the PyeongChang 2018 Paralympic Winter Games. But his best result was fifth in the super-combined.
On the World Cup circuit, Gourley finished in second place in the overall men's standing World Cup in 2017-18, repeating his performance from the previous season.
He has also showed his credentials as a Proud Paralympian, being elected as Athlete Representative on the World Para Alpine Skiing Sport Technical Committee.
Born without a left forearm, Gourley lives in Montreal, Canada but is a proud skier for the Australian team.
He enjoys track cycling, trail running, cooking and climbing and has shown himself to be superstitious; confessing he always puts his left ski boot on first.
Results
IPC Alpine Skiing World Championships (Kangwonland, South Korea)

| Event | Medal | Unit | Date | Rank |
| --- | --- | --- | --- | --- |
| Men's Slalom Standing | | Final | 2009-02-20 | 19 |
| Men's Giant Slalom Standing | | Final | 2009-02-21 | 24 |
| Men's Super-Combined Standing | | Final | 2009-02-23 | 25 |
| Men's Super-G Standing | | Final | 2009-02-23 | 28 |
| Men's Super-G Standing | | Run 2 | 2009-02-24 | 26 |
| Men's Downhill Standing | | Final | 2009-02-28 | 30 |
2011 IPC Alpine Skiing World Championships (Sestriere, Italy)

| Event | Medal | Unit | Date | Rank |
| --- | --- | --- | --- | --- |
| Men's Downhill Standing | | Final | 2011-01-16 | 6 |
| Men's Super-G Standing | | Final | 2011-01-18 | 7 |
| Men's Super-Combined Standing | | Final | 2011-01-19 | 7 |
| Men's Slalom Standing | | Final | 2011-01-20 | 7 |
| Men's Giant Slalom Standing | | Final | 2011-01-21 | 5 |
IPC Alpine Skiing World Championships (La Molina, Spain)

| Event | Medal | Unit | Date | Rank |
| --- | --- | --- | --- | --- |
| Men's Downhill Standing | | Race 1 | 2013-02-20 | 13 |
| Men's Super-G Standing | | Race 1 | 2013-02-21 | 11 |
| Men's Slalom Standing | | Race 1 | 2013-02-24 | 8 |
| Men's Super-Combined Standing | | Race 1 | 2013-02-25 | 5 |
| Men's Giant Slalom Standing | | Race 1 | 2013-02-26 | 9999 |
2015 IPC Alpine Skiing World Championships Panorama (Panorama, Canada)

| Event | Medal | Unit | Date | Rank |
| --- | --- | --- | --- | --- |
| Men's Downhill Standing | | Race 1 | 2015-03-04 | 9999 |
| Men's Super-G Standing | | Race 1 | 2015-03-05 | 5 |
| Men's Super-Combined Standing | | Race 1 | 2015-03-07 | 9999 |
| Men's Giant Slalom Standing | | Race 1 | 2015-03-08 | 4 |
| Men's Slalom Standing | | Race 1 | 2015-03-10 | 9999 |
2017 IPC Alpine skiing World Championships Tarvisio, ITA (Tarvisio, Italy)

| Event | Medal | Unit | Date | Rank |
| --- | --- | --- | --- | --- |
| Men's Downhill Standing | | Race 1 | 2017-01-25 | 4 |
| Men's Super-G Standing | | Race 1 | 2017-01-26 | 8 |
| Men's Super-Combined Standing | | Race 1 | 2017-01-28 | 1 |
| Men's Giant Slalom Standing | | Race 1 | 2017-01-30 | 5 |
| Men's Slalom Standing | | Race 1 | 2017-01-31 | 5 |
Kranjska Gora/Sella Nevea 2019 World Para Alpine Skiing Championships (Kranjska Gora/Sella Nevea, Slovenia)

| Event | Medal | Unit | Date | Rank |
| --- | --- | --- | --- | --- |
| Men's Giant Slalom Standing | | Race 1 | 2019-01-21 | 4 |
| Men's Slalom Standing | | Race 1 | 2019-01-23 | 3 |
| Men's Downhill Standing | | Race 1 | 2019-01-30 | 9999 |
| Men's Super-Combined Standing | | Race 1 | 2019-01-31 | 9999 |
| Men's Super-G Standing | | Race 1 (from SC) | 2019-01-31 | 9999 |
Lillehammer 2021 World Para Snow Sports Championships (Lillehammer, Norway)

| Event | Medal | Unit | Date | Rank |
| --- | --- | --- | --- | --- |
| Men's Super-G Standing | | Race 1 | 2022-01-15 | 11 |
| Men's Super-Combined Standing | | Race 1 | 2022-01-17 | 11 |
| Men's Super-G Standing | | Race 1 (from SC) | 2022-01-17 | 10 |
| Men's Giant Slalom Standing | | Race 1 | 2022-01-19 | 10 |
| Men's Slalom Standing | | Race 1 | 2022-01-21 | 15 |
| Men's Parallel Event Standing | | Race 1 | 2022-01-23 | 12 |