#500DaysToGo: Chinese wheelchair curling look to improve
After fifth place at the 2016 Worlds, China hope to gather enough qualification points toward PyeongChang 2018 at the 2017 Worlds in March.
25 Oct 2016
Imagen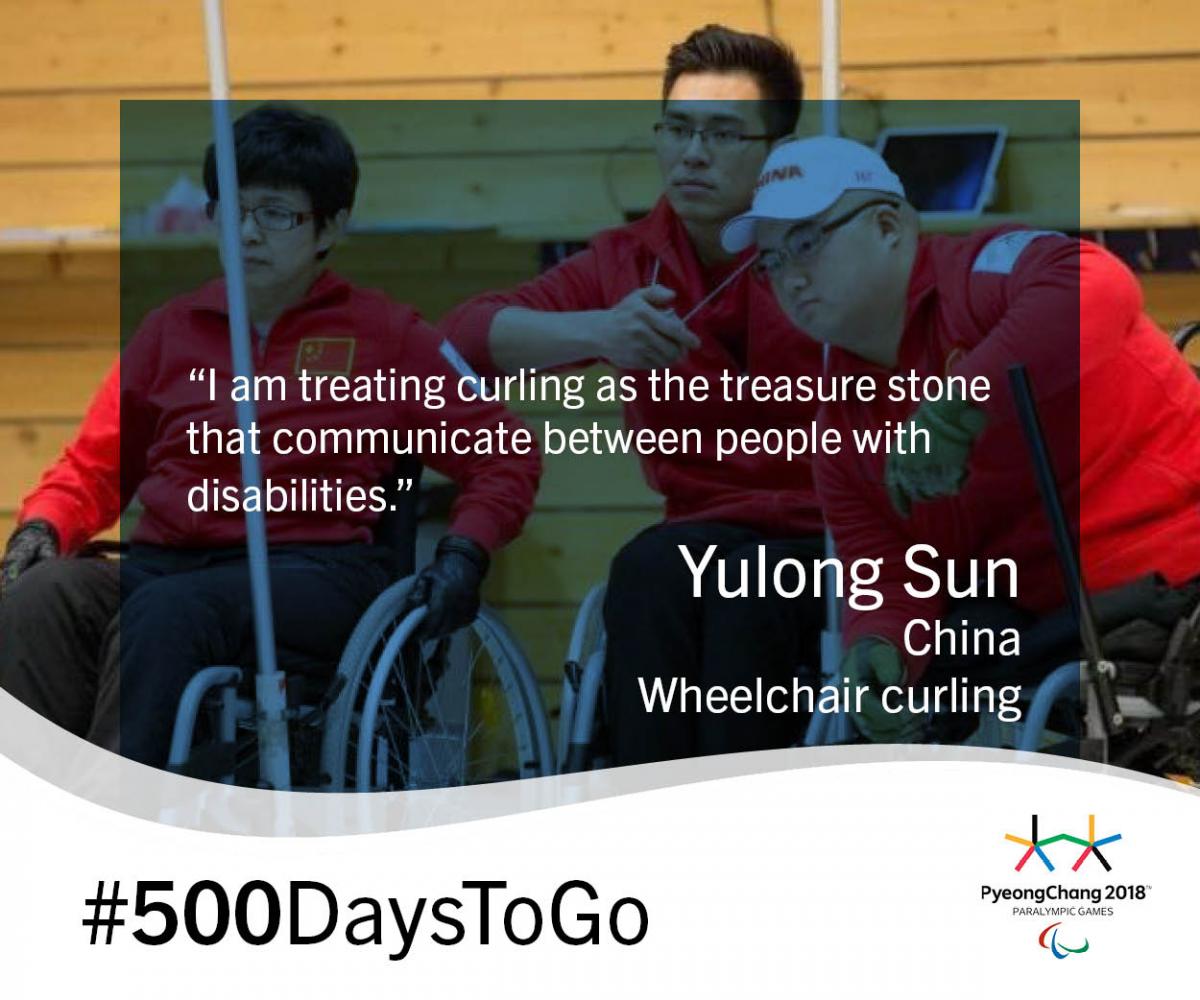 ⒸWCF/Celine Stucki 2016
By Zrinka Peharec and the IPC
"I care about my team members, and I enjoy the harmonious atmosphere in the team."
The Chinese wheelchair curling team has a chance to make back-to-back Paralympic Winter Games appearances. But they also have an opportunity capture their country's first medal in the sport at PyeongChang 2018, which is 500 days away.
At Sochi 2014, China made their Paralympic debut in the sport. They lost to eventual Paralympic champion Canada 5-4 in the semi-finals, thus slating them against Great Britain for a battle for the bronze. But the Chinese came up empty-handed.
To get back to that point, and this time medal, China are preparing for the World Wheelchair Curling Championship 2017 held between 4-11 March in PyeongChang, South Korea.
Vice skip Yulong Sun was not part of the team at Sochi 2014, but he is hoping to contribute to China's return to the Paralympic stage. Disappointed from their fifth-place finish at the 2016 World Championships in Lucerne, Switzerland, Sun knows next year's Worlds is an opportunity to show they belong at PyeongChang 2018.
"We need to work on the integrity, team work and mentality," Sun said.
"Learning is more valuable than result and this was our aim, once we improve, it's natural to get better achievements."
Teams obtain ranking points toward PyeongChang 2018 from the 2015, 2016 and 2017 Worlds. The highest ranked 11 teams after the 2017 World Championships will obtain one qualification slot for their National Paralympic Committee (NPC).
China took silver at the 2015 Worlds, and Sun believes fifth place from Lucerne will in fact help his team into next year's Championships.
As the vice skip, Sun understands his role he plays: "I act as the fourth player, the mainstay of the team. The fourth player can rescue the team, and lift up the team spirit."
Since 2002, China had won three Worlds medals, silver in 2015, and bronze medals at 2012 and 2013. They are currently ranked third in the world, and hope for future development of wheelchair curling in China. At the moment several provincial wheelchair curling teams are being set up, and Sun hopes his team's success can continue to grow the sport.
"I care about my team members, and I enjoy the harmonious atmosphere in the team. The members care and love each other, help each other to improve. During the competition I adjust my mental status, slide every stone with full attention. I am treating curling as the treasure stone that communicate between people with disabilities," Sun said.
__
The PyeongChang 2018 Paralympic Winter Games will be take place between 9-18 March 2018.
The Games will feature up to 670 athletes competing in 80 medal events across six sports: alpine skiing,biathlon, cross-country skiing, ice sledge hockey, snowboard and wheelchair curling.