#500DaysToGo: Skier Jae Rim Yang healthy, ready
The South Korean visually impaired alpine skier just wants an injury-free, mistake-free season.
25 Oct 2016
Imagen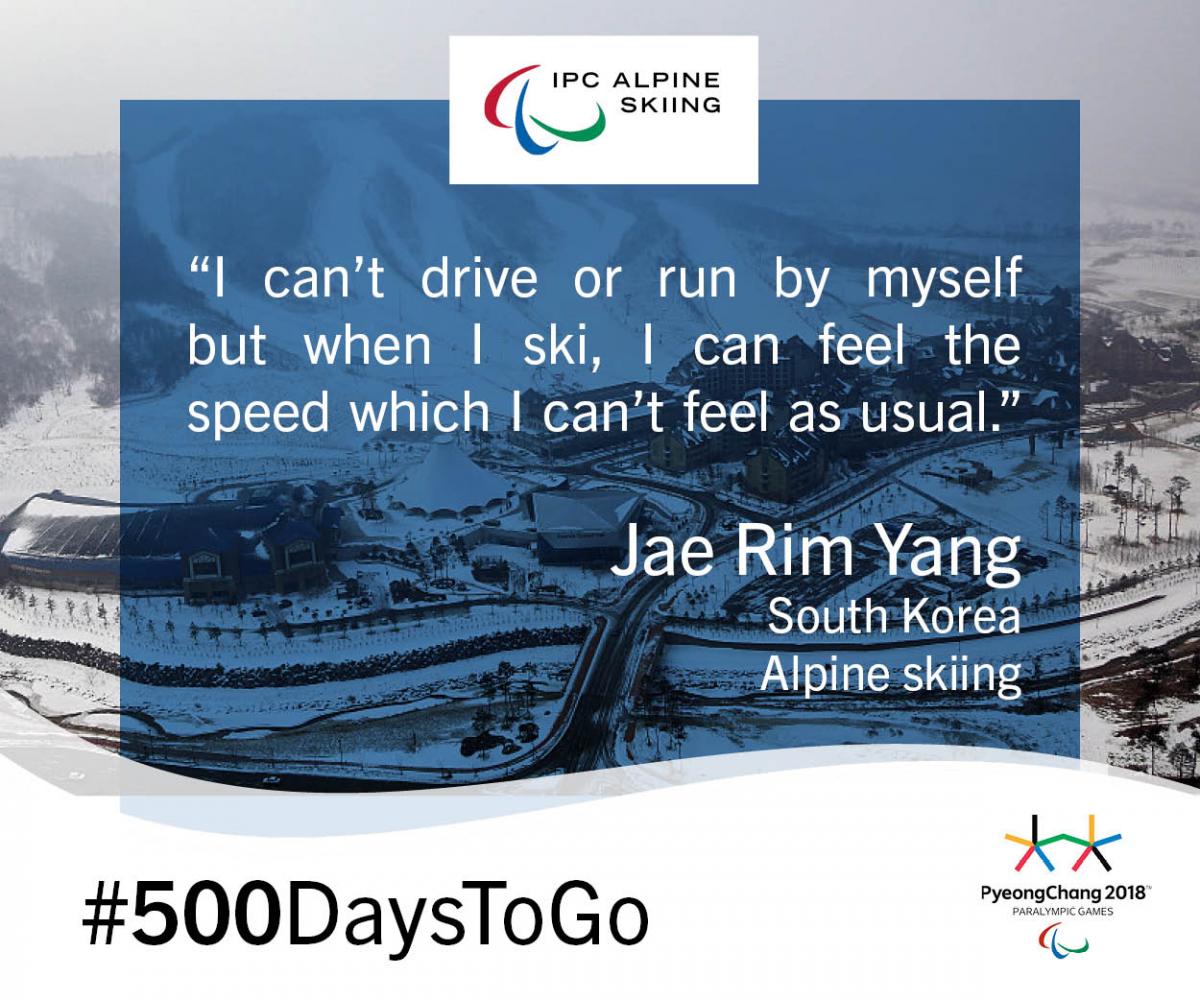 By IPC
"The Paralympics may be an opportunity to introduce South Korea to the world, and to develop Asian Para winter sports."
South Korean alpine skier Jae Rim Yang wants to regain her confidence this upcoming 2016-17 season after being set back by an injury. It is an especially key part of the process as Yang gears up for her home Paralympic Winter Games at PyeongChang 2018 in 500 days' time.
"After the injury I lost the sense of skiing and how to perform, so I hope to get back on track and level up one step this season," Yang said.
She is looking forward to the 2017 World Para Alpine Skiing Championships, being held from 22 January - 31 January in Tarvisio, Italy. But it is not particularly the medals she is after.
"I hope to finish without any injury this season, and my goal is to not be daunted at the World Championships, and show my performance with confidence," she said.
Yang was the lone female alpine skier on the South Korean team at Sochi 2014, where she just missed the podium in the women's giant slalom visually impaired and did not finish in the slalom.
Although a regular top-three finisher in World Cups, Yang has also consistently not finished her races.
Nonetheless, a medal this season would give her a huge lift.
She can do just that at the season opening Europa Cup in Landgraaf being held from 17-18 November in the Netherlands.
Her toughest competitions this season, and towards PyeongChang 2018, include: Great Britain's reigning super-G Paralympic champion Kelly Gallagher and the USA's Worlds downhill and super-G silver medallist Danelle Umstead.
"All the skiers ahead of me are my opponents," Yang said. "Some of them are medallists from the Sochi 2014 Paralympics and they are the world's best athletes, so I want to learn their techniques and mentality to be the best skier."
She is also gearing up for the PyeongChang 2018 Test Event from 9-18 March.
"For the PyeongChang Test Event, I look forward to performing all I have learned and practiced for this season. I also want to complete races without any mistakes," Yang said.
The 26-year-old began skiing as a hobby at five years old but only began professionally five years ago.
"Due to my visual impairment, I had a lack of balance so in order to keep it up and according to my parent's recommendation, I began to ski," Yang said.
"I can't drive or run by myself but when I ski, I can feel the speed which I can't feel as usual."
Yang also hopes to raise awareness of Para sports not just in her country but the Asian region more widely.
"The Paralympics may be an opportunity to introduce South Korea to the world, and to develop Asian Para winter sports," she said. "In Europe and North America, there are already many well-known athletes, but the Games would also help the public see that there are also many good athletes in South Korea."
__
The PyeongChang 2018 Paralympic Winter Games will be take place between 9-18 March 2018.
The Games will feature up to 670 athletes competing in 80 medal events across six sports: alpine skiing, biathlon, cross-country skiing, ice sledge hockey, snowboard and wheelchair curling.