Adecco helps young athletes to know their game plan
Three new modules for Proud Paralympian were piloted during workshops and activities at the Sao Paulo 2017 Youth Parapans.
07 Apr 2017
Imagen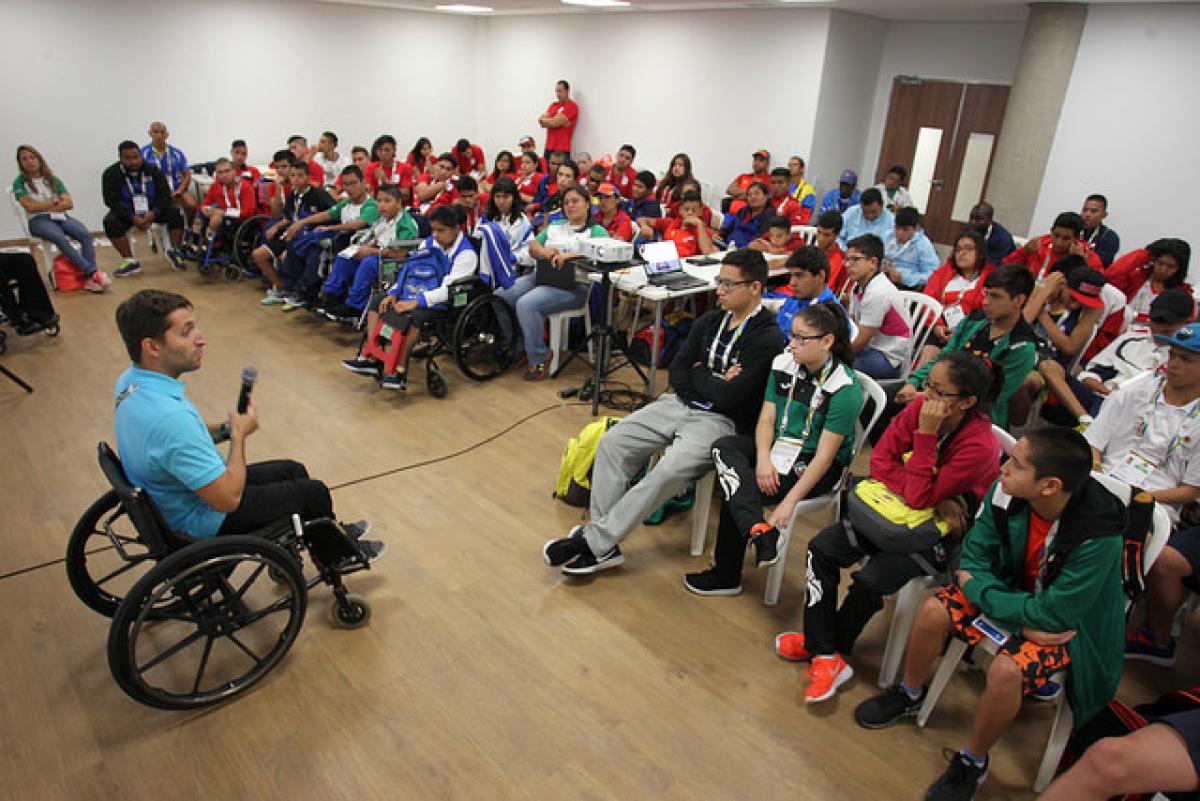 ⒸALAOR FILHO/CPB/MPIX
By Adecco Group and IPC
The International Paralympic Committee (IPC) and The Adecco Group, the global leader in workforce solutions, are calling on young athletes to build their game plan for success in sport and beyond.
For many Para athletes daily life outside of sport can be a challenge. Balancing school, family life, training and a career is a difficult thing to manage.
This is why the IPC is working with The Adecco Group to build workshop material that can help Para athletes face these challenges with the support of experts, from young and active athletes to those who have retired.
There are now 10 workshops overall under Proud Paralympian, the IPC's athlete education programme, with The Adecco Group most recently contributing to three new sessions:
- Your game plan – planning for the future by knowing your skills and interests and how to translate these from sport to the rest of your life.
- Networking – you have a team to be successful on the field, this workshop shows strategies to help you build a team that will help you be successful off the field.
- Tools for employment – tips on how to create a winning CV and interview experience.
During March's Sao Paulo 2017 Youth Parapan American Games around 600 athletes, a staggering 65 per cent of all those who competed, took part in workshops and activities to learn more about the Paralympic Movement and how they can plan their careers. Four workshops designed were delivered including:
- Paralympic Values
- Ethics
- Social media
- Your game plan
This combination of workshops, with facilitators including retired Paralympic athletes and Adecco HR leaders, provided the perfect combination of experience with the right setting for memorable moments for all who engaged.
This was just one example of how The IPC and The Adecco Group align with a vision to help athletes achieve success, not only on the field of play, but also for life. These messages were delivered to youth Para athletes in Sao Paulo, and the focus will continue in other competitions in 2017. Material and strategies are also in place to support Para athletes around the world have a more successful balance between sport and their career in the workplace.
Proud Paralympian will be offering more opportunities for young athletes during the course of the year. Follow @ProudPara on Twitter and @ProudParalympian on Facebook for upcoming events.
Find out more about Proud Paralympian at the IPC's website and about the Athlete Career Programme.