Para athletes - Ever thought of working as a CEO?
The Adecco Group – a global Fortune 500 company – offers athletes a once-in-a-lifetime opportunity as CEO for One Month.
14 Feb 2017
Imagen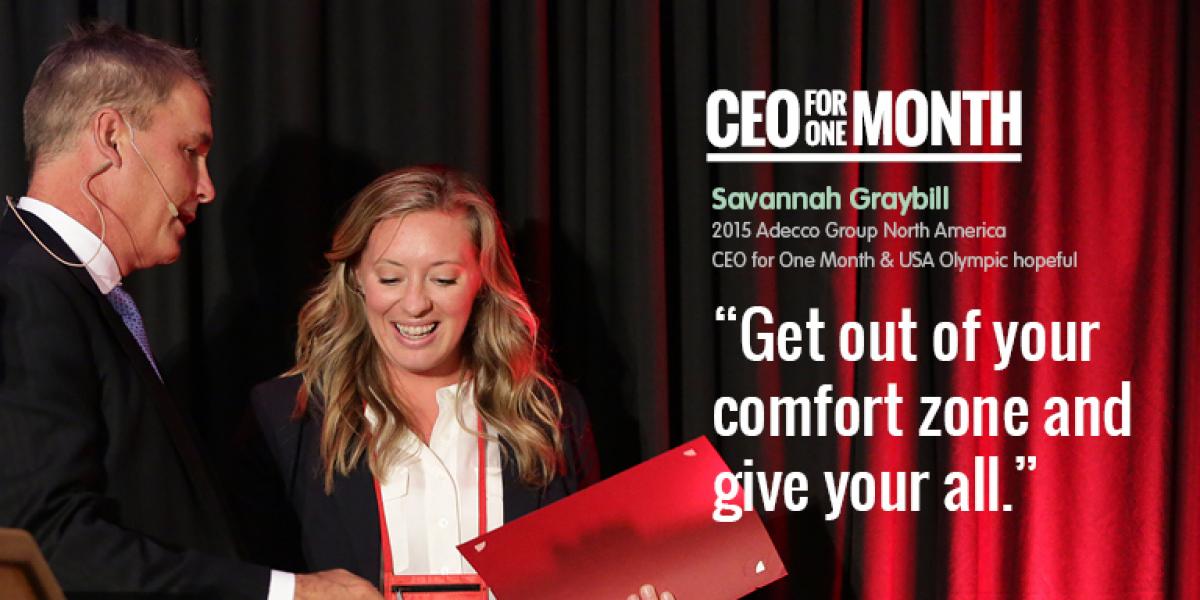 By Adecco and IPC
"... since we all know that sport doesn't last forever, it makes sense to set some goals that will help ease the transition to the real world ..."
Global recruitment specialists Adecco Group are offering a handful of lucky Para athletes and Paralympians the chance to become their Chief Executive Officer (CEO) for one month.
Go for the challenge of the CEO chair and get a real feel for the responsibility it takes to run a multi-national company – all while keeping up with your preparations for the next Paralympic Games!
A total of 49 winning Olympians, Para athletes and Paralympians will have a front-seat learning opportunity to work alongside Adecco's leadership. You can be assured that this unique internship is more than getting cups of coffee for the big boss. They provide you with an experience that makes your resumé stand out and you will be well paid to do the job.
So do not wait and learn more about The Adecco Group's CEO for One Month* opportunity. You can apply online to become the CEO for One Month in your country. And if you've got what it takes, you could even earn yourself the position of Global CEO for One Month 2017.
The IPC Athlete Career Programme in cooperation with The Adecco Group helps Para athletes find a way to work while training and competing. Why? Because balancing a sports and workplace career can help you become a better athlete and most importantly help you get ready for life after sports.
Companies seek individuals who have great soft skills that help you train and compete at the highest level, but they also need to see your ability to work in a corporate environment. Forty per cent of employers cite a lack of experience as the main barrier for entry level vacancies.
International Paralympic Committee Athletes' Council member, Chelsey Gotell, said: "As athletes, we are great at setting both short or long term goals when it comes to sport and being the best in the world. But with the intensity of training and competing, many athletes find themselves entering retirement with a lack of direction, goals and identity outside of being an athlete - which makes them feel unprepared for life beyond the field of play.
"Athletes have a unique skillset that many employers look for in future employees, and since we all know that sport doesn't last forever, it makes sense to set some goals that will help ease the transition to the real world - for whenever that time comes.
"The Adecco CEO for One Month is an incredible opportunity for the world's best Para athletes and Paralympians to do just that. It not only allows athletes to continue to be the best in the world in sport but it also allows them to begin to set themselves up for success as community and business leaders after their sporting career concludes."
Savannah Graybill, USA Olympic hopeful and a participant in the United States Olympic Committee Athlete Career & Education Programme took her chances and became the 2015 CEO for One Month of Adecco Group North America.
"Adecco helped me on my way to work by giving me the chance to be the US CEO for One Month. I'm happy to be here today to share what I learned – it was the opportunity of a lifetime! I continued my training throughout my time working side-by-side with Bob Crouch, the Regional Head of North America. My advice to other young people and fellow athletes is: the more opportunities you embrace, the more you will learn, and the more doors you will open. Get out of your comfort zone and give your all."
Don't delay! You only have until 21 March and in some countries until 16 April to apply.
More information is available at the Adecco Way to Work pages of Paralympic.org.
*The CEO for One Month will be working under the direct supervision of Adecco's CEO.